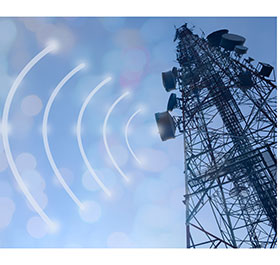 PREPERM™ solutions enable faster, safer and more reliable connections for telecoms and 5G antennas.
Material Solutions for 5G Applications
The list of 5G usage scenarios starts naturally with mobile usage and improved broadband. In traffic, there is an increasing need for V2V (vehicle-to-vehicle) communication. In addition, 5G makes cities smarter and opens up new possibilities in remote health care and the internet of things (IoT). The increased demand for data capacity and low latency, plus the growing volume of connected devices requires more base stations and higher frequencies.  Antennas need to be unnoticeable, steerable and precise, not to mention energy-efficient with ultra-low losses.
All of this puts pressure on materials - dielectric properties and low losses are more important than ever. The PREPERM™ portfolio offers a wide variety of dielectric constants for high-class 5G applications.
Dielectric measurements of up to 220 GHz indicate that the dielectric properties of PREPERM™ materials are stable and not dependent on frequency. PREPERM™ solutions enable faster, safer and more reliable connections  in antennas, lenses, screws and other radio frequency parts.
---
Applications
Description/Product Features
Radomes
Radome grades are designed to have excellent RF performance combined with high impact strength and moldability. They are available in black and sand colors, with different special properties such as high impact strength and flame retardancy.
Lenses and radiating antenna elements (DRAs)
Have stable and well controlled dielectric constants from 2.6 up to 23. With higher permittivity you can achieve improved isolation and better gain while reducing the size.
Screw and fasteners
Used as a transparent fastener in filters, printed circuit boards or radar elements and as tuning elements.