SiteCool™ Infrared Absorption Technologies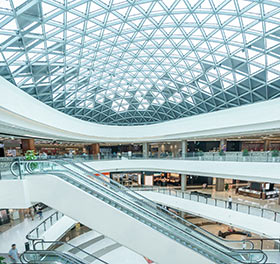 SiteCool Infrared Absorption Technologies for fluoropolymer roofing systems reduce the transfer of heat into the interiors of architectural structures by absorbing solar infrared energy into the fluoropolymer sheet. SiteCool technology helps polymer roofing manufacturers to give facility owners a new tool in the fight to make their sites more energy efficient.
Polymer roofing manufacturers can add SiteCool infrared absorption technology to their production process, in the form of a concentrate, or can choose fluoropolymer material already formulated with SiteCool. No capital investment is required. Films and sheet utilizing SiteCool IR absorption technology can reduce the amount of IR energy passing into a structure by as much as 50%, while retaining light transmission levels and mechanical properties. This reduction in IR energy passing through the film greatly reduces the need for expensive and energy-intensive air conditioning. 
Highlights
Reduces the amount of IR energy passing into a structure by as much as 50%
Retains light transmission levels and mechanical properties
Globally available technology
| NAME | CATEGORY | DESCRIPTION | |
| --- | --- | --- | --- |
| Color and Additives Solutions Overview | BU Overview | Colorant and additives overview and capabilities | View |