Management Approach: Supplier Collaboration
Avient's value extends not only to consumers through specialty products, but beyond the boundaries of our own processes and operations. Strong, transparent relationships with suppliers are key to our success.
Our Supplier Code of Conduct drives interactions with our suppliers and expectations for doing business. Our Supplier Code of Conduct is aligned more closely with International Labor Organization (ILO) standards. It includes requirements for child and forced labor, the right to collective bargaining, non-discrimination, employee health and safety, conflict minerals OECD due diligence and ethical treatment of the environment.
Avient includes in its Code of Conduct and Supplier Code of Conduct internal accountability standards related to slavery and human trafficking to which all employees, agents and consultants are required to adhere. Where required by law, we also have specific disclosures and processes in place, including a supplier audit program that focuses on human trafficking, and to our knowledge no suppliers have been found to engage in such activity.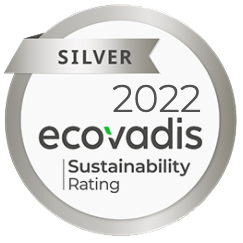 Supplier Evaluation
We seek to collaborate with excellent organizations that espouse our values and principles to bring innovation, sustainable materials and efficient processes to Avient and our customers. We are going beyond simple economics and consistency of supply to evaluate our suppliers. In 2021, we continued our partnership with EcoVadis to further evaluate our prioritized suppliers.
70% of these suppliers reported a Silver rating or above in their overall scorecard evaluation. We are targeting 60% of our total direct spend as a 2022 interim milestone toward our 2030 Sustainability Goal of 90%.
Our suppliers conducted a best-in-class self-assessment utilizing EcoVadis on environmental, social and governance requirements aligned with the UN Global Compact principles. Additionally supplier self-assessments are completed through our Quality Management System (QMS) process that incorporates approval criteria for our most sensitive applications. These assessments are reviewed internally for potential further action. We will continue to develop our Supplier Sustainability Program designed to address quality, cost and reliability requirements, and a range of sustainability, social responsibility and environmental considerations.
Our No Surprises PledgeSM is the overarching framework for how we engage with all our partners in the value chain. We expect our supplier base to help us achieve this pledge.
To ensure mutually beneficial and productive relationships, Avient asks all suppliers to adhere to our safety procedures and security policies within our manufacturing plants, distribution centers, as well as our sales, regional, or corporate offices.