Specialty Wire and Cable Solutions Featured by Avient at Wire China 2023
September 1, 2023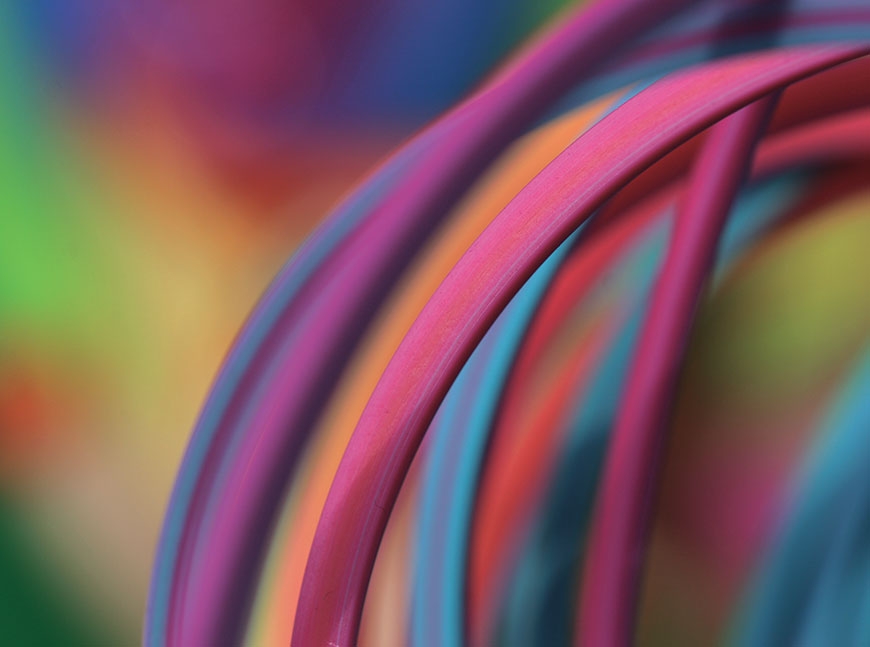 Avient Features Specialty Wire and Cable Solutions at Wire China 2023
To download a high-resolution image, please click here: FOR MEDIA USE ONLY
SHANGHAI – September 1, 2023 – Today, Avient Corporation will exhibit at Wire China 2023, highlighting its specialized material solutions and customized services for the wire and cable industry.
Avient will showcase its colorants and additives, cross-linkable formulations, ultraviolet (UV) laser marking solutions, high-performance engineered fiber, chemical foaming solutions, and flame-retardant materials. Avient is dedicated to helping customers meet the demanding requirements of the wire and cable industry while improving production.
"With our complete range of wire and cable solutions for applications in telecommunications, electronics, and transportation, Avient can help consistently meet product specification challenges and add value through ease of processing, product performance, and cost-saving," said Say-Eng Lee, vice president and general manager, Color & Additives Asia at Avient.
Avient will highlight a comprehensive portfolio of high-performance colorants, functional additives, inks, and engineered fiber solutions, including:
Colorant Chromatics™ UV Laser Marking Technology for FEP allows a permanent and gentle marking of wire and cable surfaces. It provides excellent contrast of 60-80% while maintaining the integrity of the surface. This technology works well in aerospace applications, including optical fiber or data transmission cables.
Colorant Chromatics™ Cross-Linkable Formulations include X-ETFE and X-PVDF with high-temperature resistance and superior cut-through resistance, abrasion resistance, and mechanical toughness.
Colorant Chromatics™ Chemical & Physical Foaming Additives enhance electrical properties, reduce cable weight, and improve cost-effectiveness.
Fiber-Line™ High Performance Fiber can add strength, reduce cable weight or diameter, and replace metal in the most demanding wire and cable applications. These engineered fibers are designed to provide water-blocking capability in dry design fiber optic cable applications, developed for optimal grip and insulation performance in cable jacketing and armor, and processed to help extend the life span for oil and gas pipe and industrial belts.
Wire China 2023 is Asia's largest annual international trade fair for the wire and cable industry, taking place at the Shanghai New International Expo Centre, September 4 - 7, 2023. Avient will exhibit in Hall E1, Stand E1G05.
About Avient
Avient Corporation provides specialized and sustainable material solutions that transform customer challenges into opportunities, bringing new products to life for a better world.
Examples include:
Dyneema®, the world's strongest fiber™, enables unmatched levels of performance and protection for end-use applications, including ballistic personal protection, marine and sustainable infrastructure and outdoor sports
Unique technologies that improve the recyclability of products and enable recycled content to be incorporated, thus advancing a more circular economy
Light-weighting solutions that replace heavier traditional materials like metal, glass and wood, which can improve fuel efficiency in all modes of transportation and reduce carbon footprint
Sustainable infrastructure solutions that increase energy efficiency, renewable energy, natural resource conservation and fiber optic / 5G network accessibility
Avient is certified ACC Responsible Care®, a founding member of the Alliance to End Plastic Waste and certified Great Place to Work®. For more information, visit www.avient.com.
To access Avient's news library online, please visit www.avient.com/news.
# # #
Media contact
Jennifer Huang
Senior Manager, Marketing Communications Asia
Avient Corporation
+86 21 6028 4888
jennifer.huang@avient.com