PolyOne Color Inspirations 2020 Brings Visionary Concepts into Focus
March 18, 2019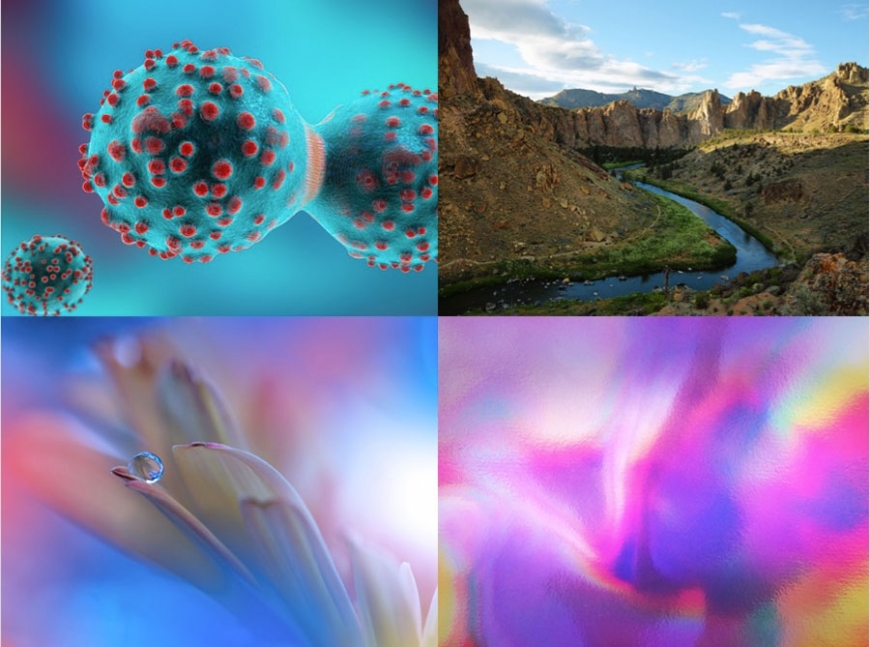 CLEVELAND – March 18, 2019 – In a perfect world, all could see clearly into the future. In reality, this kind of clarity is reserved for only a few – those perceptive people with a sixth sense. For its seventh annual Color Inspirations palette, PolyOne again aligned with global megatrends and color research experts to create the 2020 Visionary Collection.
The 2020 collection of four progressive and dynamic color palettes represents the myriad viewpoints from which visionaries regard the world – macroscopic and microscopic…aerial and subterranean…virtual and physical.

As wellness and self-improvement take on greater significance, people turn to science for new ways to optimize both their physical and mental performance. BioXcelerate explores ways in which scientific breakthroughs and technological advances create a burgeoning industry, discovering new techniques for "hacking" our bodies to become healthier, happier and more productive. Colors in this palette reflect heightened natural hues found in nature.

Fluide focuses on the preference to express oneself freely, exploring the ever-evolving nature of a digital culture that supports shifting personas, beliefs, and ways of being as they move about freely online. Colors in this palette resist being defined by a dominant hue by moving towards a more nuanced tertiary palette, which is further enhanced with shifting iridescent effects.

Uncharted uncovers the ways that technology allows our imaginations to run wild, enabling us to experience previously hidden locales from new and unique perspectives. Providing inspiration for this palette, distant and inaccessible places are seen as washes of colors, textures and patterns. These new ways of looking at the world provide a sense of connection to the planet and the people that inhabit it.

Phygital Existence examines the blurred line between physical and digital worlds, which leads to virtual realities within the 'real' world. We are at the intersection of physical and digital and ask ourselves, is it possible our digital profiles have come to define us more than our physical ones? Flat colors representing the physical world are juxtaposed with "lit" bright colors of the digital world in this palette.
For more information on Color Inspiration 2020 and how it can help designers and brand owners develop color strategies based on consumer color preferences, contact PolyOne here.
About PolyOne
PolyOne Corporation, with 2018 revenues of $3.5 billion, is a premier provider of specialized polymer materials, services and solutions. The company is dedicated to serving customers in diverse industries around the globe by creating value through collaboration, innovation and an unwavering commitment to excellence. Guided by its Core Values, Sustainability Promise and No Surprises PledgeSM, PolyOne is an ACC Responsible Care® certified company committed to its customers, employees, communities and shareholders through ethical, sustainable and fiscally responsible principles. For more information, visit www.polyone.com.
# # #
EDITORS: For a high-resolution image, please click here: Color Inspirations 2020
To access PolyOne's news library online, please go to www.polyone.com/news
Media contact
Michelle Maniscalco
Senior Manager, Marketing Communications
PolyOne Corporation
+1 440-930-1988
michelle.maniscalco@avient.com