New Color Services for Textiles Available from Avient in Turkey
April 5, 2023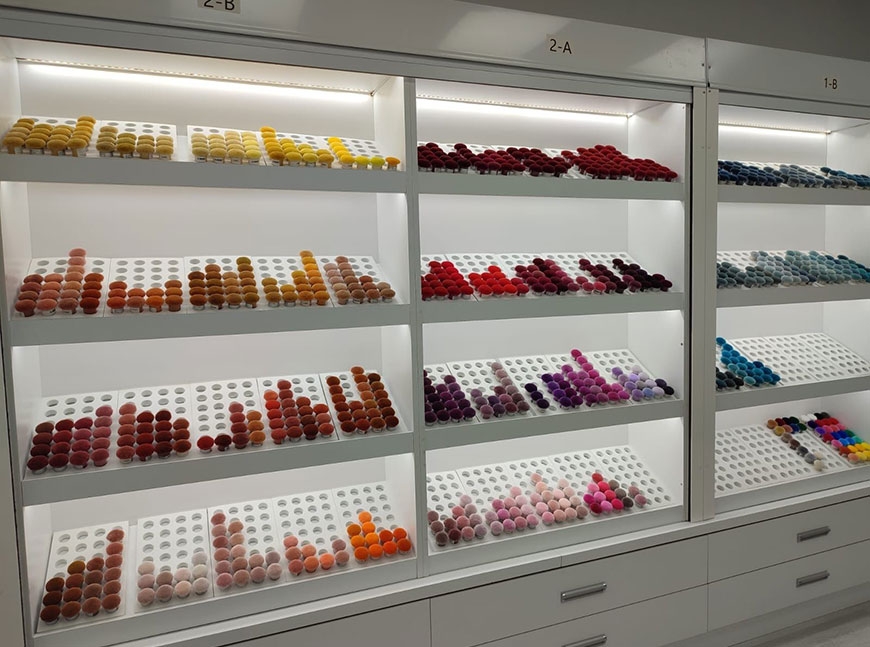 Yarn producers and textile designers can select colors from a library of approximately 4,000 pompoms at Avient's Gaziantep site.
To download a high-resolution image, please click here: FOR MEDIA USE ONLY
GAZIANTEP, Turkey – April 5, 2023 – Avient Corporation announced today the expansion of its fiber color library and laboratory spinning capabilities at its location in Gaziantep, Turkey. The site, conveniently located in an area close to major carpet and carpet yarn producers, specializes in developing and producing color solutions for the textile industry.
In addition to production, color matching, and quality control capabilities for fiber applications, the site houses a showroom featuring an extensive assortment of sample mono-color polypropylene yarn pompoms. The color library is now expanded to include approximately 4,000 of these pompoms, with plans to double this amount in the future. The vast color choice in polypropylene is beneficial, particularly for carpet designers, who can now mix and match different samples under different light settings, offering a more versatile experience for selecting shades. All the pompoms are spun-dyed from existing color formulations which can accelerate the speed to market by foregoing the color-matching process.
The Gaziantep site also added a new three-color yarn spinning line to its laboratory. The new spinning line facilitates a direct assessment of a color formulation's quality and accuracy for three-color yarns and can speed up the color-matching process. The combination of the three colors is used in the textile industry to expand the range of shades available. It creates different visual textures that can look like one color when viewed from a distance but, when viewed close-up, can appear to have a grading effect. Both polypropylene and polyester yarns in mono and three-color yarns can be spun on this line.
"The acquisition of the new laboratory spinning line will not only help speed up the color-matching process for three-color yarns but also help produce three-color pompoms for the showroom, giving even more color illustrative options for visiting customers," said Norbert Merklein, vice president & general manager, Europe. "We aim to help brand owners and yarn manufacturers in the region answer the challenge of quick color turnover, especially, but not only, in the carpet industry." Avient will highlight its color and additive solutions for spin-dyeing, along with its portfolio of dyes, chemicals, and finishes, at ITMA 2023, the world's largest international textile and garment technology exhibition, June 8-14, 2023, in Milan, Italy.
About Avient
Avient Corporation provides specialized and sustainable material solutions that transform customer challenges into opportunities, bringing new products to life for a better world.
Examples include:
Dyneema®, the world's strongest fiber™, enables unmatched levels of performance and protection for end-use applications, including ballistic personal protection, marine and sustainable infrastructure and outdoor sports
Unique technologies that improve the recyclability of products and enable recycled content to be incorporated, thus advancing a more circular economy
Light-weighting solutions that replace heavier traditional materials like metal, glass and wood, which can improve fuel efficiency in all modes of transportation and reduce carbon footprint
Sustainable infrastructure solutions that increase energy efficiency, renewable energy, natural resource conservation and fiber optic / 5G network accessibility
Avient is certified ACC Responsible Care®, a founding member of the Alliance to End Plastic Waste and certified Great Place to Work®. For more information, visit www.avient.com/.
To access Avient's news library online, please visit www.avient.com/news.
# # #
Media contact
Nicole DeChant
Avient Corporation
nicole.dechant@avient.com