Avient Launches Moisture-Resistant Nylon 6 and 6/6 Complēt™ Long Fiber Composites with Enhanced Appearance
July 12, 2021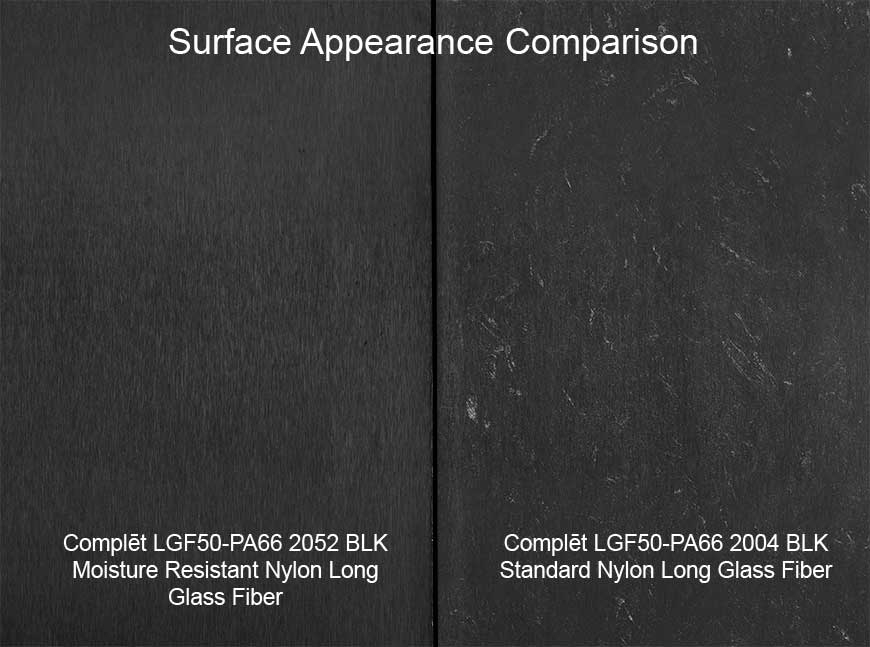 Caption: Avient's new line of Complēt moisture resistant nylons with long fiber reinforcement feature enhanced surface aesthetics that are virtually free of visible fiber to aid in improving consumers' quality perceptions of molded articles. [To download a high-resolution image, please click here: FOR MEDIA USE ONLY]
CLEVELAND – July 12, 2021 – Avient today announced availability of a new series of nylon-based Complēt™ long fiber reinforced thermoplastic composites with enhanced moisture resistance and smooth surface aesthetics. These formulations feature nylon 6 and 6/6 with delayed moisture absorption, which prolongs the effectiveness of their structural performance in moisture-rich environments.
These new materials also take aim at inconsistent surface appearance issues with long fiber polyamides, which have affected quality perceptions in the past. Long glass fiber reinforced grades of Complēt moisture-resistant nylon feature surfaces that are smooth and virtually free of visible fiber, making it suitable for a wide range of consumer applications.
Complēt moisture-resistant nylon 6 and 6/6 grades are globally available in several fiber loading levels (weight percentages) using long glass fiber, long carbon fiber, or hybrid combinations. This allows the materials to retain structural properties that fall between those of standard and specialty nylons when exposed to moisture. As a result, the materials are ideal for metal replacement and lightweighting initiatives in automotive and powersports applications that encounter varying climates or intermittent exposure to water.
"When manufacturers wanted to quell performance concerns by limiting moisture absorption for nylon 6 or 6/6, the only options were less hygroscopic and more costly specialty nylons," said Eric Wollan, general manager of Avient's long fiber technologies. "Avient's new line of moisture-resistant nylon LFTs are modified to absorb moisture more slowly. This significantly prolongs the effectiveness of a part's structural capabilities in humid environments or during short-term water immersion, but at a more economical price point."
Additionally, Complēt nylon grades provide lower shrink for applications that require high dimensional stability. In effect, they serve as a material solution to combat warp distortion from uneven cooling.

About Avient
Avient Corporation (NYSE: AVNT), with expected 2021 revenues of $4.3 billion, provides specialized and sustainable material solutions that transform customer challenges into opportunities, bringing new products to life for a better world. Examples include:
Barrier technologies that preserve the shelf-life and quality of food, beverages, medicine and other perishable goods through high-performance materials that require less plastic
Light-weighting solutions that replace heavier traditional materials like metal, glass and wood, which can improve fuel efficiency in all modes of transportation
Breakthrough technologies that minimize wastewater and improve the recyclability of materials and packaging across a spectrum of end uses
Avient employs approximately 8,400 associates and is certified ACC Responsible Care®, a founding member of the Alliance to End Plastic Waste and certified Great Place to Work®. For more information, visit www.avient.com.
To access Avient's news library online, please visit www.avient.com/news.
# # #
Media contact
Michelle Maniscalco
Senior Manager, Marketing Communications
Avient Corporation
michelle.maniscalco@avient.com