Appliance Vibration Reduced by 80 Percent with Versaflex VDT™ from PolyOne
November 5, 2018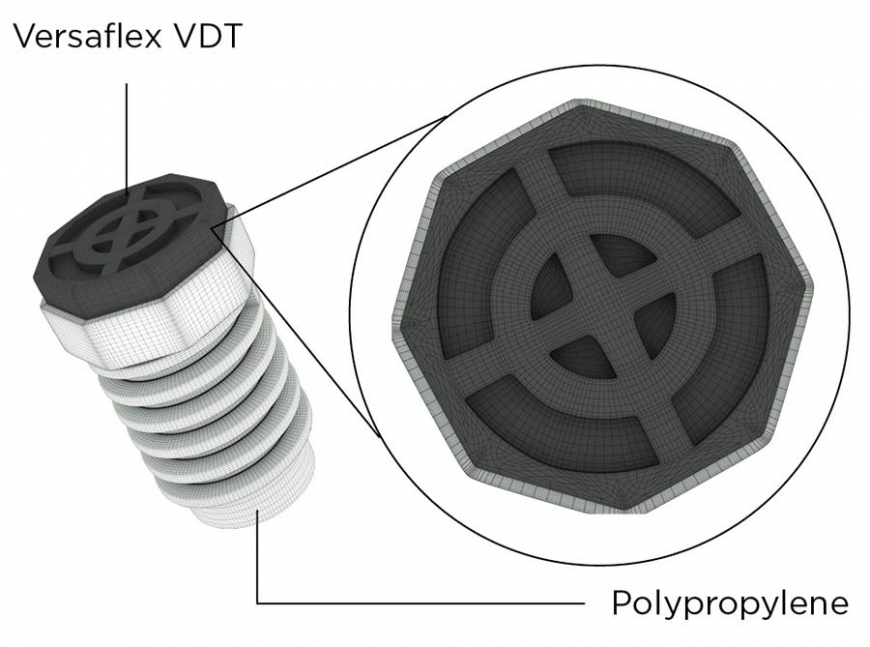 CLEVELAND – November 5, 2018 – PolyOne today announced that its specialty vibration damping Versaflex™ VDT TPEs are being selected by major appliance manufacturers as a valuable solution to vibration issues in top load washing machines.
"Recently, we applied our material and design expertise to help a major appliance manufacturer reduce vibration on their latest top load washing machine model. In an experiment completed by this customers' design team, switching to Versaflex VDT TPE reduced vibration of the appliance by 80 percent versus TPV," said Michelle Hearn, global marketing director, Specialty Engineered Materials at PolyOne.
Vibration in top load washing machines can cause the units to 'walk,' which prompts a large volume of costly service calls to the manufacturer. Engineers rely on PolyOne anti-vibration materials to mitigate this problem. Although TPV and EPDM have historically been used in this application, they are less effective in minimizing appliance 'walking' and require longer production cycle times.
When using Versaflex VDT, kinetic energy generated by the washing machine movement activates molecules in the material, which then converts the kinetic energy into heat energy, reducing vibration and 'walking.'
In addition, this material withstands wear and tear of daily use, is overmolded easily onto polypropylene, and reduces cycle time through the elimination of secondary operations, such as drying.
To help customers learn more about using Versaflex VDT TPE materials to mitigate vibration, PolyOne recently published this Smart Materials™ Vibration and Sound eBook.
About PolyOne
PolyOne Corporation, with 2017 revenues of $3.2 billion, is a premier provider of specialized polymer materials, services and solutions. The company is dedicated to serving customers in diverse industries around the globe by creating value through collaboration, innovation and an unwavering commitment to excellence. Guided by its Core Values, Sustainability Promise and No Surprises PledgeSM, PolyOne is an ACC Responsible Care® certified company committed to its customers, employees, communities and shareholders through ethical, sustainable and fiscally responsible principles. For more information, visit www.polyone.com.
# # #
EDITORS: For a high-resolution image, please click here: Versaflex VDT
PHOTO CAPTION: Supported by PolyOne's material and design expertise, a major manufacturer switched to Versaflex VDT and reduced the vibration of their top load washing machine by 80 percent.
To access PolyOne's news library online, please go to www.polyone.com/news
Media contact
Michelle Maniscalco
Senior Manager, Marketing Communications
PolyOne Corporation
+1 440-930-1988
michelle.maniscalco@avient.com