The Challenge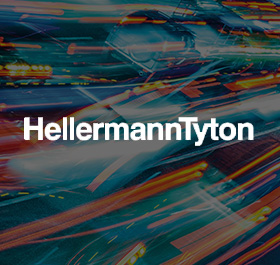 HellermannTyton was at a crossroads when it came to the bent steel plate it was using to fabricate a complicated seat-fastening device for a leading automotive manufacturer.
As a global leader in automotive fastening solutions, it was well aware of the industry's desire for lighter weight parts to achieve greater fuel efficiency. But HellermannTyton had priorities of its own, too; namely, reducing manufacturing costs while increasing design flexibility.
"We saw an untapped market opportunity for improved seat-fastening solutions and recognized that continuing to use bent steel plate would hold us back," said Hagen Spiess, senior design engineer at HellermannTyton. 
HellermannTyton's original design involved was a complex bent-steel part manufactured with multiple openings and an irregular shape. Mounted under the driver and front passenger seats, the part functioned as the attachment point for power seat positioning, heating and electronics. 
"Sheet metal restricts design flexibility, and different automotive OEMs request different attachment configurations for the part," Spiess explained. "So it becomes extremely time consuming to design and fabricate multiple variations in metal."
With the price of bent steel plate going up and OEMs demanding lighter-weight components, HellermannTyton's designers believed that engineered thermoplastics for automotive applications were the answer to their challenges.
The Solution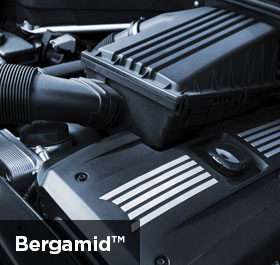 Having worked with Avient for years, the designers sought out a recommendation for a material to replace the bent steel plate. HellermannTyton wanted a material that was strong and stiff, could resist impact, had moderate temperature resistance and didn't warp. 
They found just that in Bergamid™ PA-6 resin with 30 percent glass fiber reinforcement. The material met all of the company's performance requirements and offered cost benefits as well.
The material's stiffness and performance were a perfect fit, providing the high-impact and temperature resistance the company sought, along with the ability to support and secure multiple electronic attachments. What's more, the polymer enabled HellermannTyton to switch from a two-step metal fabrication process to a one-step injection molding process, while Avient provided additional assistance with tool development, process optimization and testing.
The Impact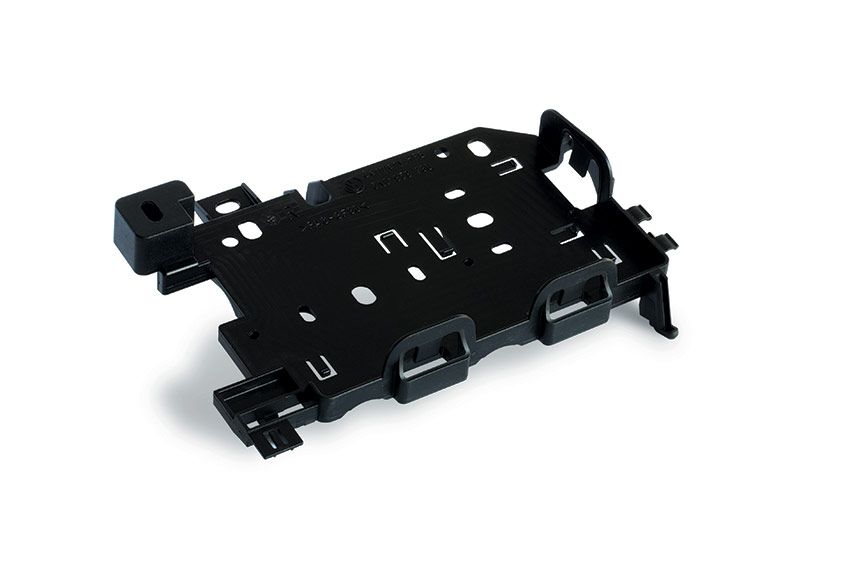 Switching to an engineered thermoplastic put HellermannTyton in the fast lane. It gave the company the performance it was looking for while also reducing weight, increasing design options and saving money. 
Excellent performance = customer satisfaction: The strength, impact resistance, low warpage and other properties of Bergamid resin helps ensure that HellermannTyton's part meet stringent OEM requirements.
Design flexibility = fast customization: With plastic offering greater design freedom than metal, the company can quickly develop and produce variations of the part for different customers.
Lighter weight = environmental benefits: With an approximate 50 percent weight reduction, the Bergamid resin parts help HellermannTyton's OEM customers achieve better fuel efficiency and lower CO2 emissions.
Injection molding = cost savings: Compared with metal fabrication and its time-consuming secondary operations, injection-molded plastics are produced as a net-shape part in a single step, which boosts productivity and lowers system costs. The materials also allow designers to integrate features into the part without the need for fasteners or secondary operations. And the material costs for Bergamid resin are lower than those of bent steel plate.
Using Bergamid material from Avient, HellermannTyton has been able to distinguish itself in the automotive fastening solutions marketplace.
"We were able to recreate a complicated part in nylon 6, which not only solved cost, time and weight issues, but also provided a unique offering for our automotive OEM customers," Spiess said. "The new seat securement part has already been adopted by a major German automaker, and we are confident that other manufacturers will come to us for this lightweight, cost-efficient solution."
If you'd like to learn more about finding custom engineered thermoplastic solutions, contact an expert at Avient today!