Introduction
Produced in unidirectional tapes and laminate configurations, continuous fiber reinforced thermoplastic (CFRTP) composites have the unique ability to add strength and stiffness while reducing manufacturing cycle times and enabling part consolidation of structural components in a wide variety of applications.  
In this article, you will learn: 
Secondary forming of CFRTPs and methods for manufacturing complex geometries 
Various applications that benefit from the advantages of CFRTPs 
JUMP TO A SECTION
Automotive Front-End Module Case Study
Forming Methods
The design flexibility of thermoplastic resins enables the use of high-volume thermal forming manufacturing processes such as compression molding and vacuum forming with CFRTP materials. They can be used alone or in conjunction with other materials such as thermoplastics, wood, and metal, and manufactured with techniques such as overmolding, coextrusion, and thermal lamination to incorporate CFRTP tapes and laminates into hybrid, multi-material structures. These processes minimize weight and maximize design efficiency by providing localized reinforcement, applying the composite materials in targeted areas to achieve structural performance requirements at accelerated production rates. 
Matched Metal Compression Molding 
Matched metal compression molding is a common method for producing components with CFRTP laminates. Fast cycle times are achieved with this process, and the process can be automated. A video demonstration of compression molding using Avient's Polystrand CFRTP material can be viewed here.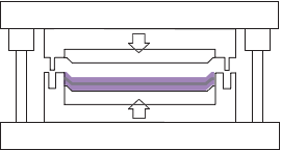 Diagram: Matched metal compression molding 
Vacuum Bagging 
A lower-pressure method than compression molding, vacuum bagging uses vacuum pressure to compress the material into a final shape. 
Vacuum bagging enables fast cycle times, with simpler equipment requirements compared to other methods.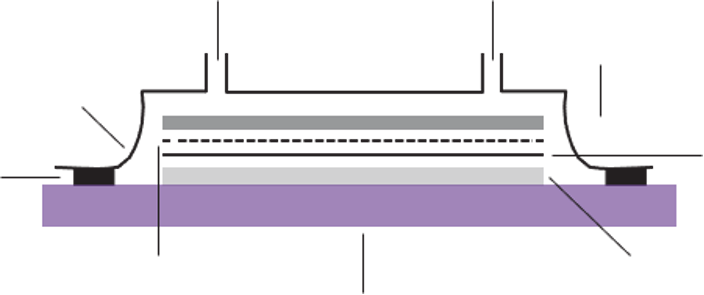 Diagram: Vacuum bagging process 
Thermal Lamination 
The adhesive properties of thermoplastics enable the construction of sandwich panels and reinforcement of materials such as wood and metal through thermal lamination without requiring additional adhesives. By eliminating secondary processes, thermal lamination facilitates fast throughput in manufacturing for an economical end product. 
Co-Molding Hybrid Structures 
CFRTP can also be molded on or into thermoplastic structures via hybrid compression and injection overmolding to create locally reinforced, molded components in a one-step process. Incorporating CFRTP reinforcement in molded thermoplastic components combines the design flexibility and fast cycle times of traditional molding with the strength, stiffness, and lightweighting benefits that composites offer, all with standard processing equipment. 
The graphs below illustrate the advantages that can be gained by incorporating CFRTP materials with traditional thermoplastics. In this case, unreinforced thermoplastic olefin was molded with a 2-ply and a 3-ply CFRTP laminate.  
Comparisons reveal significant improvements in flexural strength and flexural modulus vs. the unreinforced material: up to 327% increase in flexural strength and 245% increase in flexural modulus with the 3-ply reinforcement. 
Figures 5 & 6: Flexural Properties of TPO with CFRTP Reinforcement

Case Study: Automotive Front-End Module
The Challenge: Consider a market-leading tier 1 supplier that needed to improve the strength of the front-end module to prevent the vehicle hood latch from opening in a crash. The existing solution — reinforcing the latch area with a steel plate — added vehicle weight and involved additional manufacturing processes, increasing time and cost. 
The Solution: Enter, Avient. Polystrand continuous fiber reinforced thermoplastic 6-ply laminate sheet was integrated into the direct long fiber thermoplastic (DLFT) manufacturing process and applied via compression molding. 
The Impact: The CFRTP reinforcement improved strength and performance in the high-stress latch area and resolved crash test issues. By replacing the metal plate and integrating the Polystrand material into the molded part, the supplier saved 8 pounds of overall vehicle weight.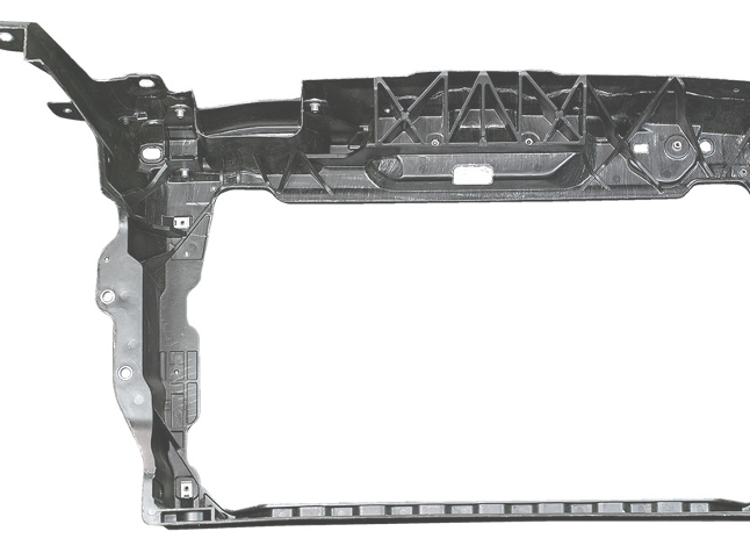 Applications for CFRTP
Continuous fiber reinforced thermoplastic composites are well suited for applications requiring strength, stiffness, impact resistance, or corrosion resistance. Some examples include: 
Automotive: Underbody shields, underhood enclosures, interior components, storage areas 
Building & Construction: Reinforcement of wood products & plywood, structural sandwich panels, window lineals, ceiling tiles, pipe reinforcement 
Marine: Panels for decking, bulkheads, cabinets, doors, transoms & stringers, hull reinforcement 
Security & Defense: Ballistic-resistant panels and body armor, vehicle armor 
Transportation: Truck floors, liners and aerodynamic components, railcar panels, air cargo containers 
Consumer: Sporting goods and protective equipment, furniture and electronics 
Conclusion 
Continuous fiber reinforced thermoplastic composites offer a balance of performance characteristics with design and processing flexibility that is unmatched by other composite materials. In unidirectional tape or multi-axial laminate form, CFRTPs give design engineers customizable options to incorporate lightweight strength and stiffness into demanding applications ranging from air cargo containers to snowboard bindings to automotive hatch covers. 
Need more information on the performance advantages of CFRTP? Explore Structure and Performance of Continuous Fiber Thermoplastics to learn: 
What continuous fiber reinforced thermoplastic composites are, and how they differ from other fiber reinforced polymer (FRP) composite materials 
Mechanical characteristics and advantages of CFRTPs 
Click here for more information on Polystrand continuous fiber reinforced thermoplastic composites, or help with your next project, please contact us.