Next-Level Materials for Next-Level Challenges
The world is evolving in amazing and dynamic ways. To maintain and improve the quality of life around the globe and conserve our natural resources, it will take specialized sustainable material solutions that deliver on the promise of innovation while protecting the planet.  
We're Avient, and we're here to help your business meet the demands of the rapidly changing world that lies before us. Wherever you operate around the globe, whatever industries you serve, our reach, resources, and reliable performance will elevate your operational efficiency, speed to market, and sustainability efforts.  
We are a next-level materials company offering powerful collaboration designed to give you everything you need to overcome next-level challenges and propel your business ahead of the competition.
Did you know that Avient has…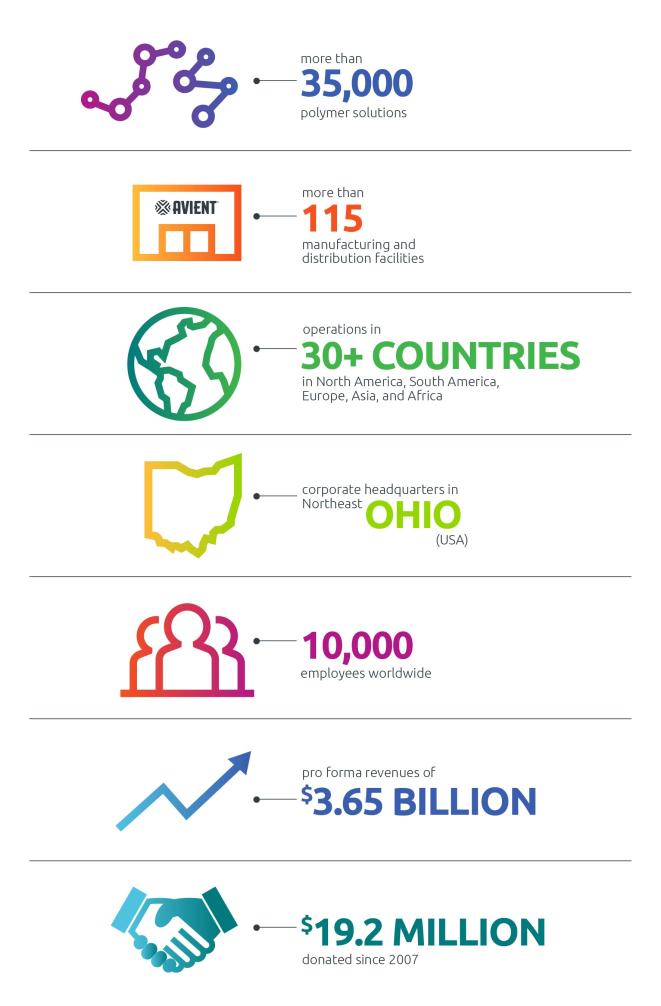 Our Strategic Vision for the Future
At Avient, our vision is to create specialized and sustainable material solutions that transform customer challenges into opportunities, bringing new products to life for a better world.  
To realize this ambitious vision, we have built our business on the following strategic pillars that we believe lift us above our competition and over any challenges that may come our way.  
Specialization: Our innovative material capabilities differentiate us by providing specialized solutions for our customers.
Operational Excellence:  With a relentless focus on continuous improvement, we safely and responsibly deliver superior quality to every customer, every time.
Globalization: As a true global company, we meet customer needs reliably and responsively wherever they operate.
Commercial Excellence: We work closely with customers to solve their challenges and deliver exceptional value.
Sustainability Focus: Because sustainability is an essential element to the future we see over the horizon, we enhance our strong strategic foundation with sustainability cornerstones that provide guideposts for our corporate responsibility and customer-centered innovation as we pioneer our paths forward. They are: People, Products, Planet, and Performance.