PolyOne Makes a Splash at CBME with Karibu™ Folding Baby Bath
July 20, 2016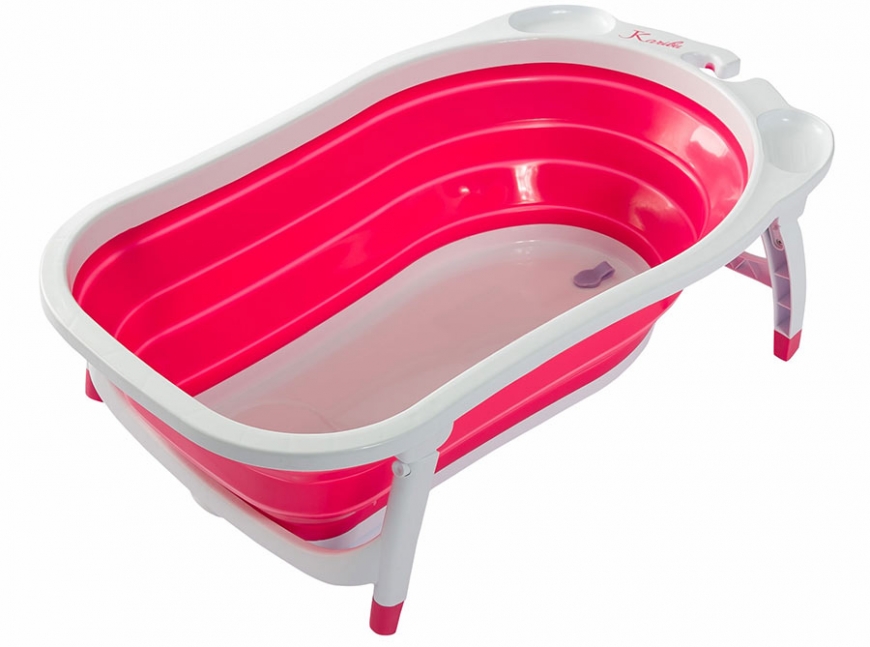 SHANGHAI – At the 2016 Children-Baby-Maternity Expo (CBME), PolyOne is spotlighting a new, portable, folding baby bathtub from Hong Kong-based Karibu Baby Ltd. The tub features a custom overmolded GLS Versaflex™ thermoplastic elastomer (TPE) and non-toxic PolyOne OnColor™ colorants. In booth #6-2E49, PolyOne will be demonstrating the safety, regulatory compliance and aesthetics of its TPEs and colorants for this unique application and other products specifically designed for infants and children.
Karibu switched from a local supplier to PolyOne to obtain an advanced TPE made without bisphenol A (BPA), phthalates, or heavy metals. The material is also compliant with U.S. Food and Drug Administration (FDA) food contact requirements and the Registration, Evaluation, Authorisation and Restriction of Chemicals (REACH) European regulation. In addition, Karibu chose PolyOne's non-toxic OnColor™ colorants, which are customizable and compatible with the GLS TPE material.
"Karibu's top priority is providing customers with the highest-quality and safest products for their babies," said Mr. Yeung Yiu Fai, Karibu general manager. "We chose the PolyOne solution for our new Mega foldaway bath because the PolyOne TPE and colorants meet the most stringent global standards and provide peace of mind to parents. They also provide an enjoyable sensory experience and exceptional durability."
The Karibu bathtub is designed for the space limitations of city living and for convenience when traveling. The patented foldaway design enables easy storage without sacrificing a full-size tub for infants. Extra leg support with non-slip material makes this bathtub usable on any flat surface, and a built-in hook allows it to be hung for drying or storage.
Designers chose Versaflex TPE to mold the folding portion of the tub and provide a non-slip surface on the bottom of the tub legs. The material's soft, grippy feel improves comfort and enjoyment for the child while enhancing safety. Because the TPE bonds well to the polypropylene (PP) substrate, the tub withstands repeated folding and unfolding. PolyOne colorants provide bright, appealing aesthetics to please children and parents, and help the product stand out from the competition during the purchasing decision.

"Karibu selected our TPE and colorants because they are superior to conventional products," said Michelle Hearn, director of marketing for PolyOne GLS. "Our materials address strong consumer demands for enhanced safety, purity, and regulatory compliance. Further, PolyOne's customization capabilities provided Karibu with the specific performance properties needed for this application."
About PolyOne
PolyOne Corporation, with 2015 revenues of $3.4 billion, is a premier provider of specialized polymer materials, services and solutions. The company is dedicated to serving customers in diverse industries around the globe, by creating value through collaboration, innovation and an unwavering commitment to excellence. Guided by its Core Values, Sustainability Promise and No Surprises PledgeSM, PolyOne is committed to its customers, employees, communities and shareholders through ethical, sustainable and fiscally responsible principles. For more information, visit www.polyone.com.
# # #
EDITORS: For a high-resolution image, please click here: Karibu™ Folding Baby Bath
Image courtesy of Karibu
Image Caption: Versaflex™ TPE is used to mold the folding tub and provide a non-slip surface for the legs of the tub.
To access PolyOne's news library online, please go to www.polyone.com/news
Media contact
Sandy Wagner
Marketing Communications Manager
PolyOne Corporation
+1 815-385-8500
sandy.wagner@avient.com