PolyOne Features a "More Than Materials" Approach for Medical Devices at MD&M West 2020
February 3, 2020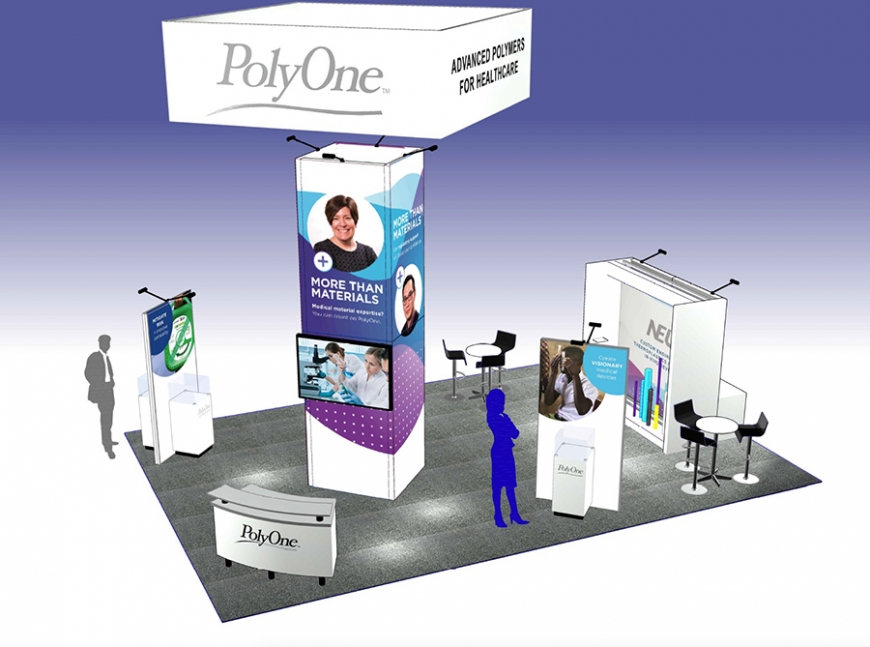 ANAHEIM, Calif. – February 3, 2020 – At Medical Design and Manufacturing (MD&M) West next week, PolyOne is focusing on helping customers solve pressing medical device challenges through a "More Than Materials" approach.
In addition to its comprehensive portfolio of polymers, functional additives, and colorants for healthcare, PolyOne's exhibit will include a sampling of healthcare application successes achieved through material science, industry expertise and comprehensive product development support. Some solutions featured in the booth include:
Versaflex™ HC Thermoplastic Elastomers: high-performance medical-grade formulations for demanding applications, including medical tubing, gaskets and stoppers, and bags, bottles and films. The portfolio also boasts the addition of Versaflex™ HC BT218, a new biopharmaceutical tubing grade developed in response to supply challenges and sterilization concerns for an array of medical devices
NEU™ Specialty Engineered Materials: short-term in-vivo catheter materials that meet your formulation specifications for a host of catheter applications, including cardiovascular, intravenous, neurological and specialty segments
OnColor™ HC Colorants for Healthcare: color concentrates developed to meet or exceed USP Class VI and ISO 10993 and formulated without heavy metals, phthalates and BPA or other requirements as specified
Pre-certified OnCap™ HC Plus: Functional additives that complement OnColor™ HC Plus colorant formulations, giving customers a wider range of resin choices and supporting applications that require bio-compatible solutions
In addition, knowledgeable representatives from PolyOne's distribution business will be on hand to help molders and manufacturers address application needs, optimize medical component performance, and mitigate risk by leveraging extensive material and application knowledge, advanced technical resources, and logistics expertise.
PolyOne is exhibiting in booth 2201 at MD&M West in Anaheim, California from February 11-13, 2020.
About PolyOne
PolyOne Corporation (NYSE: POL), with 2018 revenues of $2.9 billion, is a premier provider of specialized polymer materials, services and solutions. The company adds value to global customers and improves sustainability through formulating materials, such as:
• Barrier technologies that preserve the shelf-life and quality of food, beverages, medicine and other perishable goods through high-performance materials that require less plastic
• Light-weighting solutions that replace heavier traditional materials like metal, glass and wood, which can improve fuel efficiency in all modes of transportation
• Breakthrough technologies that minimize wastewater and improve the recyclability of materials and packaging across a spectrum of end uses
PolyOne employs approximately 5,700 associates and is certified ACC Responsible Care® and a founding member of the Alliance to End Plastic Waste. For more information, visit www.polyone.com.
# # #
EDITORS: For a high-resolution image, please click here: FOR MEDIA USE ONLY
To access PolyOne's news library online, please go to www.polyone.com/news
Media contact
Michelle Maniscalco
Senior Manager, Marketing Communications
PolyOne Corporation
+1 440-930-1988
michelle.maniscalco@avient.com