Avient Announces New Eco-Conscious, Flexible Option for Liquid Metering
October 18, 2022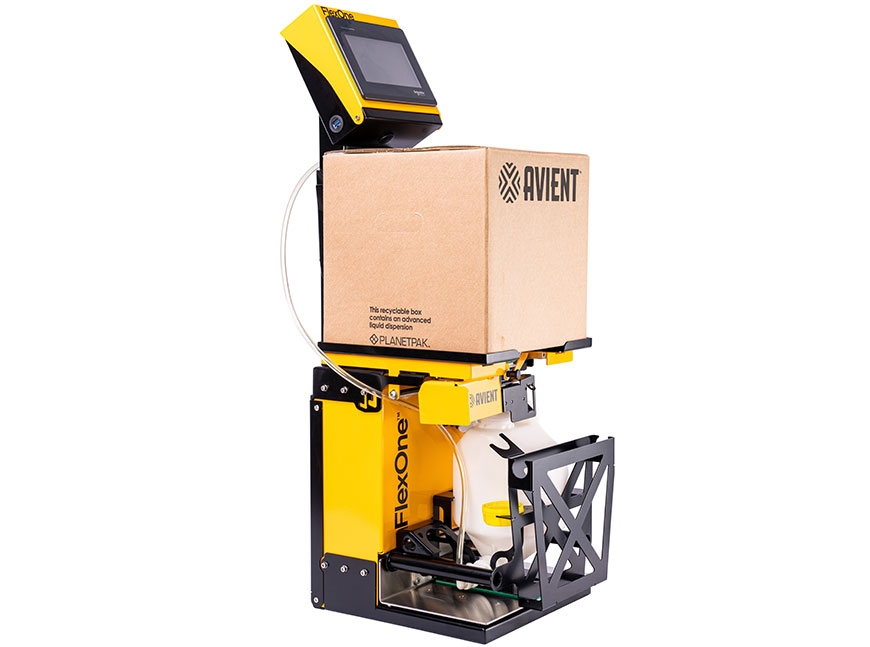 Caption: ColorMatrix™ FlexOne™ system, an eco-conscious solution for liquid metering.
To download a high-resolution image, please click here: FOR MEDIA USE ONLY
DÜSSELDORF, Germany – October 18, 2022 – Avient Corporation today announced it will launch the new ColorMatrix™ FlexOne™ system for liquid metering at the upcoming K 2022. This innovative equipment technology is a single unit, developed for a range of applications with sustainability in mind.
The ColorMatrix FlexOne system incorporates efficiency-enhancing features including an integrated pump with a gravimetric liquid metering system along with an automated and self-correcting calibration capability. These high-accuracy technologies ensure continuous and consistent delivery of liquid color & additives, reducing overall waste. It also uses the patented PlanetPak™ packaging and delivery system. The box and inner liner are recyclable and compact, making it efficient to transport, handle, store and dispose of easily. Customers can expect to achieve a 99%+ yield of liquid contents from a PlanetPak container.
With user-friendly control screens and access to global remote technical services, the ColorMatrix FlexOne system enables faster remote diagnostics, response, data acquisition, and inventory management. The modular units are designed with plug-and-play features and can be retrofitted or exchanged within 24 hours, making the in-house setup process, maintenance, and upgrade options fast and easy. The ColorMatrix FlexOne unit itself can fit inside a small box, rendering logistics more efficient and sustainable.
"The world needs sustainable material solutions that deliver on the promise of innovation and help to lessen impacts on the planet," said Zach Crawford, General Manager ColorMatrix Europe, Avient. "As part of our continuing sustainability efforts, the ColorMatrix FlexOne system's enhanced features support manufacturers by providing new equipment to help reduce waste, while decreasing the unit's size also improves transportation and logistics."
A trials kit option is available, using the ColorMatrix FlexOne technology, but in a camera-sized bag for efficient on-site customer testing. The optimized, unique metering unit can be carried in a shoulder bag, so trials can take place with minimal disruption and confirm the system's suitability for the customer's process.
See the new ColorMatrix FlexOne liquid metering system at Avient's booth in Hall 8A/G10 at K 2022 in Dusseldorf, Germany from October 19-26, 2022.
Please visit our press hub for further information on our content for K 2022.
The K show is the world's largest plastics industry event. For more information, visit www.k-online.com.
About Avient
Avient Corporation (NYSE: AVNT) provides specialized and sustainable material solutions that transform customer challenges into opportunities, bringing new products to life for a better world. Examples include:
Unique technologies that improve the recyclability of products and enable recycled content to be incorporated, thus advancing a more circular economy
Light-weighting solutions that replace heavier traditional materials like metal, glass and wood, which can improve fuel efficiency in all modes of transportation and reduce carbon footprint
Sustainable infrastructure solutions that increase energy efficiency, renewable energy, natural resource conservation and fiber optic / 5G network accessibility
Avient is certified ACC Responsible Care®, a founding member of the Alliance to End Plastic Waste and certified Great Place to Work®. For more information, visit www.avient.com/.
To access Avient's news library online, please visit www.avient.com/news.
# # #
Media contact
Nicole DeChant
Avient Corporation
nicole.dechant@avient.com