New "Avient Now" Online Platform Brings Increased Convenience, 24/7 Access for Distribution Customers
September 27, 2021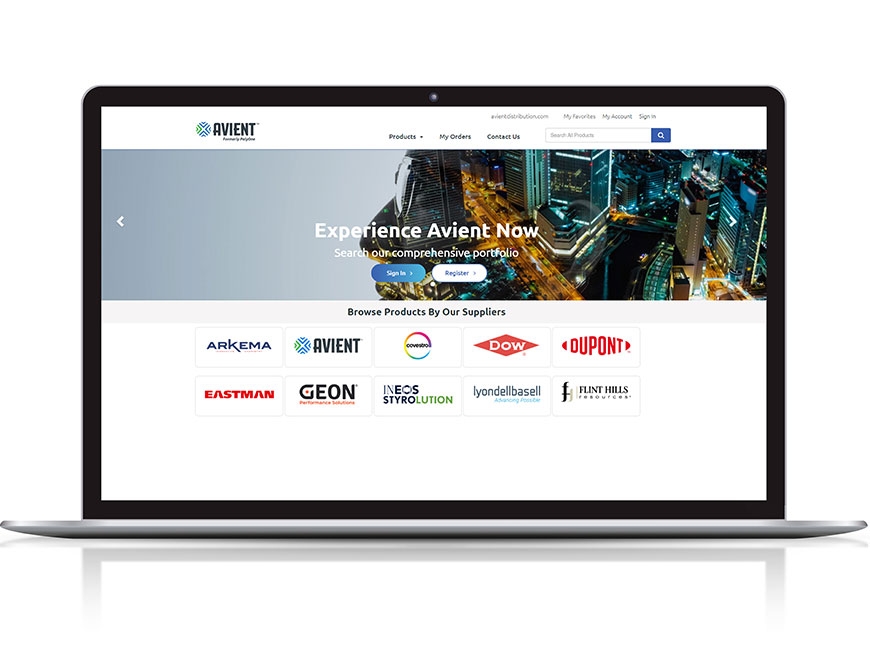 Caption: Avient Now launches for all existing and prospective Avient Distribution customers. A new online platform dedicated to bringing customers the convenience, enhanced visibility, and 24/7 access to materials, services and assistance they need to streamline their day and achieve business goals sooner.
[To download a high-resolution image, please click here: FOR MEDIA USE ONLY]
CLEVELAND – September 27, 2021 – Avient Corporation, a premier provider of specialized and sustainable material solutions and services, today announced the launch of Avient Now, an online platform that provides a personalized customer experience and increases the speed and ease of doing business with Avient Distribution.
Built to offer increased convenience, enhanced visibility, and 24/7 access to product and order information, Avient Now is a new empowerment tool that invites current and prospective North American customers to:
Explore a robust portfolio of material solutions, using advanced search capabilities
Place new orders and re-order online with a simple two-step checkout process
Review real-time order status and track shipments
Reference historical orders and related documentation
View pricing and request quotes
Access thousands of safety and technical datasheets in one centralized location
"We are proud to embark on this important inititative to provide our customers with a best-in-class experience," said Cathy Dodd, SVP & President of Distribution. "We are confident Avient Now allows our customers the opportunity to make their day-to-day jobs easier and reach their goals sooner, with convenient, anytime access to product and support information; faster ordering with instant acknowledgements; and enhanced order transparency and traceability."
All North American customers are welcome to experience Avient Now at now.avient.com and encouraged to register or sign in with their existing log-in information for a personalized experience.
About Avient
Avient Corporation (NYSE: AVNT), with expected 2021 revenues of $4.6 to $4.7 billion, provides specialized and sustainable material solutions that transform customer challenges into opportunities, bringing new products to life for a better world. Examples include:
Barrier technologies that preserve the shelf-life and quality of food, beverages, medicine and other perishable goods through high-performance materials
Light-weighting solutions that replace heavier traditional materials which can improve fuel efficiency in all modes of transportation
Breakthrough technologies that minimize wastewater and improve the recyclability of materials and packaging across a spectrum of end uses
Avient employs approximately 8,400 associates and is certified ACC Responsible Care®, a founding member of the Alliance to End Plastic Waste and certified Great Place to Work®. For more information, visit www.avient.com.
To access Avient's news library online, please visit www.avient.com/news.
# # #
Media contact
Michelle Maniscalco
Senior Manager, Marketing Communications
Avient Corporation
michelle.maniscalco@avient.com