Printing on Polyester and Performance Apparel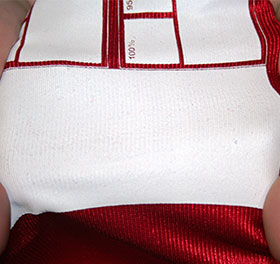 Let Wilflex take the guesswork out of printing on today's challenging substrates and provide you with an innovative solution to your printing needs. Whether your customer demands are for non-phthalate or non-pvc inks, Wilflex has an ink solution for effectively printing on substrates prone to dye migration.
Choosing the right ink for your substrate requires an understanding of the fiber content, temperature capabilities and design considerations. Many synthetic blends and fibers on the market today require new application and processing techniques. Our new EPIC White LC series is targeted to address one of the major challenges in the growing polyester and synthetic printing market: Minimize cure temperature to maximize bleed resistance.   
Selecting Wilflex bleed blockers is another way to battle the bleed. These products are used as an under base to create an effective barrier against dye migration. Appropriate mesh counts and emulsion thickness will also contribute to the effectiveness of fighting the bleed. Lastly, monitor your ovens and flash cure units to ensure you are achieving cure temperature. Avoid excessive heat and minimize temperature spikes for best results.
---
Product Name
Description
Details
Low Cure Temp
Top Score Series
Perfect for decoration on to team sports apparel. Traditional athletic print with a soft matte finish.
Off the Shelf Colors, Black, White, Mixing Base
300F/150C
Performance Series
Bleed Resistance and stretch are game changers with performance wear.
Black, White, Gold, Mixing Base
290F/143C
Bleed Blocker Under Bases
An under base gray formulated as barrier to aggressive migratory dyes and used as first down screen.
Performance, Standard
290F/143C, 320F/160C
PolyWhite
Standalone, Wilflex standard
PolyWhite
300F/150C