Two New Polymer Solutions from Avient Launching at The Battery Show, Supporting Sustainability in Battery and Electric Vehicle Applications
June 21, 2022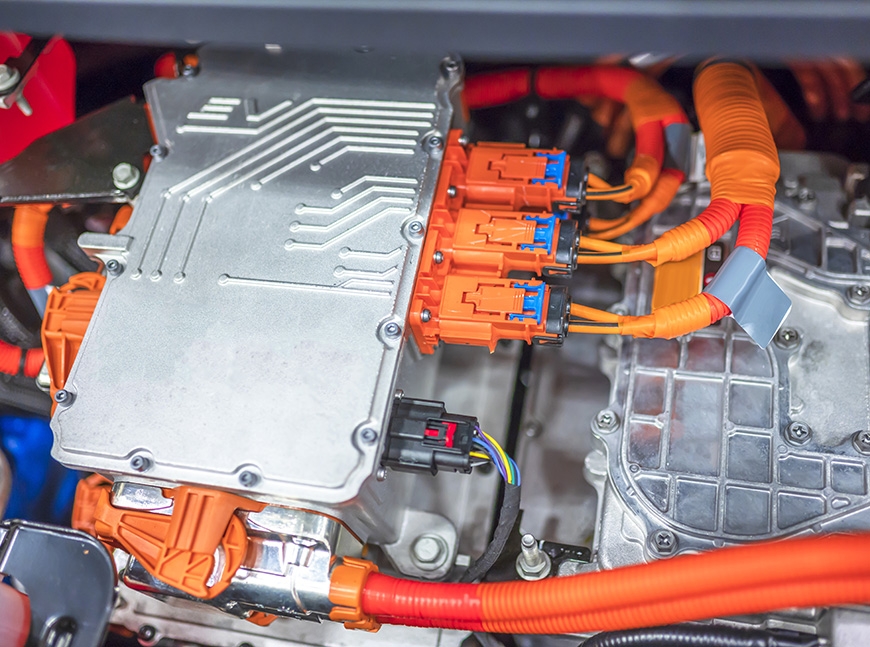 Avient's new reSound™ REC thermoplastic elastomers (TPEs) incorporate recycled content from polyvinyl butyral (PVB) recycled from broken vehicle windshields and laminated architectural glass to support a circular economy. Also announced are two new Edgetek™ PKE non-halogen flame retardant (NHFR) formulations made with polyketone, which can have a lower carbon footprint compared to polyamide 6 reinforced materials, and are pre-colored in orange for high-voltage connectors in electric vehicles.
To download a high-resolution image, please click here: FOR MEDIA USE ONLY

STUTTGART, Germany – June 21, 2022 – At The Battery Show Europe next week, Avient Corporation is introducing two new grades within the reSound™ REC thermoplastic elastomer (TPE) portfolio. Both grades are formulated with polyvinyl butyral (PVB) recycled from automotive glass by Shark Solutions. Also announced will be the availability of two new Edgetek™ PKE polyketone (PK) grades with non-halogen flame retardants (NHFRs).
Applications for reSound REC TPEs include automotive exterior and under-hood components. Edgetek PKE NHFR formulations are specifically designed for electric vehicle (EV) components, including connectors.
"Avient continues to develop innovative engineered materials to help customers achieve their sustainability goals," said Matt Mitchell, director, global marketing of Specialty Engineered Materials at Avient. "For instance, we are closing the loop by incorporating recycled PVB from vehicle glass into our reSound REC TPEs, which then go back into other automotive applications. With Edgetek polyketone grades, we offer attractive alternatives to polyamide that can lower carbon footprint. In both cases, we're making it easier for customers to switch to sustainable options by providing comparable performance to traditional materials."
Advancing Circularity in Automotive
Laminated glass from vehicles often ends up in landfills. To address this issue, Shark Solutions, a Danish clean technology company, recycles automotive windshields and architectural glass to extract PVB, a thermoplastic used as an interlayer in the laminated glass panels. Developed through a collaboration with Shark Solutions, Avient's proprietary formulations incorporate PVB in combination with other recycled raw materials. These new additions to the reSound REC TPE portfolio are comprised of 60 percent post-consumer recycled content, while delivering performance attributes comparable to those of traditional products – including aesthetics, haptics and physical properties.
The new reSound REC TPEs are offered in two grades with Shore-A hardnesses of 47 and 54 to meet different customer requirements. They can be injection molded or overmolded onto polypropylene (PP). Applications include under-hood gaskets, valves and flaps.
Cutting Emissions without Compromise
Electric vehicle connectors require materials with specific performance properties, including chemical resistance, flame retardancy and colorability. Polyamide (PA) 6, which is traditionally used in these applications, has several downsides that affect dimensional stability of the part, such as water absorption. New Edgetek PKE NHFR formulations overcome the drawbacks of PA6 by delivering low moisture uptake, as well as excellent chemical and wear resistance, and high-impact resistance. Importantly, the production of PK emits up to 61 percent less carbon than the production of PA66, and 46 percent less than PA6. For further environmental protection, the new Edgetek™ PKE materials include an NHFR additive, providing flame retardant performance to the UL94 V0 standard.
The new Edgetek PKE NHFR formulations can be laser marked and are pre-colored in orange for high-voltage applications in EVs. Other colors are also available for custom formulations.
New reSound REC TPEs and Edgetek PKE NHFR formulations are manufactured in Europe and are available from other Avient locations globally.
Visitors to The Battery Show, which is combined with the Electric and Hybrid Vehicle Technology Expo, can learn more on the Avient booth in hall 6, stand A-36. The shows runs from 28 – 30 June 2022, Messe Stuttgart, Germany.
About Avient
Avient Corporation (NYSE: AVNT), with 2021 revenues of $4.8 billion, provides specialized and sustainable material solutions that transform customer challenges into opportunities, bringing new products to life for a better world. Examples include:
Unique technologies that improve the recyclability of products and enable recycled content to be incorporated, thus advancing a more circular economy
Light-weighting solutions that replace heavier traditional materials like metal, glass and wood, which can improve fuel efficiency in all modes of transportation and reduce carbon footprint
Sustainable infrastructure solutions that increase energy efficiency, renewable energy, natural resource conservation and fiber optic / 5G network accessibility
Avient employs approximately 8,700 associates and is certified ACC Responsible Care®, a founding member of the Alliance to End Plastic Waste and certified Great Place to Work®. For more information, visit www.avient.com.
To access Avient's news library online, please visit www.avient.com/news.
# # #
Media Contact
Nicole DeChant
Avient Corporation
nicole.dechant@avient.com