Where Sustainability Matters: Avient to Highlight its Latest Solutions to Support a Circular Economy at Chinaplas 2023
April 17, 2023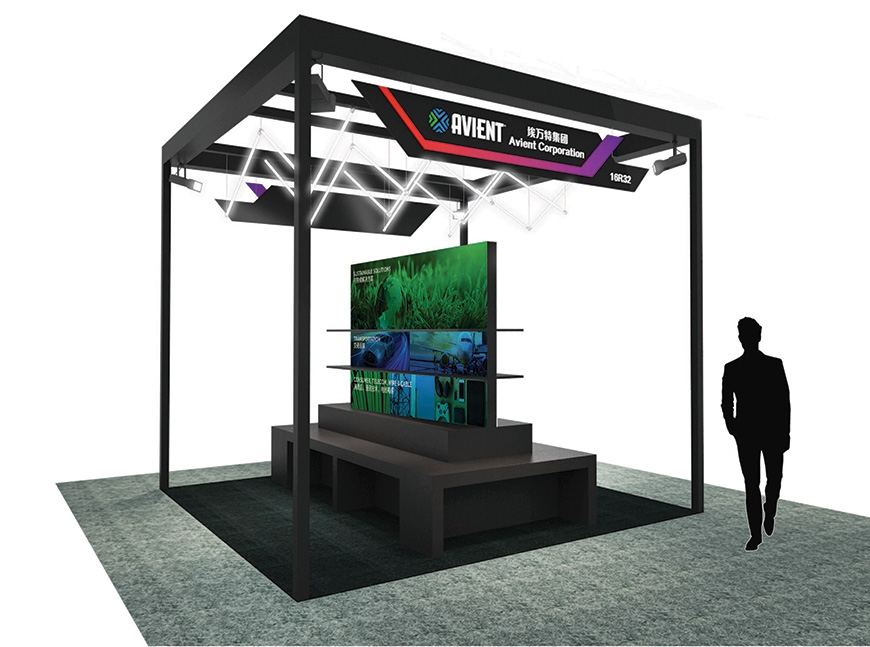 Where Sustainability Matters: Avient to Highlight its Latest Materials, Colorants, Additives, and Services to Support a Circular Economy at Chinaplas 2023
To download a high-resolution image, please click here: FOR MEDIA USE ONLY

SHENZHEN, China – April 17, 2023 – Today, Avient Corporation will present its portfolio of sustainable materials and advanced services during Chinaplas 2023. The company's innovative material, colorant and additive technologies can help designers, brand owners, and manufacturers improve the performance and aesthetics of their applications, while enabling sustainability benefits such as significant energy savings and increased use of recycled content.
"In line with the continuing drive towards greater sustainability and circularity in the industry, we will demonstrate our latest advances in materials science at Chinaplas, from specialty colorants and color prediction to bio-based thermoplastic elastomers (TPEs) and engineered materials," says Say-Eng Lee, Vice President and General Manager, Color & Additives Asia for Avient. "Our broad portfolio of solutions on display addresses important needs in a wide range of market segments where sustainability and color matter to help build a better tomorrow."
Avient will highlight the following innovations for applications in packaging, transportation, healthcare, telecommunications, and consumer electronics:
ColorForward™ 2024: the 18th edition of Avient's annual color forecasting guide, featuring a palette of 20 colors and effects selected by color, marketing, and social trend experts to help plastic product designers, brand managers, and marketing professionals make more informed color choices.
PCR Color Prediction Service: a digital tool developed to illustrate the color possibilities or limitations of certain post-consumer recycled material (PCR) before sample development to help simplify the overall decision-making process for brand owners and technical colorists.
Hiformer™ Liquid Additives for Polyolefins: offer significant reduction of melt fracture and die build-up for polyolefin film applications to improve processing efficiency and save machine start-up time.
Rejoin™ PCR Colorants: enable polyolefin packaging with up to 100% PCR content.
Cesa™ Nox A4R Additives: a range of specialized antioxidants to protect post-consumer polyolefins against oxidation, which can lead to defects like black spots, gels, and discoloration during processing and recycling.
ColorMatrix™ Optica™ PET Blue Toners & Colors: developed for polyethylene terephthalate (PET) resins and preforms, designed to enhance recyclability and reduce yellowing that occurs during the recycling process.
reSound™ BIO Thermoplastic Elastomers (TPEs): formulated with 35 to 75 percent bio-renewable feedstock without compromising property retention, adhesion strength in overmolding applications, or colorability.
Gravi-Tech™ Density Modified PP-Based Formulations: new, high-impact metallization grades developed to replace die-cast or machined metals while delivering the look and weighted feel of metal in premium brand applications.
Versaflex™ CE 3130 Series TPEs: a range of non-blooming thermoplastic elastomers for demanding consumer electronics, automotive, and appliance applications requiring premium surface finish, enhanced feel, and improved aesthetics with UV, stain, abrasion, and scratch resistance.
Colorant Chromatics™ Transcend™ Premier Healthcare Colorants: bright, high-temperature solutions offered in pre-colored or concentrate form in a range of vivid opaque and transparent colors. They are fully bio-compatible per ISO 10993 standards to provide ultra-high-heat resistance and performance without compromising safety.
Colorant Chromatics™ UV Laser Marking Technology for Fluorinated Ethylene Propylene resins (FEP): can outperform traditional and infra-red marking, enabling a permanent, gentle, cost-effective ultraviolet (UV) marking with 60%- 80% percent contrast, such as required for cables in aerospace.
Chinaplas 2023, the world's leading technology-oriented plastics and rubber trade fair, is taking place April 17-20 at the Shenzhen World Exhibition & Convention Center. Visitors can find Avient at the TechTalk Show Area, Hall 16, Stand R32, and the Design x Innovation Gallery, Gate 2 Lobby 1/F, Hall 17. Avient will also host two technical speeches during the show:
A TechTalk Presentation on April 17 from 15:00 to 15:20 hours at Stand R31 in Hall 16 on sustainable bio-based materials, including zero-carbon emission TPEs, low-warpage and low-water absorption nylons, 'OK-compost' certified biopolymer solutions and successful case studies
A Design Forum on April 19 from 10:35 to 11:00 hours at Hall 18, Room CC201A, 2/F, on ColorForward™ Color Forecasting and GraviTech™ Density-Modified Formulations
Find more information and updates on Avient at Chinaplas 2023 here: https://mp.weixin.qq.com/s/fceFXpzPk1TCMrkPjwtxSA
About Avient
Avient Corporation provides specialized and sustainable material solutions that transform customer challenges into opportunities, bringing new products to life for a better world.
Examples include:
Dyneema®, the world's strongest fiber™, enables unmatched levels of performance and protection for end-use applications, including ballistic personal protection, marine and sustainable infrastructure and outdoor sports
Unique technologies that improve the recyclability of products and enable recycled content to be incorporated, thus advancing a more circular economy
Light-weighting solutions that replace heavier traditional materials like metal, glass and wood, which can improve fuel efficiency in all modes of transportation and reduce carbon footprint
Sustainable infrastructure solutions that increase energy efficiency, renewable energy, natural resource conservation and fiber optic / 5G network accessibility
Avient is certified ACC Responsible Care®, a founding member of the Alliance to End Plastic Waste and certified Great Place to Work®. For more information, visit www.avient.com/.
To access Avient's news library online, please visit www.avient.com/news.

# # #

Media contact
Nicole DeChant
Avient Corporation
nicole.dechant@avient.com