Sustainability Beyond Lightweighting – Avient Features Recycled Content Composites at CAMX 2022
October 10, 2022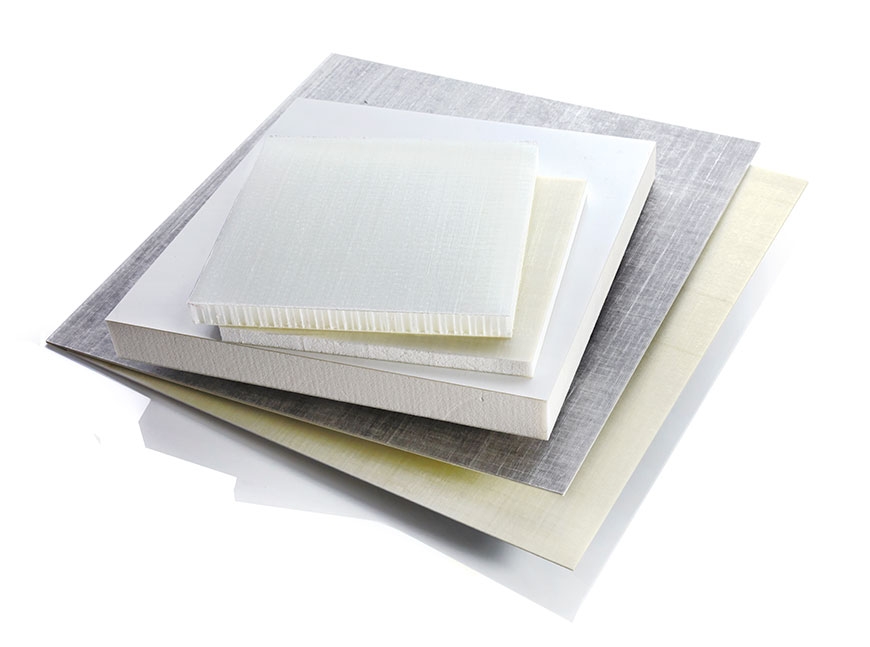 Caption: Polystrand™ structural composite panels
To download a high-resolution image, please click here: FOR MEDIA USE ONLY
CLEVELAND – October 10, 2022 – Avient Corporation today announced it will highlight its breadth of composite solutions, including new materials formulated with recycled content, at the upcoming Composites and Advanced Materials Expo (CAMX).
Featured at CAMX is a new formulation of Polystrand™ continuous fiber reinforced thermoplastic composites made from greater than 95% post-consumer recycled PET (rPET) resin. Available in unidirectional tapes and multi-axial laminates, this extends the Polystrand portfolio into recycled content solutions. Applications ranging from trucking and trailers to pipeline reinforcement benefit from the light weight, high strength, and impact resistance of continuous glass fiber reinforced rPET. Performance is on par with standard PET formulations using virgin resin.
Avient is committed to helping customers meet their sustainability goals in various ways through its composites portfolio. Composites are inherently lighter weight alternatives to metal and other materials, enabling sustainability initiatives such as material reduction and fuel economy improvements in many end products. Now, with new recycled-content offerings, Avient further supports a circular economy and helps customers lessen their environmental footprint.
Avient will also highlight composite materials and engineered fiber solutions that offer high strength, weight reduction, and corrosion resistance for products across a broad range of industries and markets:
Thermoplastic Composites:
Polystrand™ continuous fiber reinforced unidirectional tapes and multi-axial laminates
Hammerhead™ Marine Composite Panels – structural solutions to replace wood and other materials in boat building applications
Polystrand™ structural sandwich panels
Thermoset Composites:
Gordon Composites™ continuous glass and carbon fiber barstock, laminates, and composite springs, including springs for high-temperature industrial applications
Gordon Glass™ archery bow limbs
Glasforms™ pultruded rods, tubes, and custom profiles
Engineered Fiber Solutions:
Fiber-Line™ engineered high-performance fibers, including coated, twisted, and custom wound aramid, glass, carbon, HMPE, and LCP fibers
Fiber-Line™ pultruded rods and custom extrusion-coated rods and fibers
Avient is exhibiting in Hall C, Booth U32 at CAMX in Anaheim, California, from October 18-20, 2022.
Learn more about Avient's Advanced Composites and Engineered Fiber product portfolios here.
About Avient
Avient Corporation (NYSE: AVNT) provides specialized and sustainable material solutions that transform customer challenges into opportunities, bringing new products to life for a better world. Examples include:
Unique technologies that improve the recyclability of products and enable recycled content to be incorporated, thus advancing a more circular economy
Light-weighting solutions that replace heavier traditional materials like metal, glass, and wood, which can improve fuel efficiency in all modes of transportation and reduce carbon footprint
Sustainable infrastructure solutions that increase energy efficiency, renewable energy, natural resource conservation and fiber optic / 5G network accessibility
Avient is certified ACC Responsible Care®, a founding member of the Alliance to End Plastic Waste and certified Great Place to Work®. For more information, visit www.avient.com.
To access Avient's news library online, please visit www.avient.com/news.
# # #
Media contact
Nicole DeChant
Avient Corporation
nicole.dechant@avient.com