See LEDs in a Brand New Light: PolyOne UltraTuf™ LED Light-Diffusing Sheet Cuts Hot Spots, Improves Design Freedom
May 2, 2016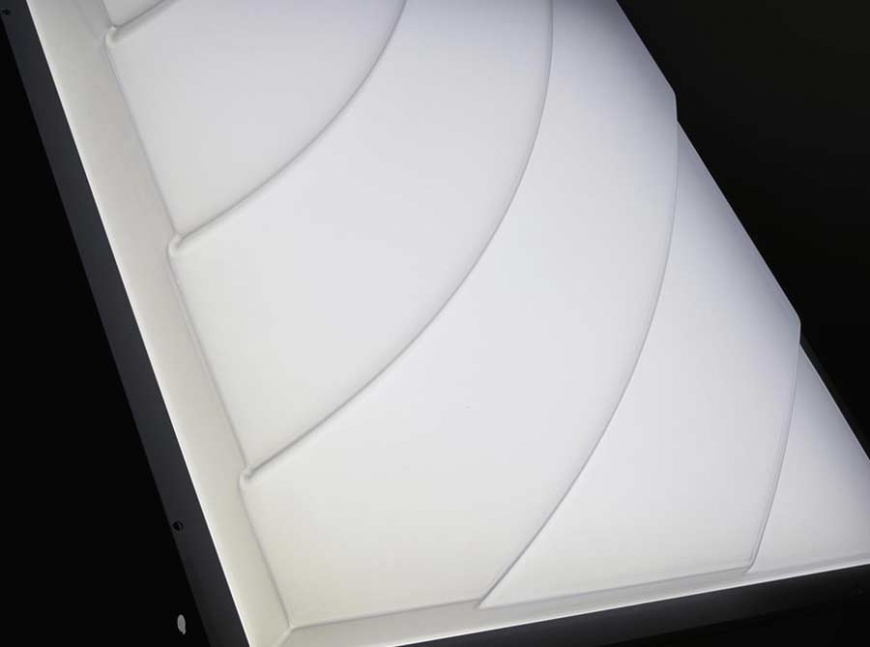 CLEVELAND – PolyOne today announced the launch of UltraTuf™ LED, a premium light diffusing sheet that combines excellent light transmission and diffusion properties with toughness, chemical resistance and improved design flexibility. UltraTuf LED sheet is made using BPA-free Eastman Spectar™ Stratus copolyester, which has received UL GREENGUARD Certification for Indoor Air Quality.
"We developed new UltraTuf LED sheet with the ability to transmit up to 91% of light while still effectively diffusing the light across the lens," said Kendall Justiniano, marketing director, Designed Structures and Solutions at PolyOne. "And we also harnessed the design flexibility and exceptional durability inherent in the base material to deliver a complete solution to LED lighting system designers."
Because it offers deep draw thermoforming capabilities, UltraTuf LED sheet can be used to create visually stunning designs that allow OEMs to differentiate their lighting systems. It also has superior durability, withstanding direct impact in shipping or use of up to 15 times that of most traditional light diffuser materials for simpler handling and longer installed life. Good chemical resistance makes UltraTuf LED suitable for demanding environments, and ease of processing helps to improve operational efficiency during manufacture.
About PolyOne
PolyOne Corporation, with 2015 revenues of $3.4 billion, is a premier provider of specialized polymer materials, services and solutions. The company is dedicated to serving customers in diverse industries around the globe, by creating value through collaboration, innovation and an unwavering commitment to excellence. Guided by its Core Values, Sustainability Promise and No Surprises PledgeSM, PolyOne is committed to its customers, employees, communities and shareholders through ethical, sustainable and fiscally responsible principles. For more information, visit www.polyone.com.
# # #
EDITORS: For a high-resolution image, please click here: UltraTuf LED
Image Caption: With its deep draw thermoforming capabilities, new UltraTuf ™LED sheet offers enhanced design flexibility while effectively diffusing hot spots.
Image Copyright PolyOne
To access PolyOne's news library online, please go to www.polyone.com/news
Media contact

Laurie Forbush
Marketing Communications Manager
PolyOne Corporation
+1 440-930-3320
laurie.forbush@avient.com