Pump Up the Volume on Portable Audio Speakers With New Versaflex™ TPEs from PolyOne
February 21, 2017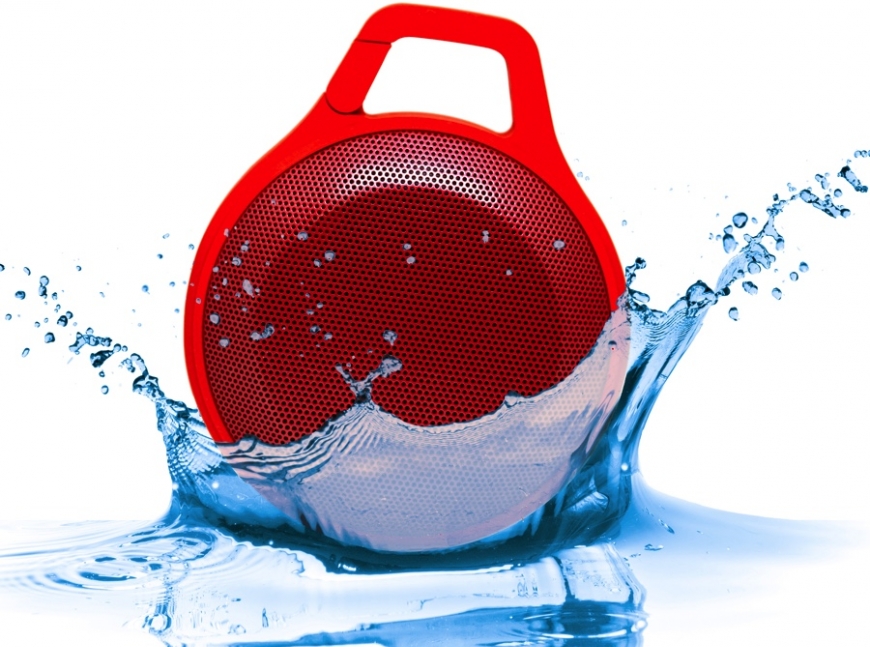 MCHENRY, Ill. – PolyOne today announced an expansion of its industry-leading Versaflex™ CE thermoplastic elastomer (TPE) portfolio for consumer electronics with two new grades tailored specifically for portable audio speakers. These new materials are formulated to improve design, performance and processing capabilities versus traditional silicone, thermoplastic urethane (TPU), or thermoplastic vulcanizates.

The first new grade can be overmolded onto a range of rigid polymer substrates to form internal seals or gaskets. With its 40 Shore A hardness, it also offers a low compression set to protect sensitive audio components from water and dust. The second grade, with 80 Shore A hardness, enhances speaker skin design with a silky feel, excellent colorability and outstanding resistance to abrasion and environmental effects.

"The popularity of wireless speakers has exploded, giving smartphone and tablet users the freedom to listen to and share music anywhere they choose," said Michelle Hearn, global marketing director, GLS™ Thermoplastic Elastomers at PolyOne. "But mobility creates new demands on materials that are exposed to the elements. Our new Versaflex™ CE TPE grades combine durable aesthetics with extreme protection from outdoor environments. These materials also expand design possibilities while streamlining the manufacturing process for lower production cost. Our continued investment in designing innovative materials specifically for the audio device industry demonstrates our commitment to the success of our customers in this space."

Protection against the Elements

For speaker gaskets and seals, Versaflex™ CE (40 Shore A) replaces separate O-rings with an overmolded, internal part that firmly bonds to polycarbonate (PC), acrylonitrile-butadiene-styrene (ABS), copolyester, or PC/ABS without adhesives. This integrated approach, together with a low compression set, delivers robust long-term ingress protection against dust and water to the highest International Protection Marking (IEC standard 60529) ratings.

Overmolding gaskets and seals also paves the way for complex designs that are impossible to achieve with separate O-rings. In addition, Versaflex™ CE TPE is ideal for high-volume production and offers faster cycle times than TPU or silicone.

Durability with a Silky Feel

For speaker skins, Versaflex™ CE (80 Shore A) supplies a softer, silkier feel than TPUs while also delivering durability via resistance to abrasion, UV light and sunscreen chemicals. This material is designed for overmolding directly onto the speaker housing to simplify and accelerate manufacturing. It avoids a need for the cumbersome mechanical interlocks and primers that silicone requires for good adhesion to rigid polymer substrates.

For additional information, PolyOne has developed an e-book comparing popular materials used in portable speakers. Click here to download: What's The Difference?™ TPEs vs. Silicones for Portable Speakers.

About PolyOne
PolyOne Corporation, with 2016 revenues of $3.3 billion, is a premier provider of specialized polymer materials, services and solutions. The company is dedicated to serving customers in diverse industries around the globe, by creating value through collaboration, innovation and an unwavering commitment to excellence. Guided by its Core Values, Sustainability Promise and No Surprises PledgeSM, PolyOne is committed to its customers, employees, communities and shareholders through ethical, sustainable and fiscally responsible principles. For more information, visit www.polyone.com.

# # #

Photo Credit: ©Thinkstock
Photo Caption: New Versaflex™ CE grades deliver water and dust protection and a durable look and feel to portable audio speakers.

EDITORS: For a high-resolution image, please click here: Portable Audio Speakers

To access PolyOne's news library online, please go to www.polyone.com/news

Media contact

Michelle Maniscalco
Marketing Communications Manager, North America
PolyOne Corporation
+1 440-930-1988
michelle.maniscalco@avient.com