Protecting Our Soldiers: Ballistic System from Edwards Design and Fabrication, Inc. Relies on PolyOne GlasArmor™ Panels
July 5, 2017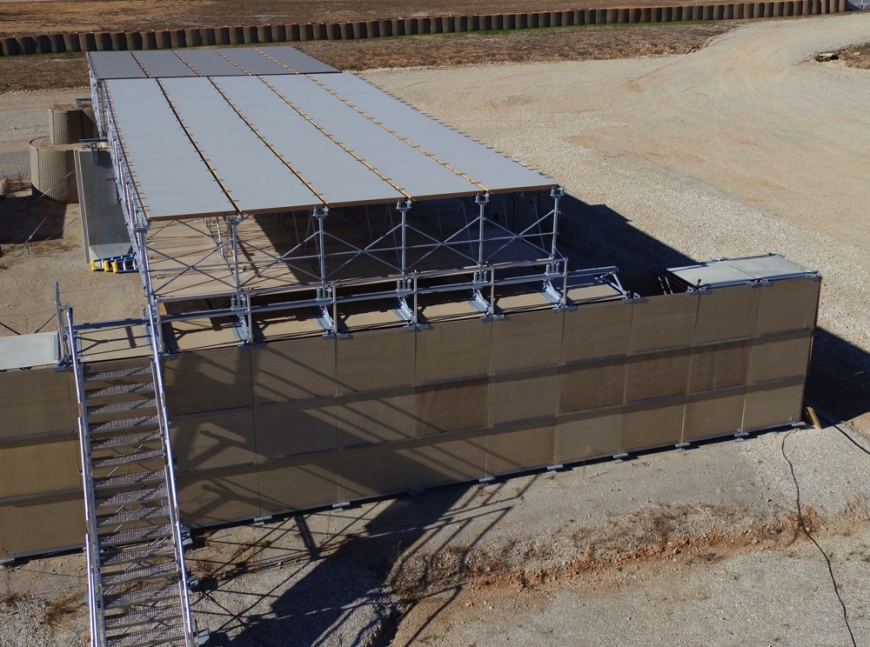 CLEVELAND – Edwards Design and Fabrication, Inc. (Edwards), a specialty fabricator, and the U.S. Army Corps of Engineers' Engineer Research and Development Center (ERDC) have recently developed a Modular Protective System (MPS) that features PolyOne's GlasArmor™ continuous glass-fiber composite panels. This system creates modular ballistic shelters that are designed to protect U.S. and allied soldiers in the field.
Concrete walls, sandbags and other traditional ballistic structures are heavy, hard to move, and time-consuming to construct. In contrast, MPS shelters are lightweight, portable and can be constructed in hours, rather than days, allowing soldiers to quickly deploy and establish positions of relative safety – even in remote locations.
"Our combined expertise was key," said Jerry Edwards, treasurer and co-owner, Edwards Design & Fabrication, Inc. "With our capabilities in hardware fabrication along with PolyOne's knowledge of composite ballistic protection technology, we were able to create modular systems that reduce time and logistic requirements for our brave soldiers."
PolyOne collaborated with Edwards to develop ballistic-resistant panels that were not only compatible with required hardware but also met color requirements for better visual cover once deployed.
In a coordinated effort with the ERDC, Edwards created a next-generation collapsible truss framework for the MPS panel and frame system. Today, these systems are used by soldiers when constructing blast resistant mortar pits, shelters, and guard towers in combat outposts. The lightweight systems can be airlifted into remote sites, and provide quick protection for troops with no additional equipment support needed.

"The MPS developed by Edwards and the ERDC provides advanced technology to protect soldiers and military assets in the field," said James Stephenson, general manager, Glasforms at PolyOne. "Our GlasArmor panels offer excellent defense from enemy fire and explosive events at a significantly reduced weight compared with alternative structural components. We are proud to be contributing to protect the lives of our soldiers in combat."
About Edwards Design & Fabrication, Inc.
Edwards Design & Fabrication, Inc., established in 1994 and located in Meridianville, AL, specializes in the fabrication of equipment for commercial businesses and government research and development organizations. Fabrication capabilities include CNC machining, a wide range of welding techniques and painting of commercial finishes, with standard and specialty metals. Learn more at www.edwardsdesignandfab.com.
About PolyOne
PolyOne Corporation, with 2016 revenues of $3.3 billion, is a premier provider of specialized polymer materials, services and solutions. The company is dedicated to serving customers in diverse industries around the globe, by creating value through collaboration, innovation and an unwavering commitment to excellence. Guided by its Core Values, Sustainability Promise and No Surprises PledgeSM, PolyOne is committed to its customers, employees, communities and shareholders through ethical, sustainable and fiscally responsible principles. For more information on PolyOne - Glasforms and GlasArmor ballistic resistant panels, visit https://www.polyone.com/products/advanced-composites.
# # #

Photo Copyright: U.S. Army Engineer Research and Development Center
Photo Caption: MPS constructed with GlasArmor Ballistic Panels
EDITORS: For a high-resolution image, please click here: GlasArmor Ballistic Panels
To access PolyOne's news library online, please go to www.polyone.com/news.
Media contact
Michelle Maniscalco
Senior Manager, Marketing Communications
PolyOne Corporation
+1 440-930-1988
michelle.maniscalco@avient.com