PolyOne Unveils Zodiac™ Aquarius Digital Hybrid Ink System at Impressions Expo Long Beach 2020
January 16, 2020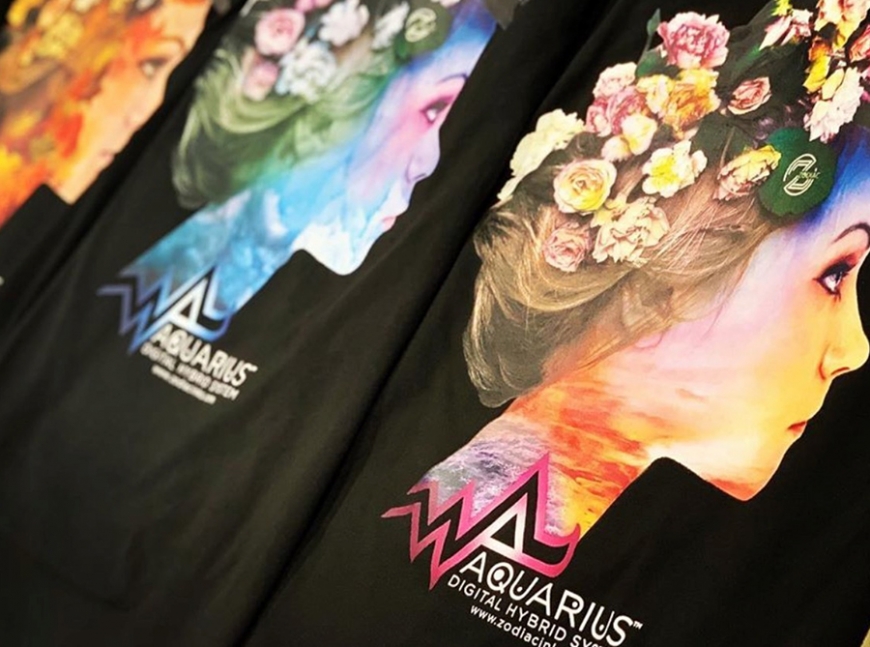 LONG BEACH, Calif. – January 16, 2020 – At this year's Impressions Expo, PolyOne Specialty Inks is launching its new Zodiac™ Aquarius Digital Hybrid eco-conscious water-based ink system. Consisting of a white under-base and matte top coat designed to protect and enhance digitally printed garments, these inks produce a soft, flexible hand, matte finish, and vibrant colors while also helping improve wash durability.
In addition to viewing live printing demonstrations throughout the show, attendees will also be able to explore PolyOne's comprehensive portfolio of screen printing inks, from water-based and silicone to plastisol and non-PVC plastisol ink technologies from Wilflex™, Rutland™, Zodiac™, Union Ink™ and Printop™ brands, all in one space.
PolyOne's exhibit space includes four presentation areas and a large back feature wall, displaying a total of over 100 printed designs that show distinct aesthetic characteristics of each ink. Uniquely themed artwork showcases the radiant special effects, opaque colors, and brilliant white inks used to bring the designs to life.
"We are pleased to offer our customers an extensive range of high-performance screen printing inks and color mixing solutions," said Tito Echiburu, general manager, PolyOne Specialty Inks. "This is an exciting time for our industry. We continue to expand our portfolio of inks with eco-conscious solutions that allow printers to be more efficient and productive while meeting their sustainability goals. Low temperature curing plastisol inks help conserve energy because customers can reduce their oven temperatures. In addition, our new high solids water-based system has excellent opacity to allow printers to reduce the number of screens, ink deposit, and flash units required."
HIGHLIGHTS for PolyOne Specialty Inks Screen Printing Technologies
Zodiac Aquarius Digital Hybrid eco-conscious inks help printers achieve vibrant color yield and enhance durability
Union Ink low-cure inks feature a wide curing profile, allowing cure temperatures between 270°F and 320°F (132°C and 160°C)
Zodiac Libra eco-conscious silicone inks make their Impressions Expo debut, offering printers high-stretch and soft-feel
Wilflex Epic Bolt low-cure/low-bleed and Shock low-cure cotton are white inks designed to cure at 270°F and can be cured in an oven shared with standard plastisol inks
Visit PolyOne Specialty Inks in booth 1417 at the Impressions Expo Show January 17 – 19, 2020.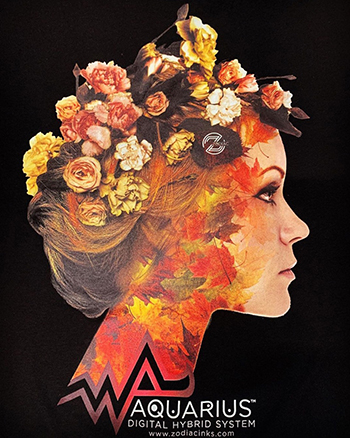 Caption: PolyOne Specialty Inks is launching new Zodiac™ Aquarius Digital Hybrid System at ISS 2020.
About PolyOne
PolyOne Corporation (NYSE: POL), with 2018 revenues of $2.9 billion, is a premier provider of specialized polymer materials, services and solutions. The company adds value to global customers and improves sustainability through formulating materials, such as:
• Barrier technologies that preserve the shelf-life and quality of food, beverages, medicine and other perishable goods through high-performance materials that require less plastic
• Light-weighting solutions that replace heavier traditional materials like metal, glass and wood, which can improve fuel efficiency in all modes of transportation
• Breakthrough technologies that minimize wastewater and improve the recyclability of materials and packaging across a spectrum of end uses
PolyOne employs approximately 5,700 associates and is certified ACC Responsible Care® and a founding member of the Alliance to End Plastic Waste. For more information, visit www.polyone.com.
# # #
EDITORS: For a high-resolution image, please click here: FOR MEDIA USE ONLY
To access PolyOne's news library online, please go to www.polyone.com/news
Media contact
Michelle Maniscalco
Senior Manager, Marketing Communications
PolyOne Corporation
+1 440-930-1988
michelle.maniscalco@avient.com