PolyOne Unveils Specialty Polymers and Colorants at Fakuma 2018
October 11, 2018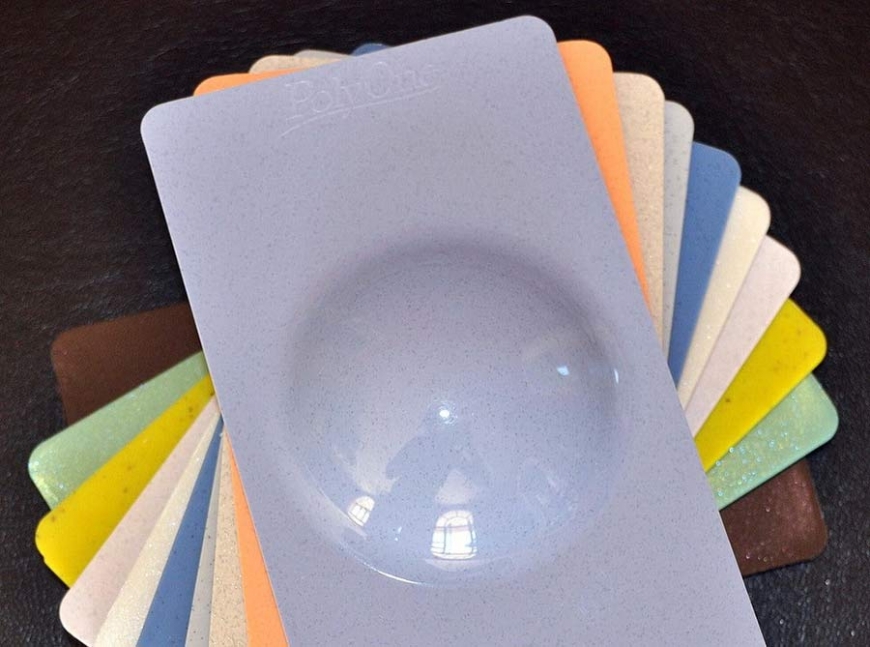 CLEVELAND – October 11, 2018 – During the 2018 Fakuma show next week in Friedrichshafen, Germany, PolyOne will give visitors an exclusive first look at this new addition to its specialty colorants lineup:
OnColor™ Colorants Shades of Nature Collection includes ten new special effects colorants inspired by nature. Available in masterbatch form, the colorants have been created to include materials such as almond shells, glitter flakes, fibers and other special effects. They can be customized for various polymers, and enable unique artisanal looks in plastic. Shades of Nature colors are also a cost-effective replacement option for marble, granite, and other expensive, organic materials currently popular in consumer product designs.
Further proven solutions also on display at Fakuma will include:
Gravi-Tech™ Density Modified Polymers: Composite materials that provide the look, feel and sound of metal, but deliver the design freedom of a polymer
OnFlex™ LO Low VOC / FOG & Odor TPEs: Engineered thermoplastic elastomers that help meet Vehicle Interior Air Quality (VIAQ) standards for automotive interior components including HVAC flaps, interior trays and fasteners and clips
Visitors at Fakuma can learn more by visiting PolyOne in Hall B5, Stand 5316. The trade show runs from October 16 - 20, 2018.
About PolyOne
PolyOne Corporation, with 2017 revenues of $3.2 billion, is a premier provider of specialized polymer materials, services and solutions. The company is dedicated to serving customers in diverse industries around the globe by creating value through collaboration, innovation and an unwavering commitment to excellence. Guided by its Core Values, Sustainability Promise and No Surprises PledgeSM, PolyOne is an ACC Responsible Care® certified company committed to its customers, employees, communities and shareholders through ethical, sustainable and fiscally responsible principles. For more information, visit www.polyone.com.
# # #
EDITORS: For a high-resolution image, please click here: Fakuma 2018 images from PolyOne
PHOTO CAPTION: A new nature-inspired color collection and low-odor automotive interior materials await visitors to the PolyOne stand at Fakuma 2018.
To access PolyOne's news library online, please go to www.polyone.com/news
Media contact
Michelle Maniscalco
Senior Manager, Marketing Communications
PolyOne Corporation
+1 440-930-1988
michelle.maniscalco@avient.com