PolyOne Specialty TPE Material Enables OEMs to Meet Skin Sensitivity Testing Requirements
June 24, 2014
McHENRY, Ill. – June 24, 2014 – PolyOne GLS Thermoplastic Elastomers, a global leader in high-performance, custom-formulated thermoplastic elastomer (TPE) solutions, today announced that its Versaflex™ CE 3620 material meets all ISO 10993-10:2010 testing requirements with no signs of irritation. These results provide confidence to designers creating innovative products for the wearable consumer electronics segment.
"Our pro-active work in achieving compliance for our material helps leading consumer brands gain a competitive edge by indicating that their products are made with materials tested and approved for skin sensitivity, " said Charles Page, director, global marketing, PolyOne GLS Thermoplastic Elastomers. "Additionally, brand owners can accelerate time to market with this innovative material, which meets the pace of the consumer electronics market."
Recent industry recalls and consumer concerns in the wearable electronics market have heightened the need for materials that do not cause irritation when in contact with the skin. Several Versaflex CE materials have been used in wearable electronics applications without irritation for a number of years, and the recent ISO testing results underscore this track record.
The Versaflex CE family of TPEs provides consumer electronics brands new solutions for unique design, performance and aesthetics. Key performance characteristics include: haptics, such as a silky smooth feel; strong chemical and UV light resistance for long-term durability; and vibration-damping qualities to enhance device performance and end user comfort.
About PolyOne
PolyOne Corporation, with 2013 revenues of $3.8 billion, is a premier provider of specialized polymer materials, services and solutions. The company is dedicated to serving customers in diverse industries around the globe, by creating value through collaboration, innovation and an unwavering commitment to excellence. Guided by its Core Values, Sustainability Promise and No Surprises PledgeSM, PolyOne is committed to its customers, employees, communities and shareholders through ethical, sustainable and fiscally responsible principles. For more information, visit www.polyone.com.
# # #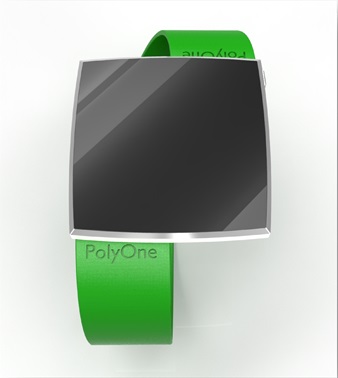 Caption: Conceptual design for a "smart" watch incorporates Versaflex™ CE in the wrist band.
To access PolyOne's news library online, please go to www.polyone.com/news.
Media contacts
Michelle Maniscalco
Marketing Communications Manager, North America
PolyOne Corporation
+1 440-930-1988
michelle.maniscalco@avient.com
Sandy Wagner
Marketing Communications Manager
PolyOne GLS Thermoplastic Elastomers
+1 815-385-8500
sandy.wagner@avient.com