PolyOne Features Polymer Solutions and Services Designed Specifically for Mexico and Central America at Plastimagen
March 29, 2019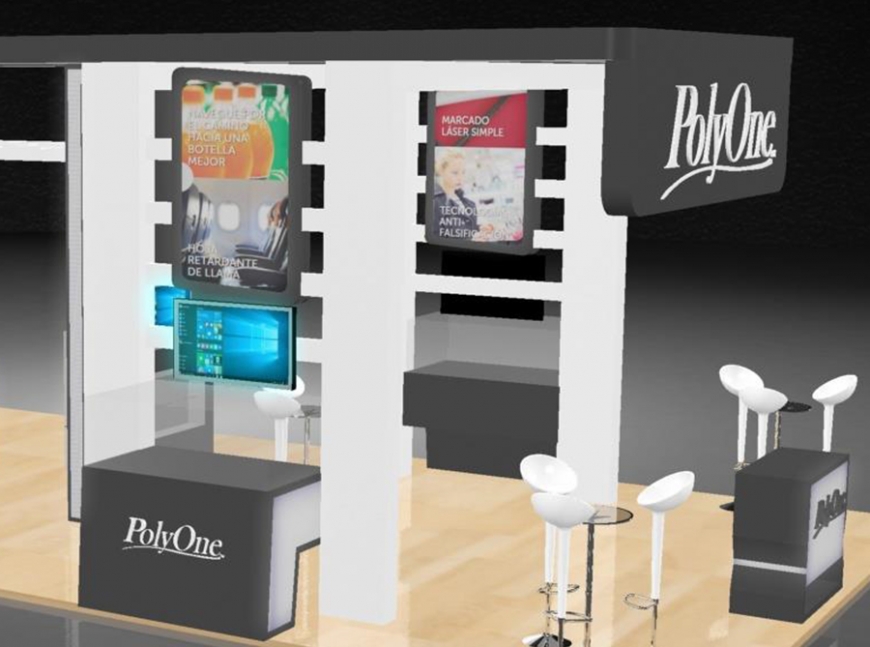 MEXICO CITY – March 29, 2019 – At the 2019 Plastimagen tradeshow next week, PolyOne is showcasing its range of polymer and colorant solutions and services developed to tackle customer needs from concept and design through commercialization. Visitors to the PolyOne booth will be able to explore innovations for application-specific products, sustainable solutions and service offerings designed to differentiate products and streamline production.
PolyOne's display features specialized polymer solutions and local services, including:
EMI / RFI Shielding and Conductive Formulations: New in 2019, PolyOne has added Surround™ long fiber formulations to its conductive polymers portfolio. Targeted at EMI / RFI shielding applications, Surround formulations extend the range of electrical conductivity possible with Stat-Tech™ electrically conductive formulations, and join Therma-Tech™ thermally conductive polymers
OnColor™ SC Super Concentrate Technologies: Colorant technologies that use greater active pigment loadings to achieve improved opacity and enable the increased use of recycled content without sacrificing color design
2020 Color Inspiration Guide: A collection of four progressive and dynamic color palettes that represent a myriad of viewpoints from visionaries around the world
Reinforced Polyolefins for Automotive: Maxxam™ LO low odor talc-filled polypropylenes and Maxxam™ XST thermoplastic olefins are the latest additions to a complete line of specially formulated polyolefins. Maxxam™ LO materials help OEMs meet vehicle interior air quality (VIAQ) standards in underhood HVAC applications because it enables reduced VOC emissions and consistently achieves odor testing results of 3.0 per VDA 270. In addition, Maxxam™ XST materials offer an exceptional balance of stiffness and impact performance for automotive interior design, even in cold temperatures.
Polymer Distribution: Leveraging a comprehensive portfolio of polymers, colorants, and additives, our knowledgeable professionals help streamline product design, material selection, manufacturing processes, and supply chain efforts through local support and global availability
Low VOC / FOG Elastomers: OnFlex™ LO low VOC / FOG thermoplastic elastomers reduce VOCs and fogging to help satisfy Vehicle Interior Air Quality (VIAQ) standards in automotive HVAC components, fasteners / clips, and interior trays
Reinforced Polymer Composite Technologies: ComplētTM long fiber reinforced thermoplastic composites and OnForce™ LFT long fiber reinforced thermoplastic composites provide high-strength-to-weight ratios, high dimensional stability and creep / fatigue performance for demanding body and structural components in automotive vehicles and outdoor goods such as ATVs
Vibration Damping Technologies: Versaflex™ VDT thermoplastic elastomers reduce appliance vibration and 'walking' when used in anti-vibration feet for top load washing machines, and can be overmolded to help eliminate secondary processes and reduce cycle time
PolyOne is exhibiting at Plastimagen in Mexico City, Mexico, in booth 2114 from April 2-5, 2019.
About PolyOne
PolyOne Corporation, with 2018 revenues of $3.5 billion, is a premier provider of specialized polymer materials, services and solutions. The company is dedicated to serving customers in diverse industries around the globe by creating value through collaboration, innovation and an unwavering commitment to excellence. Guided by its Core Values, Sustainability Promise and No Surprises PledgeSM, PolyOne is an ACC Responsible Care® certified company committed to its customers, employees, communities and shareholders through ethical, sustainable and fiscally responsible principles. For more information, visit www.polyone.com.
# # #
EDITORS: For a high-resolution image, please click here: Plastimagen 2019
PHOTO CAPTION: Explore the possibilities for polymers, colorants, additives, and services with PolyOne at Plastimagen 2019 in Mexico City.
To access PolyOne's news library online, please go to www.polyone.com/news
Media contact
Michelle Maniscalco
Senior Manager, Marketing Communications
PolyOne Corporation
+1 440-930-1988
michelle.maniscalco@avient.com