PolyOne ECCOH™ Material Meets Stringent Requirements for Ground-Breaking Hong Kong-Zhuhai-Macau Bridge Project
April 18, 2018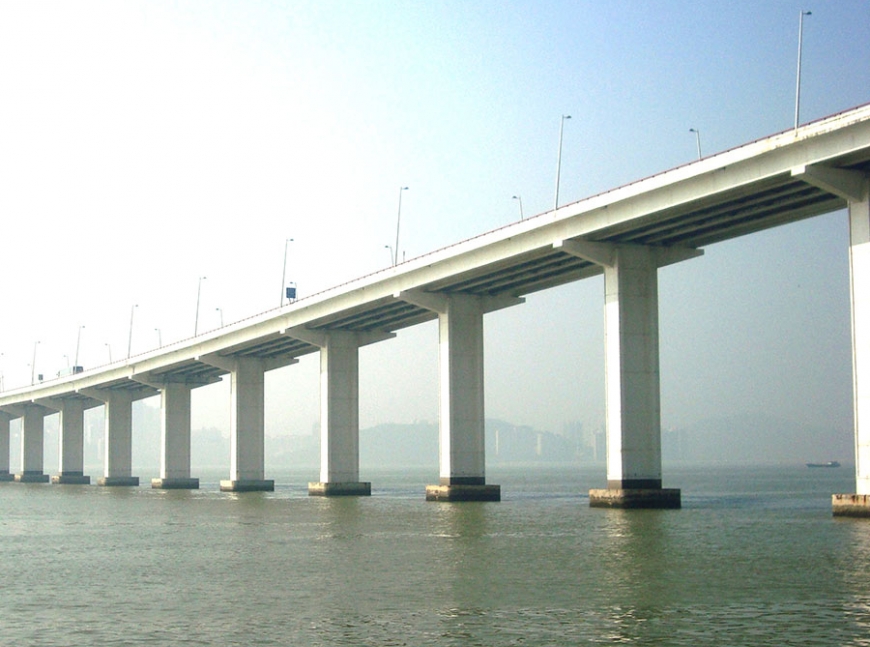 SHANGHAI – April 20, 2018 – Next week at CHINAPLAS 2018, PolyOne will showcase how it helped Keystone Electric Wire & Cable Co. Ltd. to meet stringent specifications and an aggressive timeline as a major supplier to the Hong Kong-Zhuhai-Macau Bridge project. PolyOne's ECCOH™ low-smoke and fume, non-halogen flame-retardant material for wire and cable enabled Keystone to quickly manufacture and deliver medium- and low-voltage power cables that complied with safety, performance, reliability and environmental requirements.
"When Keystone was awarded four projects associated with the bridge and Hong Kong Boundary Control Points buildings, we needed a supplier that could fulfill our exacting requirements for jacketing and insulation material – and deliver quickly," said Emil Yu, general manager for Keystone. "PolyOne's low-smoke, non-halogenated ECCOH material met strict specifications for mechanical properties, and successfully passed testing for flame and smoke resistance. PolyOne also offered the hands-on technical support and short lead times that Keystone needed to meet our deadline for delivering our cables to the installer."
PolyOne's ECCOH material met Keystone's requirements for excellent electrical and mechanical properties, long-term aging reliability, flame retardance to improve safety in the event of fire (IEC-60332-24), and a non-halogen formulation to meet environmental standards (IEC-60574). Further, PolyOne's local production capability expedited delivery times to help Keystone keep to a tight schedule.
Woon-Keat Moh, general manager, Specialty Engineered Materials Asia for PolyOne, said, "Our advanced thermoplastic formulations help wire and cable manufacturers meet demands for better performance and safety, while also meeting necessary environmental requirements. We can improve supply chain logistics to streamline manufacturing, and our regional production facilities accelerate turnaround for customers in Asia Pacific. Our success with Keystone is just one example of how we are helping customers to win in this region."
The Hong Kong-Zhuhai-Macau Bridge is a system made up of three cable-stayed bridges and one undersea tunnel, as well as three artificial islands. It spans the Lingdingyang channel that connects Hong Kong with Macau and Zhuhai, three major cities on the Pearl River Delta in China. It is scheduled to open in Q2 2018.
PolyOne is showcasing its family of ECCOH low-smoke/low-fume, non-halogenated compounds at its exhibit (Hall 8.2, Stand E37) at CHINAPLAS 2018, April 24-27.
About PolyOne
PolyOne Corporation, with 2017 revenues of $3.2 billion, is a premier provider of specialized polymer materials, services and solutions. The company is dedicated to serving customers in diverse industries around the globe by creating value through collaboration, innovation and an unwavering commitment to excellence. Guided by its Core Values, Sustainability Promise and No Surprises PledgeSM, PolyOne is an ACC Responsible Care® certified company committed to its customers, employees, communities and shareholders through ethical, sustainable and fiscally responsible principles. For more information, visit www.polyone.com.
About Keystone
Keystone was established in Hong Kong in 1969. Its main product lines include copper wire, building wire, low- and medium-voltage power cable, control cable and telecommunication cable. Keystone is a qualified cable supplier to public companies.
# # #
EDITORS: For a high-resolution image, please click here: PolyOne HKZMB Project
Photo Caption: PolyOne's ECCOH solutions for wire and cable jacketing/insulation helped Keystone meet critical performance and delivery requirements for the Hong Kong-Zhuhai-Macau Bridge project.
Photo Copyright: ©PolyOne
To access PolyOne's news library online, please go to www.polyone.com/news.
Media contact
Michelle Maniscalco
Marketing Communications Manager, North America
PolyOne Corporation
+1 440-930-1988
michelle.maniscalco@avient.com