PolyOne ColorMatrix Technology Enables Energy Savings for China's PET Packaging Converters
March 11, 2014
SUZHOU, China – ColorMatrix, a subsidiary of PolyOne Corporation and a global leader in liquid color and additives for plastics, today announced that its patented Joule™ RHB liquid infra-red absorption technology is now approved for use in PET beverage packaging in China. Adding this technology to bottle preforms enables improved recyclability and reduces energy consumption by up to 30% compared with reheat-free PET resin for substantial production cost savings.
Steven Chai, general manager, ColorMatrix Asia, said, "Joule RHB formulations have successfully delivered value through production efficiency and enhanced post-consumer recyclability for customers around the world. We can now work with PET manufacturers in China to help them improve sustainability, combat rising energy costs, and achieve greater market success."
Joule RHB offers energy gains and raw material savings throughout multiple processing steps by improving infra-red energy absorption. Environmental and raw material gains can be achieved throughout the packaging lifecycle, including the recycling stream. Its inorganic, titanium nitride (TiN) base means the additive can naturally withstand higher temperatures. Inherent blue toning properties help reduce the appearance of yellowing to maintain clarity, while the additive also retains its reheat capability even after long-term recycling.
Joule RHB is approved for PET food contact applications in China up to a level of 20ppm, and for temperature conditions equal to the U.S. FDA's condition of use C, including hot fill up to 100°C.
"We currently manufacture Joule formulations at our facility in Suzhou for customers in other countries throughout Asia Pacific, enabling us to go to market in China immediately with local technical support and short lead times," added Chai.
To calculate cost and energy savings when using Joule RHB in specific applications, download the ColorMatrix Energy and CO2 Calculator App.
About PolyOne
PolyOne Corporation, with 2013 revenues of $3.8 billion, is a premier provider of specialized polymer materials, services and solutions. The company is dedicated to serving customers in diverse industries around the globe, by creating value through collaboration, innovation and an unwavering commitment to excellence. Guided by its Core Values, Sustainability Promise and No Surprises PledgeSM, PolyOne is committed to its customers, employees, communities and shareholders through ethical, sustainable and fiscally responsible principles. For more information, visit www.polyone.com.
# # #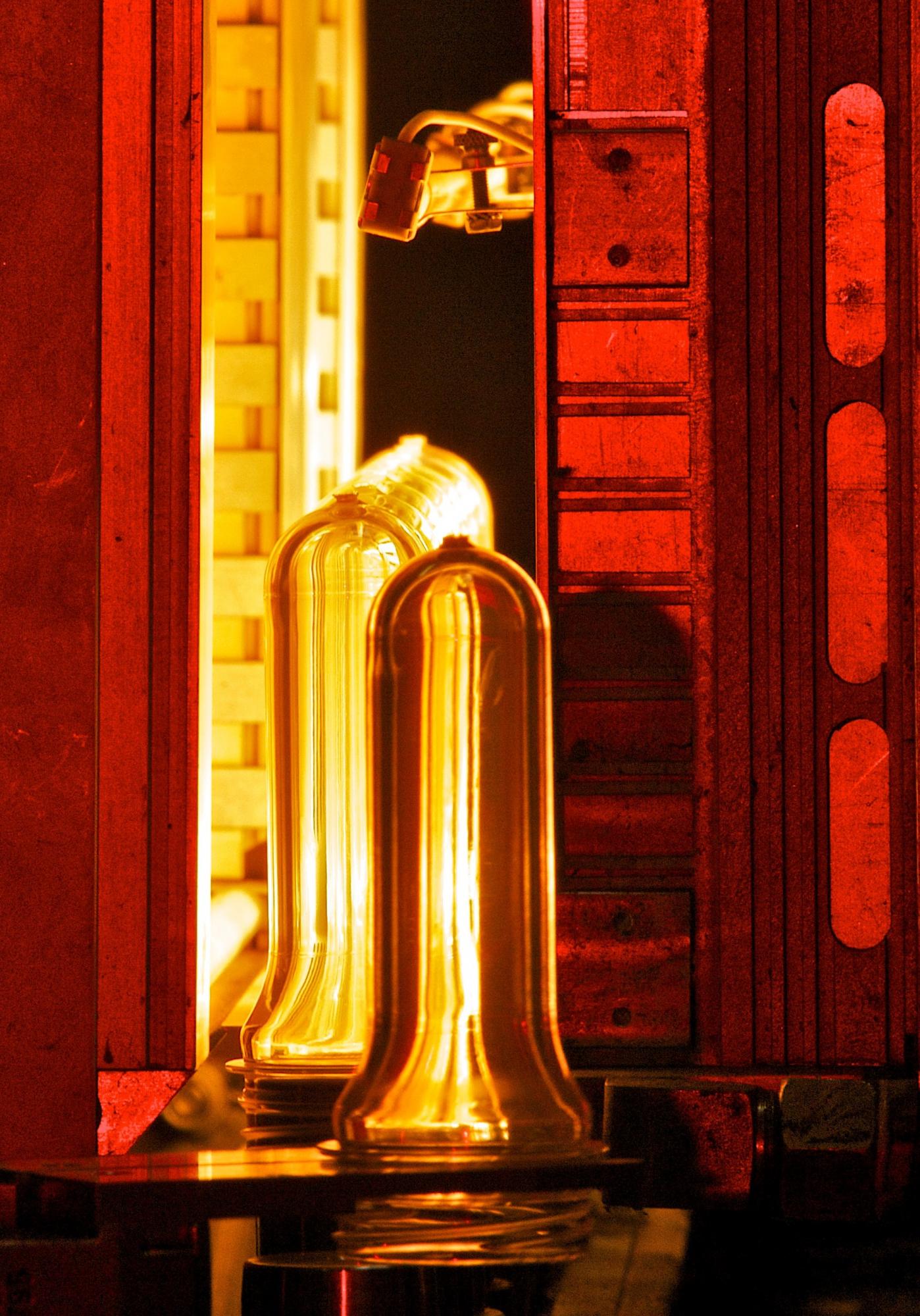 Caption: Joule RHB improves infra-red energy absorption in PET preforms to help reduce energy consumption during container manufacturing.
To access PolyOne's news library online, please go to www.polyone.com/news.
Media contacts
Peter Bredenkamp
Marketing Communications Specialist
PolyOne ColorMatrix
+44(0)7794 006170
peter.bredenkamp@avient.com
Michelle Maniscalco
Marketing Communications Manager, North America
PolyOne Corporation
+1 440-930-1988
michelle.maniscalco@avient.com