From Inspiration to Innovation: PolyOne Launches All New Website
November 9, 2015
CLEVELAND – PolyOne today celebrated the unveiling and launch of its new corporate website, www.PolyOne.com. Offering enhanced, customer-centric content and intuitive navigation, the new PolyOne.com is built to be a resource for those seeking information about PolyOne solutions, services and ideas.
"We know our customers are always looking to online sources to do their jobs better, find solutions faster, and stay on top of what's next in their industry," said Cathy K. Dodd, vice president, Marketing, PolyOne Corporation. "In updating our site, we focused not only on meeting our customers' information needs, but also on inspiring them with a library of comprehensive content that fosters their success."
The new PolyOne.com consolidates the company's global portfolio from 12 legacy websites into one customer-centric experience. In a single website, users can now find PolyOne solutions for thermoplastic elastomers, plasticizers, engineered materials, colorants, additives and more. Responsively designed, the site can be viewed just as well on a desktop as on a mobile phone or tablet, which translates into a consistent web experience that makes finding safety data sheets, product literature and in-depth content easy and instinctive.
Featuring a fully integrated, global directory of contact information, the site also includes enriched career and investor information centers. Case studies, webinars, and insights are located in a new idea center that links to a searchable resource database filled with white papers, expert articles, videos and literature. New industry sections help keep users updated on trends and solutions related to specific applications.
To view a video that highlights the new features of the site, click here or visit www.PolyOne.com.
About PolyOne
PolyOne Corporation, with 2014 revenues of $3.8 billion, is a premier provider of specialized polymer materials, services and solutions. The company is dedicated to serving customers in diverse industries around the globe, by creating value through collaboration, innovation and an unwavering commitment to excellence. Guided by its Core Values, Sustainability Promise and No Surprises PledgeSM, PolyOne is committed to its customers, employees, communities and shareholders through ethical, sustainable and fiscally responsible principles. For more information, visit www.polyone.com.
# # #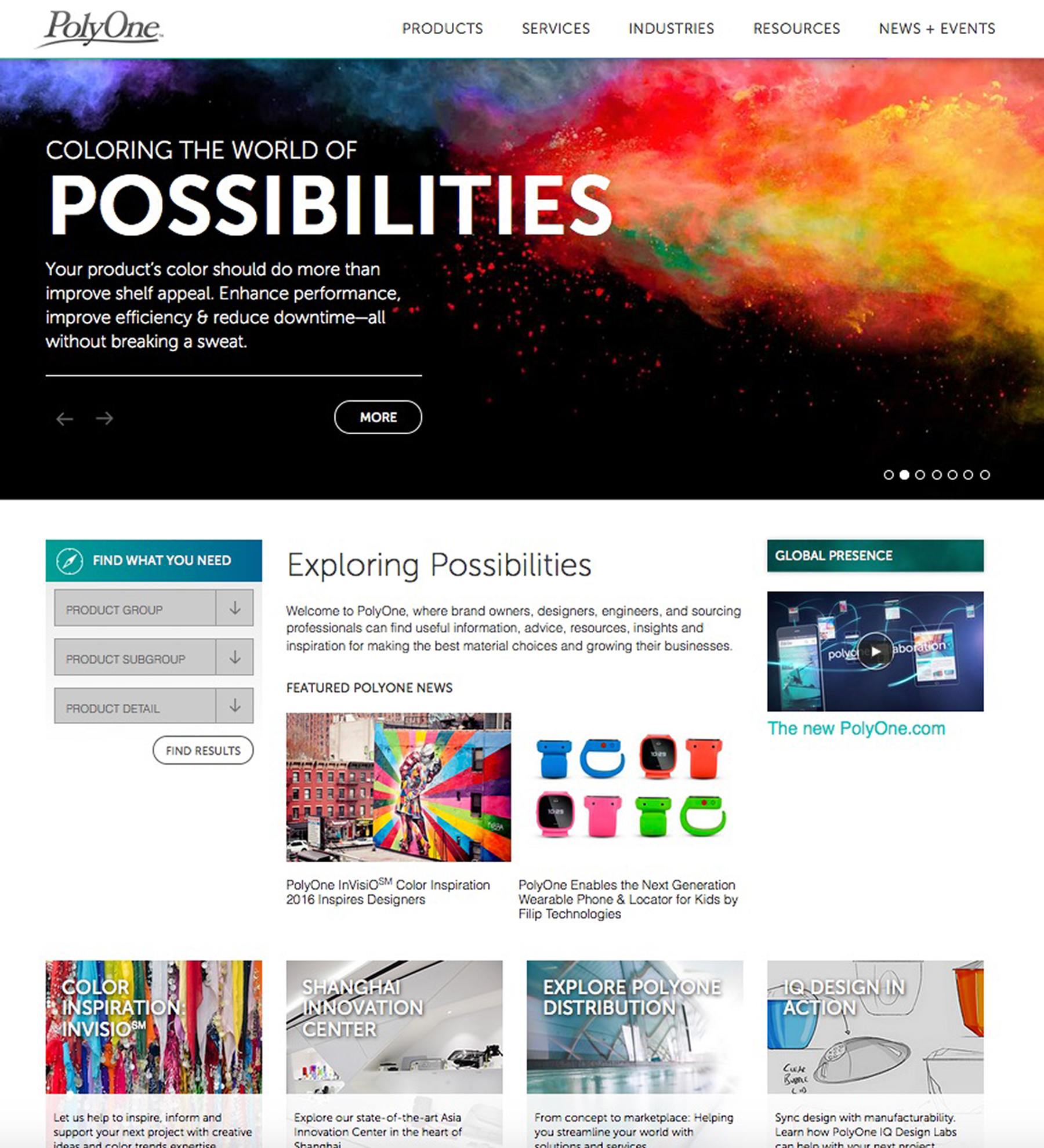 EDITORS: For a high-resolution image, please click here: All New PolyOne.com
To access PolyOne's news library online, please go to www.polyone.com/news.
Media contact
Michelle Maniscalco
Marketing Communications Manager, North America
PolyOne Corporation
+1 440-930-1988
michelle.maniscalco@avient.com