Groundbreaking New Portable Emergency Oxygen Device from Rapid Oxygen Relies on PolyOne Healthcare Expertise
September 25, 2018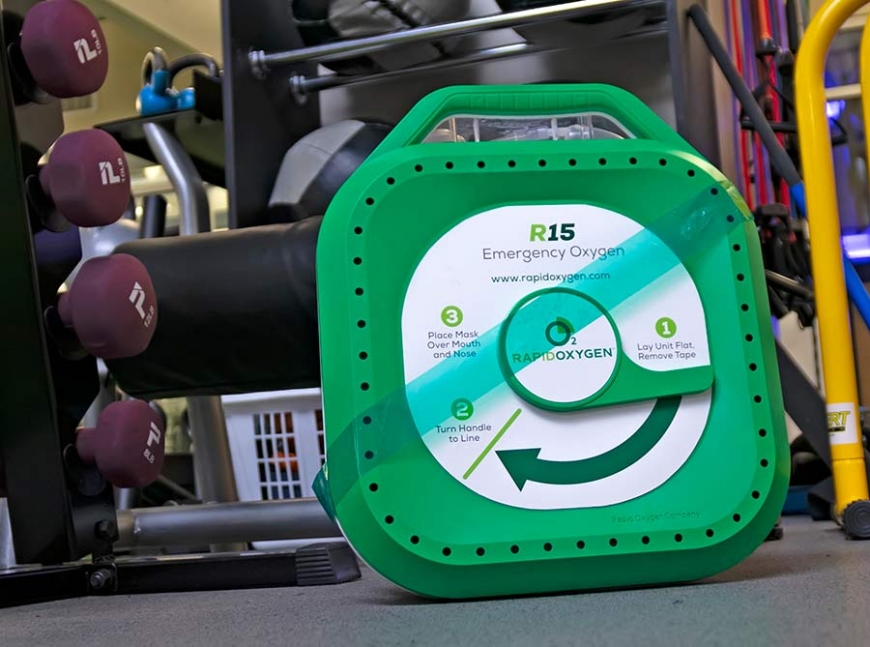 CLEVELAND – September 25, 2018 – PolyOne recently collaborated with Rapid Oxygen, a Stamford, CT-based company founded in 2013, on polymer selection for the development of its new emergency oxygen device called R15. Launched this month, the FDA-cleared unit is marketed as the only emergency oxygen device that is non-explosive, portable, easy to use, and doesn't require external power.
PolyOne provided a variety of solutions from its extensive distribution portfolio to address the needs for internal and external R15 components. A number of material types and grades from PolyOne, Covestro, and Trinseo were used to meet critical short- and long-term device needs that included impact, chemical, and high temperature resistance, as well as dimensional and color stability.
The patented, portable, R15 emergency oxygen delivery system can be deployed everywhere an AED (automated external defibrillator) is located to help a person with airway or cardiac emergencies in the first critical minutes before EMS arrives. It can be placed in virtually any public location, much like a fire extinguisher.
Working in conjunction with the University of Michigan and a team of scientists and engineers, Rapid Oxygen CEO and founder Richard Imbruce, Ph.D., developed the R15 to deliver 15 minutes of 100% humidified oxygen at 6 liters per minute.
"We were inspired by the need to make oxygen accessible to more people in emergency situations," said Imbruce. "Our focus was to create a device that produces non-explosive oxygen in a portable and user-friendly way. PolyOne was instrumental in helping to streamline the development and production cycles through regulatory support, material expertise and selection, and supply chain solutions. They helped us get to market faster and address our needs for the device housing and components."
Smith & Wesson Precision Components (SWPC), a leading injection molder and longtime PolyOne Distribution customer, began working with Rapid Oxygen to produce plastic components for the R15. SWPC quickly recommended PolyOne for its material selection expertise and guidance.
"We're excited to play a part in the launch of such an innovative product," said Karen Heroldt, senior industry manager, healthcare, PolyOne Distribution. "It illustrates how early involvement and close collaboration enable our customers to stay focused on their device's efficacy, while relying on our team's expertise to navigate and solve part design, regulatory and manufacturing process challenges."
About PolyOne
PolyOne Corporation, with 2017 revenues of $3.2 billion, is a premier provider of specialized polymer materials, services and solutions. The company is dedicated to serving customers in diverse industries around the globe by creating value through collaboration, innovation and an unwavering commitment to excellence. Guided by its Core Values, Sustainability Promise and No Surprises PledgeSM, PolyOne is an ACC Responsible Care® certified company committed to its customers, employees, communities and shareholders through ethical, sustainable and fiscally responsible principles. For more information, visit www.polyone.com.
About Rapid Oxygen
The Rapid Oxygen Company (ROC) develops, designs, manufactures and sells portable oxygen generators for emergency use. ROC currently offers the R15 device, which is cleared as an OTC medical device by the FDA. The R15 is economical, safe, non-explosive, portable, easy to use, and doesn't require a power source. Similar to a fire extinguisher, we believe the R15 should be deployed in any location with public access or alongside an automated external defibrillator (AED) for the purpose of assisting with airway or cardiac emergencies while awaiting emergency services. The R15's unique delivery system, combination of safe chemicals, and other features are patented. The R15 is commercially available through the ROC website (www.rapidoxygen.com), as well as through Amazon.com, and a regional distribution network at a retail price of $495. For more information visit website: www.rapidoxygen.com.
# # #
EDITORS: For a high-resolution image, please click here: Rapid Oxygen R15 device
PHOTO CAPTION: The R15 by Rapid Oxygen is the first emergency oxygen device that is non-explosive, portable, easy to use, doesn't require a power source, and can be used in any public location, such as gyms, schools, beaches and public pools.
To access PolyOne's news library online, please go to www.polyone.com/news
Media contacts:
Michelle Maniscalco
Marketing Communications Manager, North America
PolyOne Corporation
+1 440-930-1988
michelle.maniscalco@avient.com
Rose Tracy
Marketing Specialist
Rapid Oxygen
203-989-9053
roset@rapidoxygen.com