Find Inspiration in New PolyOne Online Films Design Center
January 9, 2017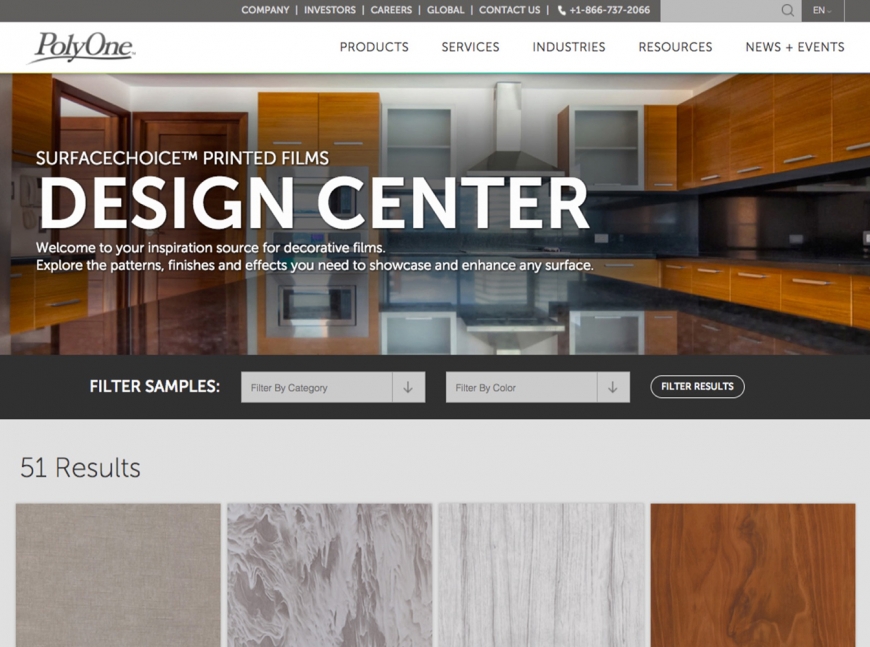 Find Inspiration in New PolyOne Online Films Design Center
CLEVELAND – PolyOne has unveiled an all-new online Decorative Films Design Center, providing visual inspiration for those who want to add interest and appeal to surfaces by applying printed films.
The SurfaceChoice™ Films Design Center houses over 50 images of varied film patterns and effects, from wood grain to embossed. Images are easily filtered by category, color family or a combination of options.
"This online Design Center is actually a complement to our design team located at the Salisbury, Maryland production facility," said Greg Zeis, specialty business director, PolyOne Designed Structures and Solutions. "We have long offered our customers creative support, including design assistance, color matching and blending. Now, we've added an online tool customers can also use to gain design inspiration and improve their speed to market."
As visitors to the site explore each pattern, they are given the option to zoom in for a closer look, or to save an image for future use. They can also request physical samples of their chosen design.
The unveiling of the SurfaceChoice Films Design Center also celebrates the launch of the SurfaceChoice brand – an updated trade name that reflects a simplified and modernized approach to PolyOne decorative printed films.
Visit the new SurfaceChoice Films Design Center at:
http://www.polyone.com/films-design-center

About PolyOne
PolyOne Corporation, with 2015 revenues of $3.4 billion, is a premier provider of specialized polymer materials, services and solutions. The company is dedicated to serving customers in diverse industries around the globe, by creating value through collaboration, innovation and an unwavering commitment to excellence. Guided by its Core Values, Sustainability Promise and No Surprises PledgeSM, PolyOne is committed to its customers, employees, communities and shareholders through ethical, sustainable and fiscally responsible principles. For more information, visit www.polyone.com.
# # #

Photo Credit: ©PolyOne
Photo Caption: The new online SurfaceChoice™ Design Center houses over 50 different decorative film patterns for visual inspiration.

EDITORS: For a high-resolution image, please click here:
SurfaceChoice™ Design Center
To access PolyOne's news library online, please go to www.polyone.com/news
Media contact
Laurie Forbush
Marketing Communications Manager
PolyOne Corporation
+1 440-930-3320
laurie.forbush@avient.com