Faster Runs and Better Legibility with New OnCap™ Laser Marking Formulations
October 18, 2016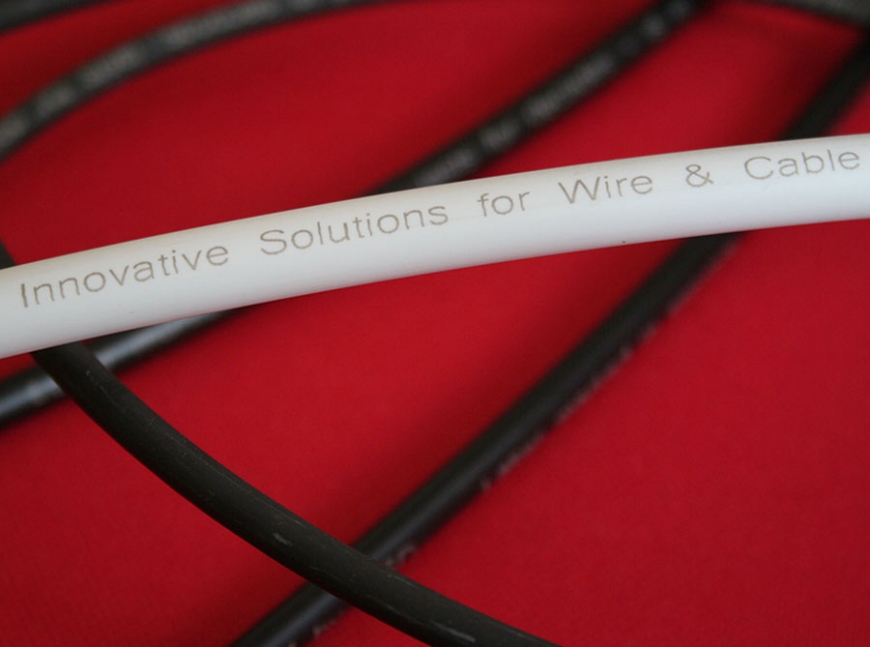 DŰSSELDORF, Germany – PolyOne has developed new formulations of its OnCap™ laser-sensitive additive solutions to enable manufacturers with rapid laser marking equipment to capture the full benefit of their new high production lines.
Recent developments in laser marking equipment allow manufacturers to run wire and cable production lines at rates up to 400 meters/minute. Too often, however, the laser-sensitive pigments and colors incorporated into the polymers selected for these applications cannot keep pace with the higher machine speeds, leading to poor legibility and contrast.
OnCap laser-sensitive additives ensure an excellent marking contrast even at extremely high extrusion line speeds. "For manufacturers, this development means they can increase production rates while also maintaining the excellent quality of their laser marking. It's truly a win-win for our customers," explained Christoph Palm, vice president, general manager, Color and Additives EMEA & India for PolyOne.

Laser marking is a well-established technology for wire & cable, packaging, medical devices, and automotive components. In practice, a laser beam activates a laser-sensitive additive embedded in the polymer. The beam changes the molecular structure of the additive, causing a color change and creating a permanent mark. Laser marking offers advantages over other marking and printing technologies. It is non-contact, abrasion resistant, permanent, and can be integrated into continuous production lines.
Gary Fielding, global marketing director for PolyOne Color and Additives, notes, "PolyOne has long been a leader in development of laser-sensitive additive formulations, and these new developments are further proof of that. We encourage manufacturers to collaborate with our laser marking experts to ensure that marking and contrast can be optimized for each color and polymer."
PolyOne is displaying laser marked wire & cable this week at the K show in Düsseldorf, Germany at its stand (Hall 8A/J11).
About PolyOne
PolyOne Corporation, with 2015 revenues of $3.4 billion, is a premier provider of specialized polymer materials, services and solutions. The company is dedicated to serving customers in diverse industries around the globe, by creating value through collaboration, innovation and an unwavering commitment to excellence. Guided by its Core Values, Sustainability Promise and No Surprises PledgeSM, PolyOne is committed to its customers, employees, communities and shareholders through ethical, sustainable and fiscally responsible principles. For more information, visit www.polyone.com.
# # #

Photo Credit: ©PolyOne
Photo Caption: Manufacturers investing in rapid laser marking machinery can count on OnCap laser marking additive concentrates from PolyOne.
EDITORS: For a high-resolution image, please click here: OnCap™ Laser Marking Formulations
To access PolyOne's news library online, please go to www.polyone.com/news.
Media contact
Matt Defosse
Marketing Communications Manager, Europe
PolyOne Corporation
+49 6407-907-0386
matt.defosse@avient.com