Extreme Conditions Are No Match for New Outdoor Sign Material
December 2, 2015
CLEVELAND – PolyOne Corporation (NYSE: POL) a premier global provider of specialized polymer materials, services and solutions, today announced the launch of UltraTuf™ SG sheet, a tough, weather-resistant thermoforming sheet for signage and glazing applications.
UltraTuf SG is based on Eastman Tritan™, a copolyester that provides clarity, toughness, and weatherability, which make it ideal for fabricators, designers, and brand owners in the signage market.
"The sign industry is a key segment for PolyOne, and UltraTuf SG sheet is a valuable addition to our portfolio," said Kendall Justiniano, marketing director, custom engineered solutions, Designed Structures and Solutions at PolyOne. "This material solution offers exceptional thermoformed detail, improved material distribution, short heating and cooling cycles, and no pre-drying under normal conditions, enabling sign manufacturers to save on energy, labor and production costs."
UltraTuf SG sheet also provides superior heat resistance and ease of fabrication for enhanced design flexibility. This new material was developed to meet customer needs for an expanded solution set that tackles the toughest outdoor signage applications.
About PolyOne
PolyOne Corporation, with 2014 revenues of $3.8 billion, is a premier provider of specialized polymer materials, services and solutions. The company is dedicated to serving customers in diverse industries around the globe, by creating value through collaboration, innovation and an unwavering commitment to excellence. Guided by its Core Values, Sustainability Promise and No Surprises PledgeSM, PolyOne is committed to its customers, employees, communities and shareholders through ethical, sustainable and fiscally responsible principles. For more information, visit www.polyone.com.
About Eastman Chemical Company
Eastman is a global specialty chemical company that produces a broad range of products found in items people use every day. With a portfolio of specialty businesses, Eastman works with customers to deliver innovative products and solutions while maintaining a commitment to safety and sustainability. Its market-driven approaches take advantage of world-class technology platforms and leading positions in attractive end-markets such as transportation, building and construction, and consumables. Eastman focuses on creating consistent, superior value for all stakeholders. As a globally diverse company, Eastman serves customers in approximately 100 countries and had 2014 revenues of approximately $9.5 billion. The company is headquartered in Kingsport, Tennessee, USA, and employs approximately 15,000 people around the world.
###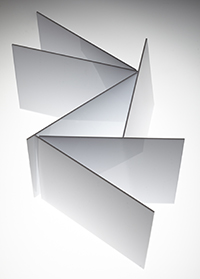 Caption: UltraTuf SG provides the performance advantages of clarity, toughness and weatherability.
EDITORS: For a high-resolution image, please click here: UltraTuf SG
To access PolyOne's news library online, please go to http://www.polyone.com/news
Media contact:

Michelle Maniscalco
Marketing Communications Manager, North America
PolyOne Corporation
+1 440-930-1988
michelle.maniscalco@avient.com