As Exclusive Sponsor for New Exhibition Area at Chinaplas 2017, PolyOne Showcases Innovative Polymer Solutions
May 16, 2017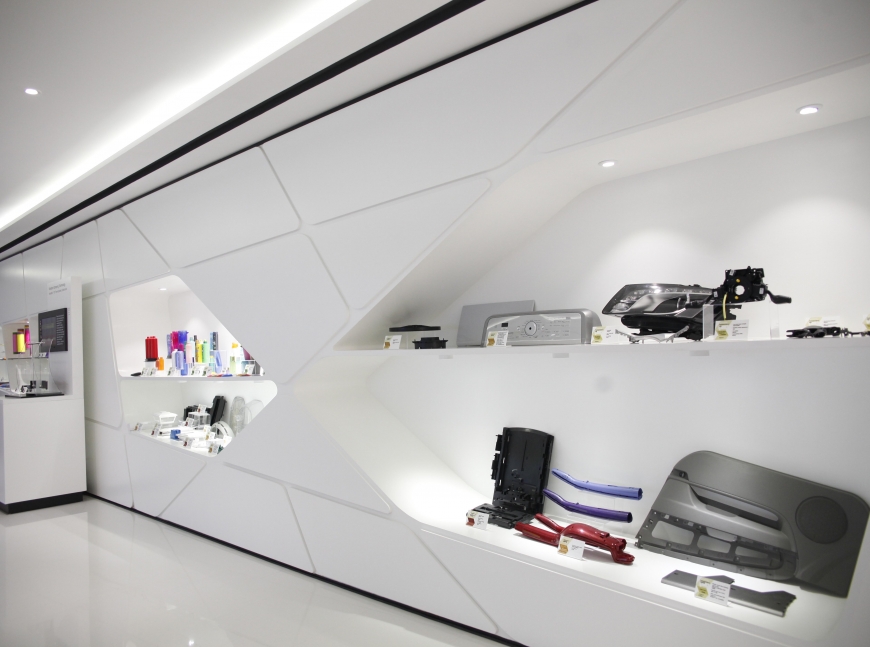 GUANGZHOU, China – At this week's Chinaplas, the largest plastics trade fair in Asia, PolyOne will feature innovative polymer technologies that help OEMs and manufacturers develop market-winning products. These leading edge materials and colorants enhance product appearance, performance and functionality, and will be on display at the show's "Science and Innovation Exhibition Area," which is sponsored exclusively by PolyOne.
"With these technologies, we continue to help our customers solve their manufacturing challenges and win competitive advantage in the marketplace," said Barto Du Plessis, vice president Asia, at PolyOne. "We do this by continuously improving our offerings with additional resources aimed at improving customer success."
PolyOne will present an early look at the advanced materials on display to a group of plastic processors during the Chinaplas TechTalk Open Forum being held today. The technologies include:
Impress™ High Gloss Metallic Effect Color Concentrates: enables blow-molded PET packaging manufacturers to create a brilliant, attention-grabbing look.
OnCap™ Anti-Fog Additive: offers transparency and fog prevention for food packaging film and lets product freshness and quality shine through.
InVisiO™ Color Inspiration 2018: helps customers to capture the essence of their brand using a collection of four influential and emerging color palettes along with comprehensive color and materials resources to choose successful color approaches for their products.

ColorMatrix™ Lactra SX: helps extends the shelf life of light-sensitive dairy products such as Ultra High Temperature (UHT) milk and protein-enhanced yoghurts by providing 99.9% light blocking. LactraSX is the only commercially available fully light-blocking white additive to be compliant with the latest Chinese Food Approval standards (GB).

High Temperature Polymers Solutions: enable manufacturers to add custom colors and functional solutions to high-temperature polymers such as PEEK, PEI, PSU and fluoropolymers. Added-value functionality includes conductivity, radio-opacity and cross-linking.

Stat-Tech™ Dissipative and Conductive Materials: provides specially engineered, antistatic, ESD and RFI/EMI shielding performance for critical electronic equipment applications.

GLS TPEs for Automotive HVAC Seals: improves driver and passenger safety and comfort with industry-leading TPE technology that has been proven to reduce volatile organic compounds (VOCs) by 50% and fogging by 35% versus existing TPEs for heating / ventilation / air conditioning applications.
Geon™ Vinyl Total Portfolio: delivers excellent flame, chemical, and UV light resistance as a cost-effective alternative to various engineered polymers.
Visit PolyOne's Collaboration Café in the Science and Innovation Exhibition Area (Hall 11.3/R41) at Chinaplas to explore the possibilities.

About PolyOne
PolyOne Corporation, with 2016 revenues of $3.3 billion, is a premier provider of specialized polymer materials, services and solutions. The company is dedicated to serving customers in diverse industries around the globe, by creating value through collaboration, innovation and an unwavering commitment to excellence. Guided by its Core Values, Sustainability Promise and No Surprises PledgeSM, PolyOne is committed to its customers, employees, communities and shareholders through ethical, sustainable and fiscally responsible principles. For more information, visit www.polyone.com.
# # #
Photo Copyright: PolyOne
EDITORS: For a high-resolution image, please click here: ChinaPlas 2017
To access PolyOne's news library online, please go to www.polyone.com/news.
Media contact
Jennifer Huang
Sr. Marketing Communications Manager, Asia
PolyOne Corporation
+86 21 60284888
jennifer.huang@avient.com