Discover Sparkling New Wilflex™ Special Effects Textile Printing Inks from PolyOne at ISS 2017
January 20, 2017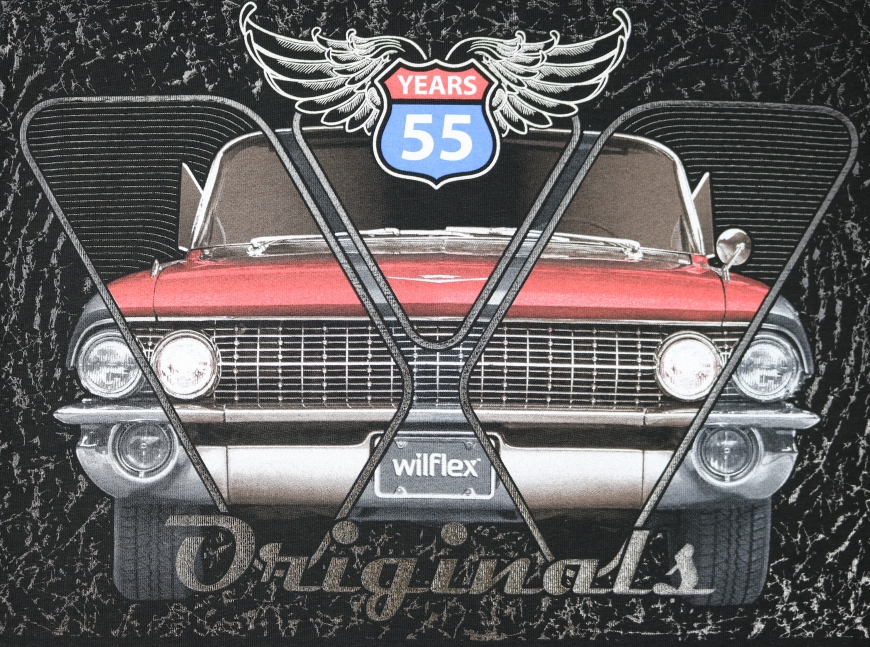 LONG BEACH, Calif. – At this week's annual Imprinted Sportswear Show (ISS), PolyOne will be launching the latest additions to its Wilflex™ textile printing ink portfolio. These expanded offerings are designed to give screen printers exciting options in design versatility and print application.
The new offerings for 2017 include:
• Wilflex One™ Special Effects – additions of shimmers, glitter, particle base, phosphorescent and foil adhesive to this non-PVC range
• Wilflex™ Elements – a new tactile selection book featuring the primary EPIC™ ink technologies, colors and finishes
• Wilflex Originals – latest design number 9 featuring a 1961 Eldorado Cadillac, created to mark the Wilflex 55th Anniversary celebrated at the end of 2016
• Oasis™ Imagebrite Reflectives – This brand new water-based reflective ink, containing light reflecting microspheres, will be exclusively previewed at the show.
The Wilflex Inks stand (1517) will offer visitors the opportunity for in-depth collaboration and discussion on all aspects of screen printing, as well as a new video called "The I in Ink," featuring inspiring footage from the new Wilflex Application Center in Kennesaw, Georgia.
Peter Juhl, global marketing director, Specialty Inks and Polymer Systems at PolyOne, commented, "We welcome all ISS attendees to experience our new Wilflex Elements Collection featuring 20 EPIC™ specialty inks, see our new Wilflex One SFX finishes, and explore how our Originals designs can help them meet their printing challenges by enhancing artistic capabilities and print quality."
The Wilflex One Special Effects range is slated for further enhancements throughout 2017 with the addition of new inks – liquid silver and gold, clear and regular reflectives, puff, and suede – and an HD additive.

ISS Long Beach is generally considered the most important event within the screen printing industry. For more information on how to attend, visit
www.issshows.com/long-beach.shtml

About PolyOne
PolyOne Corporation, with 2015 revenues of $3.4 billion, is a premier provider of specialized polymer materials, services and solutions. The company is dedicated to serving customers in diverse industries around the globe, by creating value through collaboration, innovation and an unwavering commitment to excellence. Guided by its Core Values, Sustainability Promise and No Surprises PledgeSM, PolyOne is committed to its customers, employees, communities and shareholders through ethical, sustainable and fiscally responsible principles. For more information, visit www.polyone.com.
About Wilflex
PolyOne Wilflex Screen Printing Inks are more than just textile inks. Wilflex focuses on total ink-room management, providing the most efficient, cost-effective environment possible to help you win in competitive marketplaces.
The Wilflex brand of inks emerged in the early 1960's as screen printing on t-shirts gained popularity for self-expression allowing the Wilflex™ brand to gain global recognition. Wilflex inks continued to make history twenty years later, when it provided design freedom allowing hundreds of color options with the introduction of the first plastisol mixing system. The Wilflex distribution footprint covers 55 countries across the globe supporting the wide range of Wilflex ink chemistries, many of them on display at this ISS event.

# # #

Photo Caption: Wilflex Originals Design n.9 - Cadillac
EDITORS: For a high-resolution image, please click here: Wilflex ISS 2017
To access PolyOne's news library online, please go to www.polyone.com/news
Media contact
Naomi Bennett
PolyOne Corporation
Marketing Communications Manager
+44 151 632 8800
naomi.bennett@avient.com