Connected, Safer, and Smarter: PolyOne Collaborates with Halo Smart Labs on Next-Gen Home Safety Devices
April 10, 2017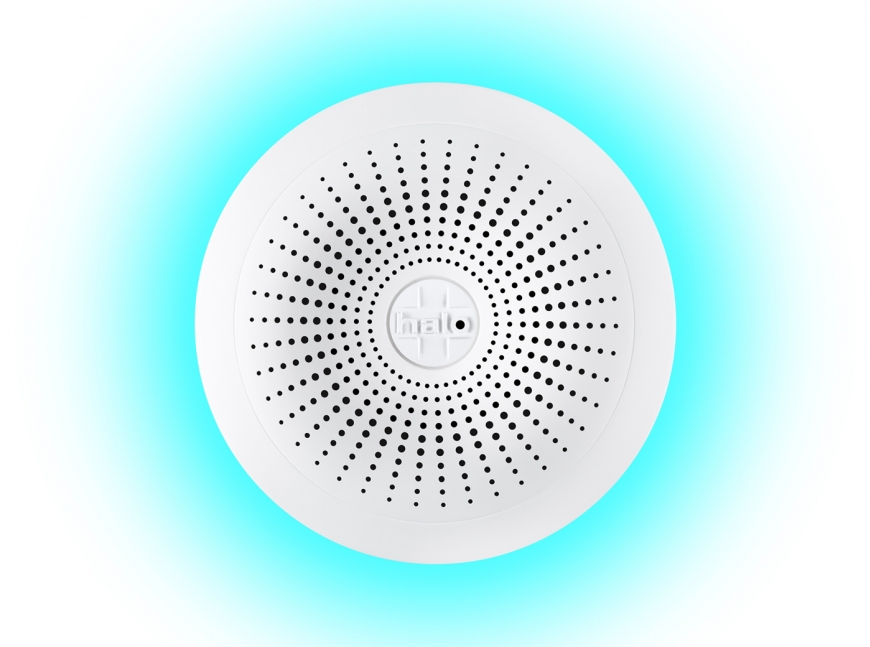 CLEVELAND – PolyOne recently worked with Halo Smart Labs in launching Halo and Halo+, devices that go beyond standard smoke alarms by combining home automation with safety technology. Halo offers smoke and carbon monoxide alerts, both visual and audio, along with remote notifications, 10-year battery back-up and optional severe weather alerts. These modern life savers rely on Resilience™ LS, PolyOne's latest rigid vinyl material formulated for smart home (IoT) devices.
"Working with PolyOne gave us access to materials science, processing and design expertise that ultimately contributed to a more aesthetically pleasing, durable and efficiently produced Halo unit," said Ben Stagg, co-founder and CEO of Halo Smart Labs.

Stagg connected with PolyOne for help with tough UL standard testing approvals and light dispersion issues in their initial design, problems that would jeopardize a planned 2016 product launch schedule. PolyOne's team worked with engineers at Halo Smart Labs to incorporate two Resilience LS materials that would meet tough UL flame requirements and improve light distribution without disrupting the initial design parameters.

"We enjoy collaborating on challenging applications that can take advantage of the breadth of our solutions and services," said James Mattey, marketing director, Performance Products and Solutions at PolyOne. "Our Resilience materials were developed with smart devices in mind, and we combine the material formulations with comprehensive support to help our customers launch products faster."

Resilience LS options include both housing and reflector materials that meet strict UL regulations up to 5VA for flame retardancy, and long term color stability to provide many years of lasting color. Also featured are lens materials, which provide the diffusion needed to disperse harsh LED hot spots.

North Carolina-based Halo Smart Labs' singular focus is to design products that make the world a safer place. The Halo and Halo+ alarms are available now at various retailers and represent the next generation of smart home safety. Each alarm combines fire, CO and optional severe weather detection with both audible and visual notifications.

About PolyOne
PolyOne Corporation, with 2016 revenues of $3.3 billion, is a premier provider of specialized polymer materials, services and solutions. The company is dedicated to serving customers in diverse industries around the globe, by creating value through collaboration, innovation and an unwavering commitment to excellence. Guided by its Core Values, Sustainability Promise and No Surprises PledgeSM, PolyOne is committed to its customers, employees, communities and shareholders through ethical, sustainable and fiscally responsible principles. For more information, visit www.polyone.com.

About Halo Smart Labs
Halo Smart Labs develops life-safety products for the Smart Home/IoT market. Its Halo smoke alarms include many innovations, like proactive audio and visual alerts, remote notifications, 10-year battery back-up and severe weather alerts, while proprietary algorithms help to significantly reduce false alarms. Winning awards at the 2016 Consumer Electronics Show (CES), the 2016 International Builder Show and recognition by Consumer Reports has built excitement for its launch. Learn more at www.halosmartlabs.com, where the world's smartest and safest smoke detectors are available now.
# # #

Photo Copyright: Halo Smart Labs
Photo Caption: Halo and Halo+ use advanced vinyl technology for long-term maintenance free performance

EDITORS: For a high-resolution image, please click here: Halo Plus, Halo
To access PolyOne's news library online, please go to www.polyone.com/news.

Media contact
Michelle Maniscalco
Senior Manager, Marketing Communications
PolyOne Corporation
+1 440-930-1988
michelle.maniscalco@avient.com