Avient Technology Helps to Achieve Color Consistency in L'Oréal PCR Packaging Worldwide
October 18, 2022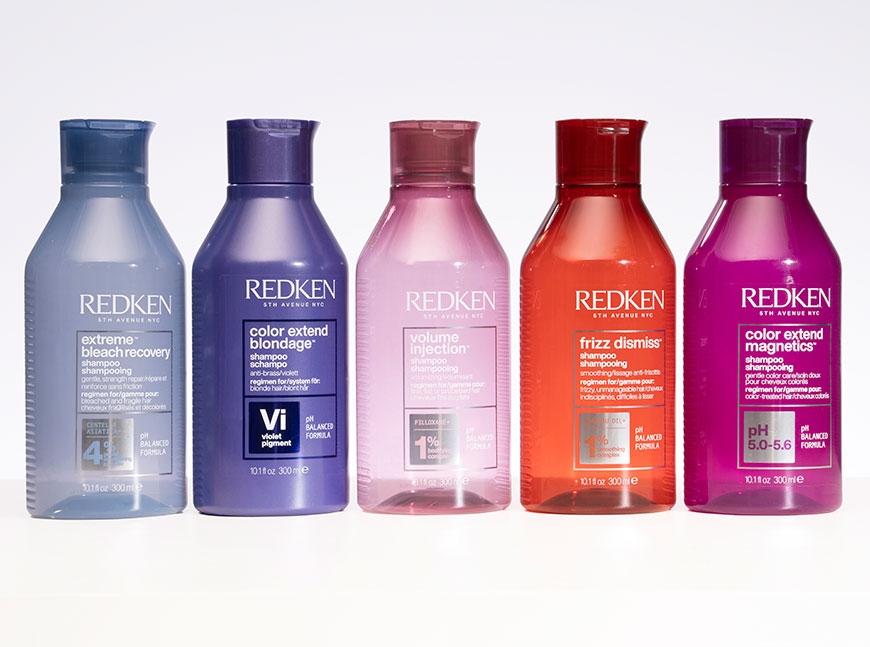 Caption: Avient's PCR Color Prediction Service helped achieve color consistency in L'Oréal PCR packaging worldwide for its Redken line of hair care products.
To download a high-resolution image, please click here: FOR MEDIA USE ONLY
DÜSSELDORF, Germany – October 18, 2022 – Avient Corporation today announced a new collaborative success with L'Oréal that will be on display at the upcoming K 2022. L'Oréal recently expressed the need for a tool to help simplify the process of developing color with recycled resin. Avient accepted the challenge, offering its Post-Consumer Recycled (PCR) Color Prediction Service that was able to help L'Oréal achieve global color consistency and speed up launch time for its Redken line of hair care products, which can support those in the plastic packaging industry facing the same issue when using mechanical recycling resin grades.
Producing sustainable packaging is a critical part of saving our planet right now. But doing this while also maintaining beautiful colors in packaging can be challenging. L'Oréal required the same color packaging worldwide for product lines like Redken, which is important so that consumers can easily recognize their favorite products no matter where they buy them. At the same time, L'Oréal had an objective is to have 100% of the plastics used in its packaging be made either from recycled or biobased sources by 2030. By using the PCR Color Prediction Service, L'Oréal was able to efficiently address these challenges.
The PCR Color Prediction Service is Avient's breakthrough digital tool for polyolefins and polyethylene terephthalate (PET) resins, launched in June 2022. It uses sophisticated technology to help brand owners like L'Oréal understand what colors are achievable based on the amount of PCR content used. It can also calculate how much PCR content can be added to an existing package without affecting its signature color.
Having identified optimized colorants for the packaging of the Redken line worldwide, Avient's PCR Color Prediction Service helped L'Oréal simplify overall color development with recycled resin. This sped up the local replication process, allowing Redken products to launch simultaneously in Europe and the U.S. with consistent color despite local constraints.
"Avient's Color Prediction Service allowed us to use local PCR grades wherever the business is – if the color is for Europe, we use the European grade," said Chantal Nestor-Saury, product development manager at L'Oréal. "This means fewer color iterations, fewer color trials, and fewer plastic bottles traveling from one zone to the other. L'Oréal's Redken launch would not have been possible without this service."
Learn more about the PCR Color Prediction Service at Avient's K 2022 booth at Hall 8A/G10 in Dusseldorf, Germany, from October 19-26, 2022.
Please visit our press hub for further information on our content for K 2022.
The K show is the world's largest plastics industry event. For more information, visit www.k-online.com.
About Avient
Avient Corporation (NYSE: AVNT) provides specialized and sustainable material solutions that transform customer challenges into opportunities, bringing new products to life for a better world. Examples include:
Unique technologies that improve the recyclability of products and enable recycled content to be incorporated, thus advancing a more circular economy
Light-weighting solutions that replace heavier traditional materials like metal, glass and wood, which can improve fuel efficiency in all modes of transportation and reduce carbon footprint
Sustainable infrastructure solutions that increase energy efficiency, renewable energy, natural resource conservation and fiber optic / 5G network accessibility
Avient is certified ACC Responsible Care®, a founding member of the Alliance to End Plastic Waste and certified Great Place to Work®.  For more information, visit www.avient.com.
To access Avient's news library online, please visit www.avient.com/news.
# # #
Media contact
Nicole DeChant
Avient Corporation
nicole.dechant@avient.com