Avient Shares Customer Success for Healthcare High-Temperature, Pre-Colored Solutions at K 2022
October 18, 2022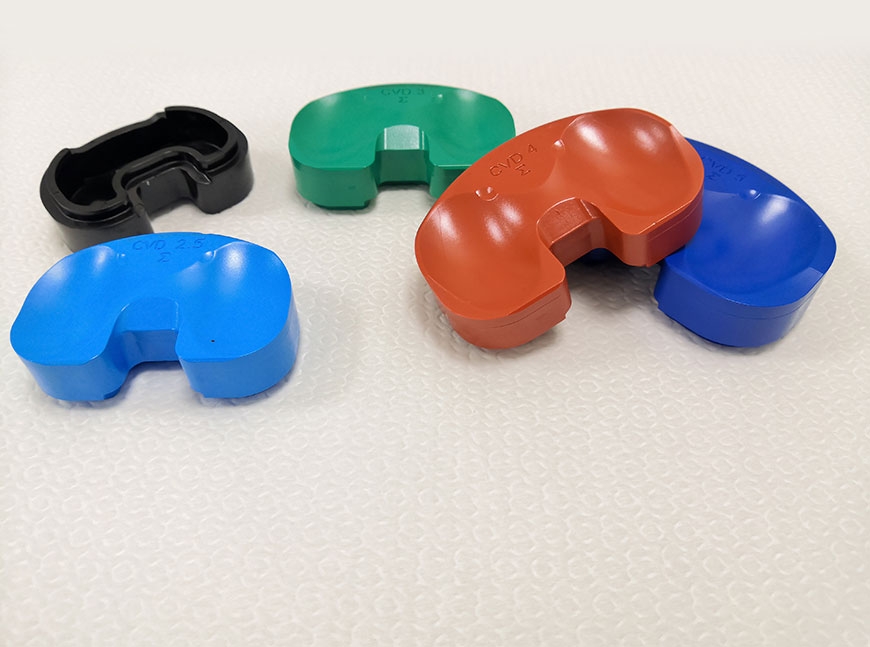 Caption: Avient shares success for Transcend™ Healthcare High-Temperature Colorants and pre-colored solutions at K 2022
To download a high-resolution image, please click here: FOR MEDIA USE ONLY
DÜSSELDORF, Germany – October 18, 2022 – At the upcoming K 2022, Avient will feature a recent successful collaboration with a global customer and manufacturer of medical devices. To support the customer's desire to create an improved medical instrument that is bio-compatible without compromising safety, chemical resistance, or color, Avient provided pre-colored solutions using the newly launched Colorant Chromatics™ Transcend™ Premier Healthcare Colorants.
Demand is growing for vivid colors that help healthcare products and tools stand out to medical professionals during their daily work and create a friendly environment for patients. However, medical devices and instruments are frequently exposed to harsh temperatures and chemicals for cleaning and disinfecting, which can diminish safety and color.
Using pre-colored solutions from Transcend Premier Healthcare Colorants, the customer was able to deliver high-quality medical instruments that can not only withstand chemical disinfectants but are also easier to visually differentiate. By color-coding its orthopedic devices, the customer was able to help medical professionals more easily determine which size of prosthesis would fit best for a patient.
"When this medical device manufacturer first came to us for help distinguishing its medical instruments, we knew our Colorant Chromatics Transcend pre-colored solutions could help address its needs," said Anne Hippert, general manager, Colorant Chromatics at Avient. "Since launching in March 2022, Transcend has received positive feedback from the healthcare market with particular success in surgical instruments and medical equipment components. Because Transcend is fully bio-compatible per ISO 10993 standards, we're helping customers speed up development and market introduction. We're excited to continue to help meet the demand for others looking for solutions that provide a wide range of colors while maintaining product performance and high safety standards," said Hippert.
Made from polyphenylsulfone (PPSU) resin, Transcend Premier Healthcare Colorants, including pre-colored solutions, can withstand up to 1,000 autoclave cycles and high heat sterilization up to 150C. These resins also maintain dimensional stability while providing chemical resistance against the effects of harsh cleaning agents.
Vibrant colors in transparent and opaque options help set this line of high-temperature and high-performance formulations apart from other options. Additional iterations are in development for other high-performance resins, including polyethersulfone (PES) and polysulfone (PSU).
Transcend Premier Healthcare Colorants, including pre-colored solutions, are available in a range of vivid colors globally. They are tested to ISO 10993 standards and can be customized with the addition of functional additives to enhance product performance. Low minimum order quantities offer specialty healthcare customers greater processing flexibility and inventory efficiencies.
Avient will exhibit at Hall 8A/G10 at K 2022 in Düsseldorf, Germany, from October 19-26, 2022.
Please visit our press hub for further information on our content for K 2022.
The K show is the world's largest plastics industry event. For more information, visit www.k-online.com.
About Avient
Avient Corporation (NYSE: AVNT) provides specialized and sustainable material solutions that transform customer challenges into opportunities, bringing new products to life for a better world. Examples include:
Unique technologies that improve the recyclability of products and enable recycled content to be incorporated, thus advancing a more circular economy
Light-weighting solutions that replace heavier traditional materials like metal, glass and wood, which can improve fuel efficiency in all modes of transportation and reduce carbon footprint
Sustainable infrastructure solutions that increase energy efficiency, renewable energy, natural resource conservation and fiber optic / 5G network accessibility
Avient is certified ACC Responsible Care®, a founding member of the Alliance to End Plastic Waste and certified Great Place to Work®. For more information, visit www.avient.com.
To access Avient's news library online, please visit www.avient.com/news.
# # #
Media contact
Nicole DeChant
Avient Corporation
nicole.dechant@avient.com