Avient Features Specialty Healthcare Material Solutions & Services at MD&M West 2022
April 11, 2022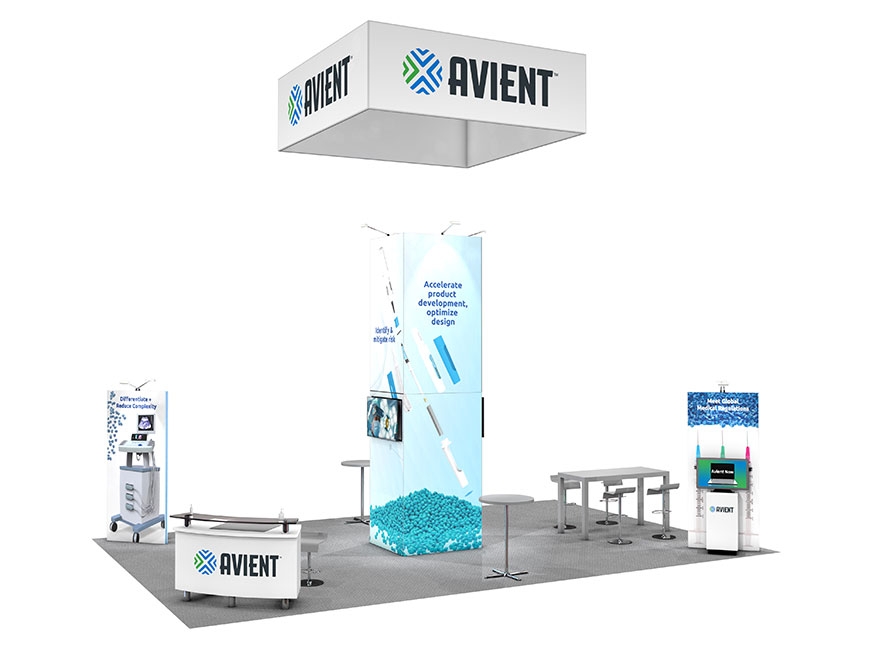 Caption: Avient highlights advanced material solutions and services that help solve healthcare customers' toughest application challenges at MD&M West in Anaheim.
To download a high-resolution image, please click here: [FOR MEDIA USE ONLY]
ANAHEIM, Calif. – April 11, 2022 – Avient Corporation, a premier provider of specialized and sustainable material solutions and services, will exhibit in person this week at Medical Design & Manufacturing (MD&M) West and highlight several technologies, including the recently launched Colorant Chromatics™ Transcend™ premier healthcare colorants and the online platform called Avient Now.
Colorant Chromatics™ Transcend™ Premier Healthcare Colorants are bright, high-temperature colorants formulated to provide ultra-high-heat resistance and performance. Intended specifically for medical applications, they are available in a range of vivid opaque and transparent colors.
Avient Now is an online platform that provides customers 24/7 access to product and order information – all in one place. It offers a personalized experience with increased convenience and enhanced information visibility.
Avient will also showcase additional polymers, functional additives, colorants, and support services from its unparalleled portfolio that help healthcare customers address the needs and trends of an evolving healthcare landscape:
Colorants & Additives
Mevopur™ Colorants represent a broad range of color concentrates and formulations, developed specifically for use in today's complex healthcare applications, which meet or exceed requirements for regulations such as USP Class VI, ISO 10993, USP 661 and ICH Q3D. This portfolio includes the recent addition of Mevopur bio-based polymer solutions, which are color and additive masterbatches based on bio-polyethylene resins that have up to 95 percent bio-based content.
Mevopur™ Functional Additives comprise a portfolio of consistent, compliant additives to help protect or enhance the performance of polymers used in medical devices, diagnostics, and pharmaceutical packaging. The line of additives includes the new Mevopur chemical foaming agents that help manufacturers of pharmaceutical packaging and medical devices add another level of sustainability to their products.
Specialty Engineered Materials
Trilliant™ HC8900 Thermoplastics are chemically resistant polymers that offer improved resistance to harsh chemicals and hospital-grade disinfectants compared to other flame-resistant (FR) polymers such as PC/ABS, PC/PET, and copolyester.
Versaflex™ HC BT218 is a medical-grade TPE developed specifically to handle the growing demand for and complexities of biopharmaceutical tubing. It delivers excellent weldability, kink resistance, and low levels of extractables.
Services
Avient Distribution features a comprehensive portfolio of polymers from the world's top suppliers. This service aligns material, technical, and manufacturing expertise to streamline product development and optimize supply chain and logistics.
Avient Design is made up of a highly specialized group of industrial designers and project engineers who connect the dots between material, color, design and manufacturing to expand design freedom, simplify processes, differentiate products, improve the user experience, and accelerate time to market.
Avient is exhibiting in booth 2101 at MD&M West from April 12-14.
About Avient
Avient Corporation (NYSE: AVNT), with 2021 revenues of $4.8 billion, provides specialized and sustainable material solutions that transform customer challenges into opportunities, bringing new products to life for a better world. Examples include:
Unique technologies that improve the recyclability of products and enable recycled content to be incorporated, thus advancing a more circular economy
Light-weighting solutions that replace heavier traditional materials like metal, glass and wood, which can improve fuel efficiency in all modes of transportation and reduce carbon footprint
Sustainable infrastructure solutions that increase energy efficiency, renewable energy, natural resource conservation and fiber optic / 5G network accessibility
Avient employs approximately 8,700 associates and is certified ACC Responsible Care®, a founding member of the Alliance to End Plastic Waste and certified Great Place to Work®. For more information, visit www.avient.com.
To access Avient's news library online, please visit www.avient.com/news.
# # #
Media contact
Scott Collins
scollins@collins-marcom.com
+1 216.382.884