Avient Exhibits New Bio-Filled Polymers and Sustainable Solutions Portfolio at Fakuma 2021
October 11, 2021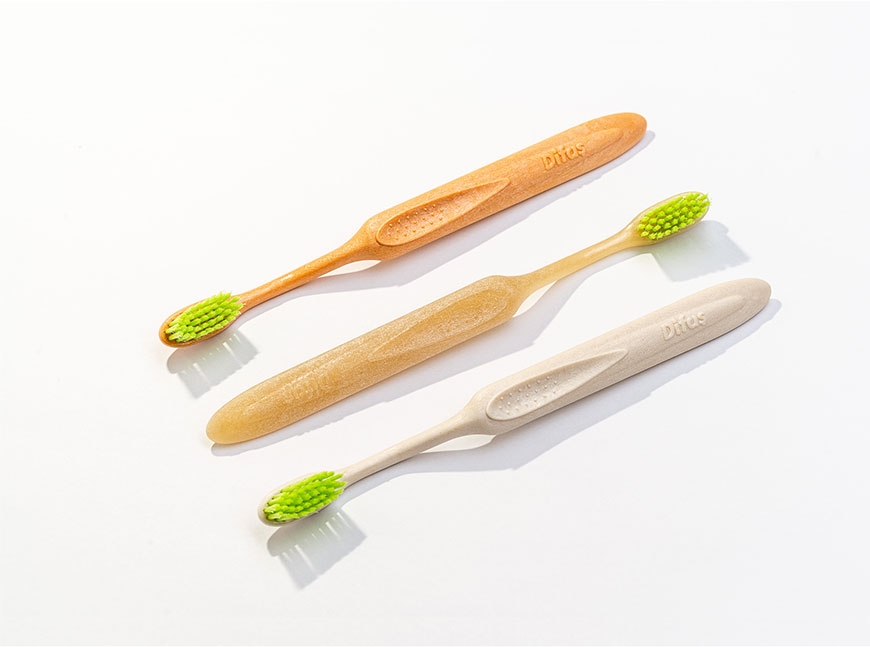 Caption: Sustainable polymer solutions for personal care applications await visitors to the Avient booth at Fakuma.
[To download a high-resolution image, please click here: FOR MEDIA USE ONLY]
LUXEMBOURG – October 12, 2021 – Avient Corporation, a premier provider of specialized and sustainable material solutions and services, today unveiled new bio-filled polymer grades at the international trade fair for plastics processing, Fakuma.
The new reSound™ NF bio-filled solutions will be on display alongside Avient's ever-growing portfolio of sustainable solutions, supporting its recently published 2030 sustainability goals, and enabling its customers to overcome their material challenges in moving toward a plastics circular economy.
Based on polymers such as polypropylene (PP), the new formulations also include a natural filler made from renewable plant sources that would otherwise go to waste. This eco-conscious composition makes them ideal for consumer brands looking to increase the renewable content of their products.
Visitors are invited to hall B5 - stand 5316 to discuss their design and material challenges and learn more about Avient's sustainable solutions and services portfolio:
reSound™ R recycled content thermoplastic elastomers (TPEs): Developed to help brand owners create more sustainable end-user products, these formulations utilize 9 to 83 percent recycled content from post-consumer recycled (PCR) and post-industrial recycled (PIR) sources.
reSound™ OM bio-based TPEs: Based on biopolymers derived from sugarcane, all grades utilize 35 to 50 percent bio-based content, and are formulated to deliver varying hardness levels, favorable property retention, and UV resistance comparable to traditional TPEs.
Nymax™ PIR post-industrial recycled nylon formulations: This portfolio features standard and custom-formulated nylon 66 and nylon 6 grades. Standard grades contain from 20 to 100 percent recycled content. Nymax PIR materials can be combined with a wide range of reinforcements, modifiers, and fillers to enhance performance requirements.
Hydrocerol™ Foaming Agents: These additives are commonly used in consumer goods and automotive components to reduce part weight without compromising stiffness or mechanical properties.
A range of specialty additives for sustainable packaging: These products improve the quality of PCR and enable greater recycled content, including:

Rejoin™ PCR masterbatch for polyolefins
ColorMatrix™ Amosorb™ 4020R for oxygen scavenging with up to 100 percent rPET content
ColorMatrix™ Optica™ Toners & Colors to correct and reduce yellowing and improve the quality of PET
ColorMatrix™ Lactra™ Four, One, Zero, for dairy contents protection with superior whiteness & low inorganic content

Avient Design: This specialized group of industrial designers and project engineers provides critical design and material insights, enabling customers to produce products that are designed with sustainability in mind, are easier to manufacture, and are more competitive.
Visitors at Fakuma can learn more by visiting Avient in Hall B5, Stand 5316. The trade show runs from October 12 - 16, 2021 in Friedrichshafen, Germany.
Read more about Avient's 2030 Sustainability goals in its 2020 Sustainability Report here.
About Avient
Avient Corporation (NYSE: AVNT), with expected 2021 revenues of $4.6 to $4.7 billion, provides specialized and sustainable material solutions that transform customer challenges into opportunities, bringing new products to life for a better world. Examples include:
Unique technologies that improve the recyclability of products and enable recycled content to be incorporated, thus advancing a more circular economy
Light-weighting solutions that replace heavier traditional materials like metal, glass and wood, which can improve fuel efficiency in all modes of transportation and reduce carbon footprint
Sustainable infrastructure solutions that increase energy efficiency, renewable energy, natural resource conservation and fiber optic / 5G network accessibility
Avient employs approximately 8,400 associates and is certified ACC Responsible Care®, a founding member of the Alliance to End Plastic Waste and certified Great Place to Work®. For more information, visit www.avient.com.

To access Avient's news library online, please visit www.avient.com/news.
# # #
Media contact
Michelle Maniscalco
Senior Manager, Marketing Communications
Avient Corporation
michelle.maniscalco@avient.com