Avient Earns LUXE PACK "in green" Award for Sustainability Initiative
May 19, 2023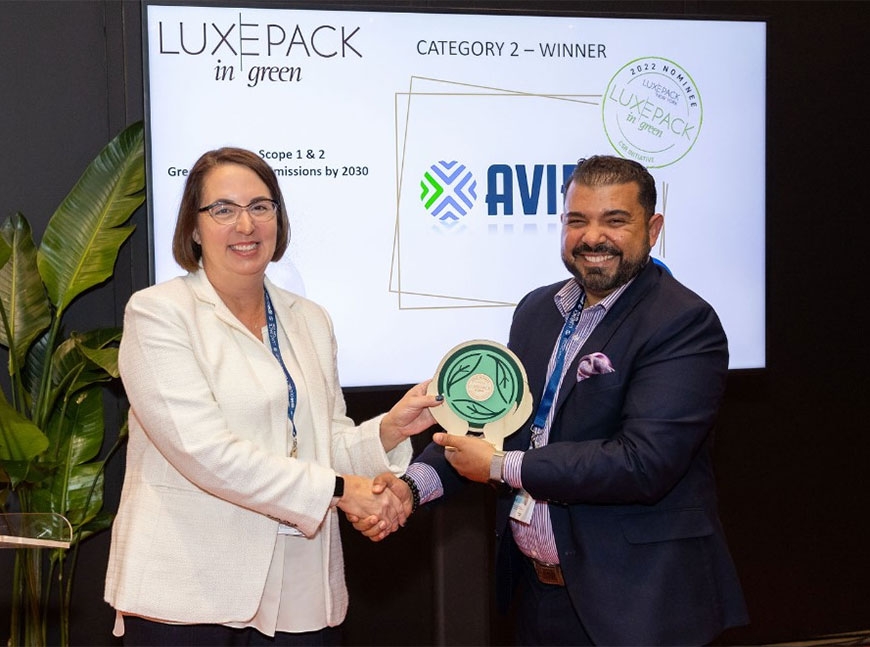 Avient earns LUXE PACK "in green" award for sustainability initiative.
To download a high-resolution image, please click here: FOR MEDIA USE ONLY
CLEVELAND – May 19, 2023 – Avient Corporation, a premier provider of specialized and sustainable material solutions and services, is proud to announce it has earned the LUXE PACK "in green" award, highlighting a Corporate Social Responsibility (CSR) initiative.
The honor was given during the LUXE PACK New York trade show last week for Avient's ongoing efforts to reduce scope 1 & 2 greenhouse gas (GHG) emissions. By 2030, the company plans to reduce GHG emissions by 60%, using 2019 as a baseline. This initiative is one of Avient's 2030 Sustainability Goals established to drive and enable sustainability for all stakeholders.
"We are thrilled to have received this award from LUXE PACK," said Theresa Patton, Senior Industry Manager for Color & Additives, U.S. & Canada. "We are fully committed to doing our part to preserve and protect the environment, and we appreciate this recognition of our efforts." LUXE PACK "in green" is an annual competition showcasing the best sustainable luxury packaging.
About Avient
Avient Corporation provides specialized and sustainable material solutions that transform customer challenges into opportunities, bringing new products to life for a better world. Examples include:
Dyneema®, the world's strongest fiber™, enables unmatched levels of performance and protection for end-use applications, including ballistic personal protection, marine and sustainable infrastructure and outdoor sports
Unique technologies that improve the recyclability of products and enable recycled content to be incorporated, thus advancing a more circular economy
Light-weighting solutions that replace heavier traditional materials like metal, glass and wood, which can improve fuel efficiency in all modes of transportation and reduce carbon footprint
Sustainable infrastructure solutions that increase energy efficiency, renewable energy, natural resource conservation and fiber optic / 5G network accessibility
Avient is certified ACC Responsible Care®, a founding member of the Alliance to End Plastic Waste and certified Great Place to Work®. For more information, visit https://www.avient.com.
To access Avient's news library online, please visit www.avient.com/news.
# # #
Media contact
Nicole DeChant
Avient Corporation
nicole.dechant@avient.com