Avient to Debut Dyneema® Fiber at JEC World 2023
April 17, 2023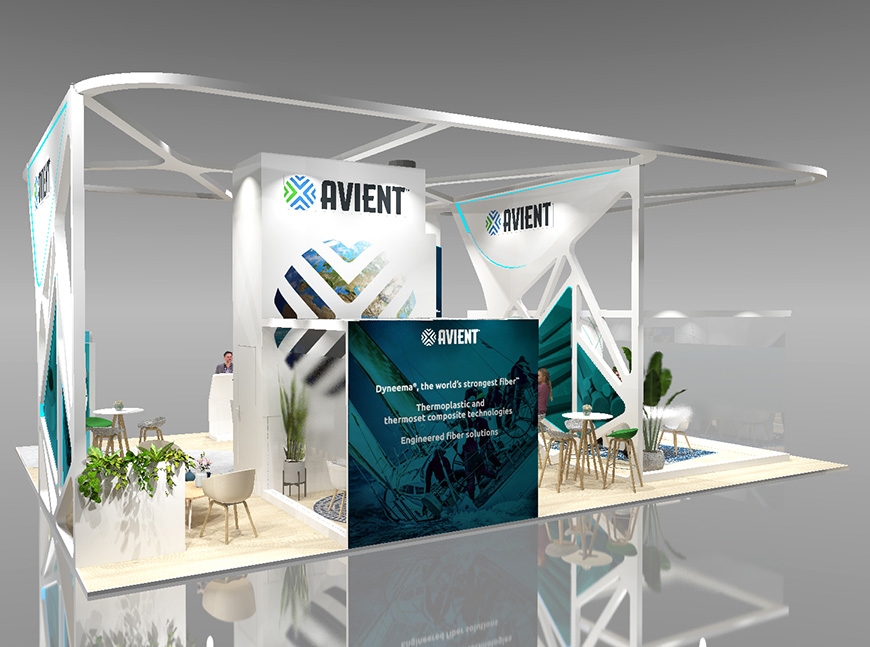 Avient to debut Dyneema® Fiber at JEC World 2023
To download a high-resolution image, please click here: FOR MEDIA USE ONLY

PARIS, France – April 17, 2023 – Today, Avient Corporation is excited to announce it will showcase Dyneema® ultra-lightweight specialty fiber for the first time as part of its growing composite materials and sustainable solutions portfolios at JEC World 2023 next week.
Avient's recent acquisition of the globally admired brand of Dyneema®, the world's strongest fiber™, in September 2022 further advances its unparalleled portfolio of advanced composite and engineered fiber materials. The ultra-lightweight specialty fiber is 15 times stronger than steel, yet light enough to float on water, inspiring industries to transform the performance of countless products for demanding applications. This includes personal ballistic protection, industrial protective gear, lightweight & breathable fabrics for outdoor adventures, as well as ropes, nets, and synthetic chains for offshore and maritime operations.
"The addition of Dyneema® accelerates our evolution into a specialty formulator of sustainable solutions, opening up new opportunities for future growth while building on the Dyneema® brand's proud heritage of innovation, collaboration, and sustainability," said Chris Pederson, president, Specialty Engineered Materials at Avient. "We're now part of protecting more than one million first responders globally and are ready to support and collaborate on developing the best possible solutions together: for business, people, and the planet."
At JEC 2023, Avient will also highlight its complete portfolio of advanced composite materials and engineered fiber solutions that offer high strength, weight reduction, and corrosion resistance for products across a broad range of industries and markets, including:
Thermoplastic Composites:
Polystrand™ continuous-fiber-reinforced unidirectional tapes and multi-axial laminates
Hammerhead™ marine composite panels
Polystrand™ structural sandwich panels
Complēt™ long-fiber-reinforced thermoplastic composite formulations
Thermoset Composites:
Gordon Composites™ continuous glass and carbon fiber bar stock, laminates, and composite springs
Gordon Glass™ archery bow limbs
Glasforms™ pultruded rods, tubes, and custom profiles
Engineered Fiber Solutions:
Fiber-Line™ engineered high-performance fibers, including coated, twisted, and custom wound aramid, glass, carbon, HMPE, and LCP fibers
Fiber-Line™ pultruded rods and custom extrusion-coated rods and fibers
JEC World is the leading global trade show for composite materials and their applications, taking place at the Paris Nord Villepinte exhibition park April 25-27, 2023. Avient is exhibiting in Hall 5, Booth E40.
About Avient
Avient Corporation provides specialized and sustainable material solutions that transform customer challenges into opportunities, bringing new products to life for a better world.
Examples include:
Dyneema®, the world's strongest fiber™, enables unmatched levels of performance and protection for end-use applications, including ballistic personal protection, marine and sustainable infrastructure and outdoor sports
Unique technologies that improve the recyclability of products and enable recycled content to be incorporated, thus advancing a more circular economy
Light-weighting solutions that replace heavier traditional materials like metal, glass and wood, which can improve fuel efficiency in all modes of transportation and reduce carbon footprint
Sustainable infrastructure solutions that increase energy efficiency, renewable energy, natural resource conservation and fiber optic / 5G network accessibility
Avient is certified ACC Responsible Care®, a founding member of the Alliance to End Plastic Waste and certified Great Place to Work®. For more information, visit www.avient.com/.
To access Avient's news library online, please visit www.avient.com/news.

# # #
Media contact
Nicole DeChant
Avient Corporation
nicole.dechant@avient.com