Avient and Virginia Tech Collaborate: Industrial Design Students Challenged in Automotive Aftermarket Part Competition
October 18, 2023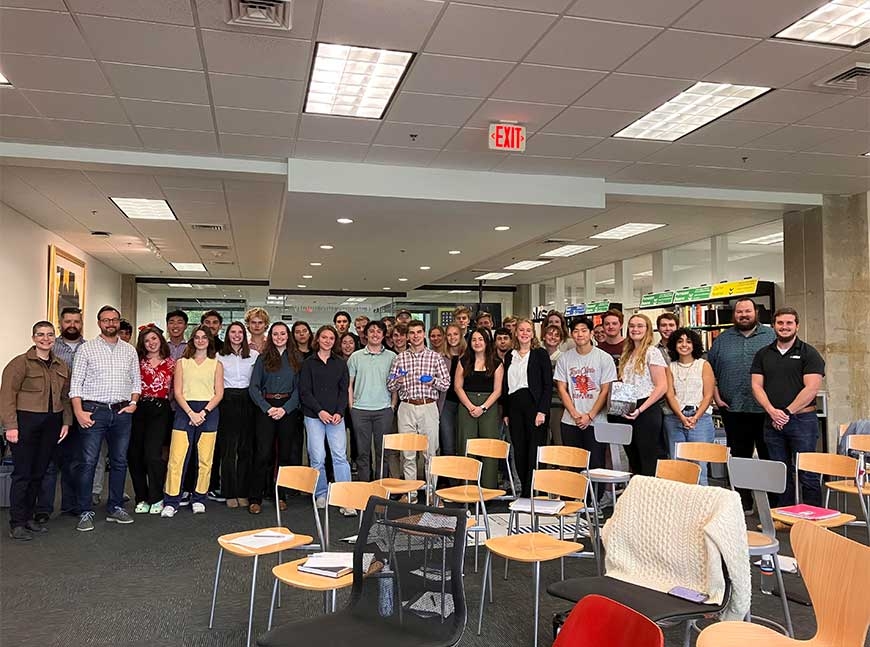 Avient and Virginia Tech Collaborate: Industrial Design Students Challenged in Automotive Aftermarket Part Competition on October 11, 2023.
To download a high-resolution image, please click here: FOR MEDIA USE ONLY
CLEVELAND – October 18, 2023 – Avient Corporation, a premier provider of specialized and sustainable material solutions and services, is proud to announce a recent innovative collaboration project with Virginia Tech, one of the nation's premier research universities. This project represents the latest example of Avient's ongoing commitment to foster innovation and design excellence in the field of industrial design.
For the past three years, the Avient Design team has been actively cultivating a meaningful relationship with Virginia Tech's esteemed design program, leading to the sponsoring of a design project that challenges students to create innovative products featuring Avient materials. This collaboration aims to inspire the next generation of industrial designers while promoting the practical application of Avient's cutting-edge solutions.
The project started at the end of August when Avient Design presented approximately 40 third-year industrial design students with a captivating design brief. The students were tasked with designing an automotive aftermarket part that prominently incorporates Avient's long fiber thermoplastic (LFT) materials for a sustainable lightweighting solution. The key parameter was that the designed product had to be mountable within a 2-inch trailer hitch.
To equip the students for the task at hand, eight Avient Design associates provided comprehensive training sessions on LFT, covering materials, processing techniques, and economic considerations. Additionally, the Avient Design team arranged career coaching and mentor meetings to inspire and guide students.
As a result of this collaboration, Virginia Tech students generated an impressive array of distinct design concepts, each pushing the boundaries of creativity and engineering, presenting their final projects to both their peers and Avient associates on campus last week on October 11th.
"We are excited to be working with Virginia Tech and their talented students," said Brian Everett, global director of Avient Design. "This collaboration showcases our dedication to mentoring emerging design talent while highlighting the company's commitment to the development of sustainable and creative solutions. We look forward to the impact that these promising students will have on the future of industrial design."
"We're thrilled our first junior year industrial design student project supported by Avient was a success," said Martha Sullivan, Chair of Industrial Design at Virginia Tech. "Our students benefited from the technical support and mentorship provided by the Avient Design team in relation to advanced manufacturing and design techniques, identifying market opportunities, and cultivating designer/client relationships. Additionally, the final presentations provided an opportunity for the students to get authentic feedback from industry professionals. I hope the relationship between Avient and Virginia Tech will continue to grow."
About Avient
Avient Corporation provides specialized and sustainable material solutions that transform customer challenges into opportunities, bringing new products to life for a better world.
Examples include:
Dyneema®, the world's strongest fiber™, enables unmatched levels of performance and protection for end-use applications, including ballistic personal protection, marine and sustainable infrastructure, and outdoor sports
Unique technologies that improve the recyclability of products and enable recycled content to be incorporated, thus advancing a more circular economy
Light-weighting solutions that replace heavier traditional materials like metal, glass and wood, which can improve fuel efficiency in all modes of transportation and reduce carbon footprint
Sustainable infrastructure solutions that increase energy efficiency, renewable energy, natural resource conservation and fiber optic / 5G network accessibility
Avient is certified ACC Responsible Care®, a founding member of the Alliance to End Plastic Waste and certified Great Place to Work®. For more information, visit www.avient.com.
To access Avient's news library online, please visit www.avient.com/news.
About Virginia Tech
Dedicated to its motto, Ut Prosim (That I May Serve), Virginia Tech pushes the boundaries of knowledge by taking a hands-on, transdisciplinary approach to preparing scholars to be leaders and problem solvers. A comprehensive land-grant institution that enhances the quality of life in Virginia and throughout the world, Virginia Tech is an inclusive community dedicated to knowledge, discovery, and creativity. The university offers more than 280 majors and degree programs to a diverse enrollment of more than 38,000 undergraduate, graduate, and professional students in a comprehensive range of colleges and schools. The university has a significant presence internationally and across Virginia, including the Innovation Campus in Northern Virginia; the Health Sciences and Technology campus in Roanoke; sites in Newport News and Richmond; and numerous Extension offices and research centers. A leading global research institution, Virginia Tech conducts nearly $600 million in research annually.
Industrial Design at Virginia Tech is a nationally recognized four year accredited program offering a Bachelor of Science in the School of Design and College of Architecture, Arts, and Design. The curriculum is centered on eight semesters of studio/laboratory instruction in conjunction with lecture courses that uniquely prepares the students to be leaders in the field of design. Specialties of the program include design thinking and making, environmental stewardship, applied material science, advanced manufacturing, human factors, and community engagement. Projects include improving sustainability through behavior change, applied biodesign, transportation, and healthcare design. The industrial design program benefits from numerous corporate and community partnerships that give students hands on experience with real world problems and working professionals.
# # #
Media contact
Nicole DeChant
Avient Corporation
nicole.dechant@avient.com
Zeke Barlow
Virginia Tech
bzeke@vt.edu