Avient's Newest Trilliant™ HC Materials Stand Up to Disinfectants Better Than Alternative FR Polymers
October 27, 2020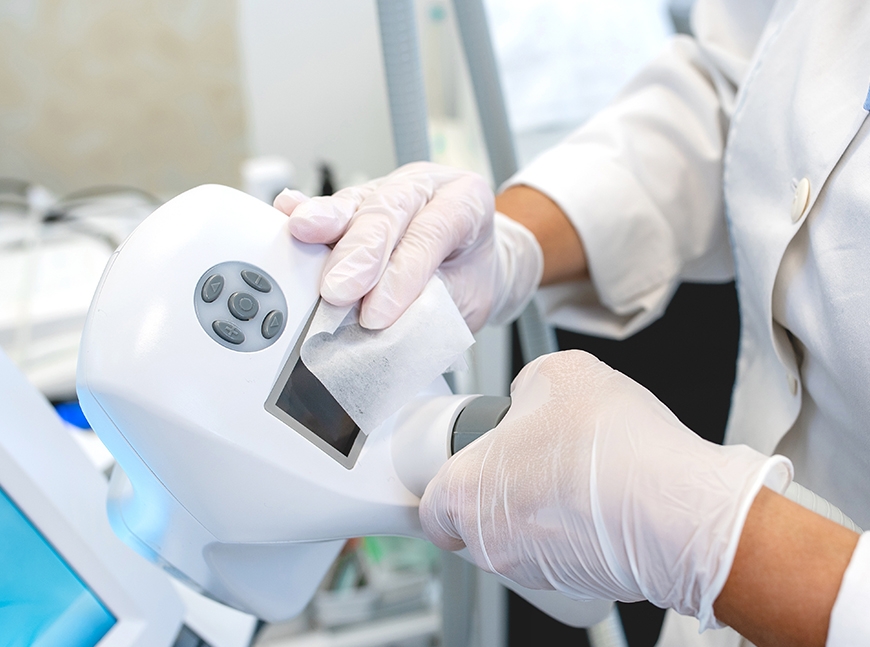 CLEVELAND – October 27, 2020 – Avient Corporation, a premier provider of specialized and sustainable material solutions and services, today announced commercial availability of two new patent-pending Trilliant™ healthcare formulations. These materials feature improved chemical resistance to trusted hospital-grade disinfectants over other flame-resistant (FR) polymers such as PC/ABS, PC/PET, and copolyester.
Trilliant™ HC8910 and HC8920 healthcare grades were developed in response to today's intense disinfecting protocols. Using a method adapted from ASTM D543 for ESCR (environmental stress cracking resistance), results versus alternative FR materials demonstrate superior mechanical and aesthetic property retention, and prevention of cracks and crazing after exposure to leading healthcare disinfectants* such as Virex® Tb, CaviCide™, Vesphene® IIse and Super Sani-Cloth®¹.
"Heightened disinfection requires materials that retain mechanical and physical performance in the face of these effective, but harsh, chemistries," said Matthew Mitchell, director, global marketing, Specialty Engineered Materials at Avient. "By offering more robust solutions, we're enabling healthcare OEMs to deliver more durable medical devices and equipment that resist chemical attack and serve patients longer."
Trilliant™ HC8910 and HC8920 series of materials are made without BPA and available in standard or custom colors. The HC8920 grades are formulated to meet certification to UL94 5VA at 3.0 mm, V-0 at 1.5 mm, V-1 at 0.75 mm. These new series are commercially available globally.
NOTE: On July 1, 2020, PolyOne and Clariant Masterbatches joined together as Avient, a new kind of materials company focused on conquering customer challenges and unlocking the potential for innovation and sustainability around the globe.
¹Virex® is a trademark of Diversey, Inc.; CaviCide™ is a trademark of Metrex Research, LLC; Vesphene® is a trademark of Steris Corporation; and Sani-Cloth® is a trademark of Professional Disposables International, Inc.
About Avient
Avient Corporation (NYSE: AVNT), with 2020 pro forma revenues of $3.7 billion, provides specialized and sustainable material solutions that transform customer challenges into opportunities, bringing new products to life for a better world. Examples include:
• Barrier technologies that preserve the shelf-life and quality of food, beverages, medicine and other perishable goods through high-performance materials that require less plastic
• Light-weighting solutions that replace heavier traditional materials like metal, glass and wood, which can improve fuel efficiency in all modes of transportation
• Breakthrough technologies that minimize wastewater and improve the recyclability of materials and packaging across a spectrum of end uses
Avient employs approximately 9,100 associates and is certified ACC Responsible Care® and a founding member of the Alliance to End Plastic Waste. For more information, visit www.avient.com.

To access Avient's news library online, please visit www.avient.com/news.

###
FOR MEDIA USE ONLY: To download a high-resolution image, please click here: FOR MEDIA USE ONLY
Media contact
Michelle Maniscalco
Senior Manager, Marketing Communications
Avient Corporation
+1 440-930-1988
michelle.maniscalco@avient.com