Alliqua BioMedical Relies on PolyOne's Resilience™ HC for Housings That Stand Up to Disinfectants
February 6, 2017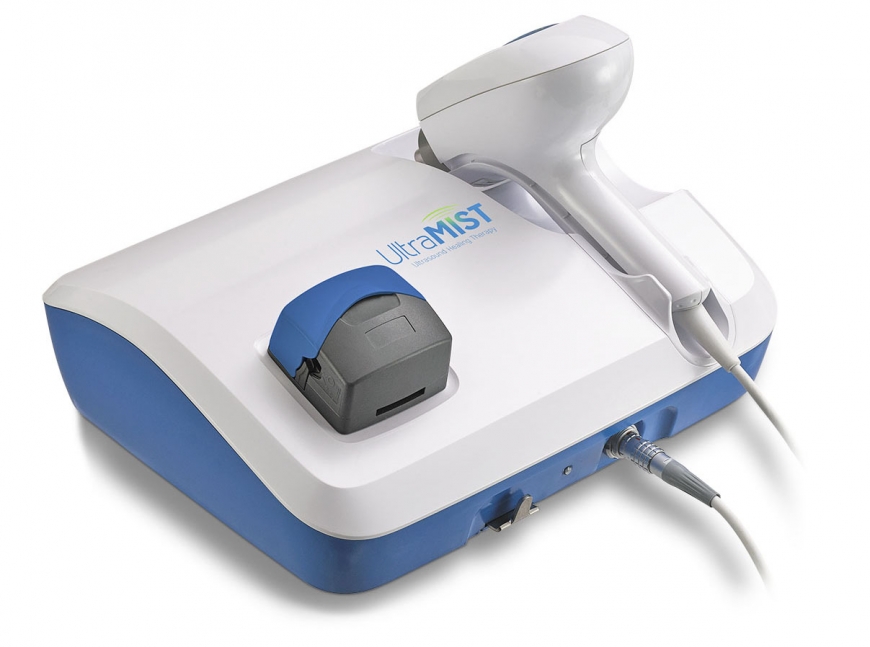 ANAHEIM, Calif. – At MD&M West 2017 this week, PolyOne is highlighting the UltraMIST® Ultrasound Healing Therapy system, an innovative device for wound therapy from Alliqua BioMedical Inc. The device housing features Resilience™ HC, a rigid vinyl formulation designed to resist stress cracking from exposure to a wide range of hospital disinfectants.
As hospitals implement robust cleaning protocols designed to battle healthcare associated infections, medical devices are subjected to various types of disinfectants at different concentrations and frequency of use. Selecting the wrong material can lead to stress cracking in the device housing within weeks of field use.
After extensive material evaluation, the UltraMIST R&D team identified Resilience HC from PolyOne as a potential solution for their new device. In addition to its disinfectant resistance, this material contains the necessary flammability and UV resistance needed for the application while also providing excellent moldability and surface finish.
"We gained speed working with PolyOne," said Doug Duchon, VP of R&D for Alliqua BioMedical Inc. "They gave us immediate access to material, engineering, and processing expertise, making our converter comfortable with molding rigid vinyl. As a small company, we never expected that level of service and speed from a supplier, and the outcome is a well-received commercial product."
"Our customers are able to leverage 25+ years of healthcare industry experience and product support," said James Mattey, marketing director, Performance Products & Solutions at PolyOne. "Our highly experienced team provides an integrated approach – expertly guiding both OEMs and converters and helping them implement vinyl to add value and boost performance."
PolyOne is exhibiting in booth 2201 at MD&M West at the Anaheim Convention Center, February 7-9, 2017.

About PolyOne
PolyOne Corporation, with 2016 revenues of $3.3 billion, is a premier provider of specialized polymer materials, services and solutions. The company is dedicated to serving customers in diverse industries around the globe, by creating value through collaboration, innovation and an unwavering commitment to excellence. Guided by its Core Values, Sustainability Promise and No Surprises PledgeSM, PolyOne is committed to its customers, employees, communities and shareholders through ethical, sustainable and fiscally responsible principles. For more information, visit www.polyone.com.
# # #

Photo Credit: ©Alliqua BioMedical Inc.
Photo Caption: Resilience™ HC is among the many solutions being displayed in the PolyOne booth at MD&M West 2017.
EDITORS: For a high-resolution image, please click here: UltraMIST®
To access PolyOne's news library online, please go to www.polyone.com/news
Media contact
Michelle Maniscalco
Senior Manager, Marketing Communications
PolyOne Corporation
+1 440-930-1988
michelle.maniscalco@avient.com