The Challenge
In the rapidly evolving market for light emitting diode (LED) products, manufacturers need to innovate or risk quickly falling behind. Finland's Kruunutekniikka Oy seized an opportunity for such an innovation: reengineering the critical heat sink that protects heat-sensitive LED components.
While LED light bulbs can use up to 80 percent less energy than incandescent bulbs and can last more than 20 years, they generate a substantial amount of heat that must be dissipated with a heat sink. 
Manufacturers typically build heat sinks from die-cast aluminum – effective but costly to buy and work with. As an injection molding contractor with expertise in lighting components, Kruunutekniikka knew it could provide improved manufacturability and performance in LED lighting by producing non-metal heat sinks at scale.
The company's product engineers developed specifications that included thermal conductivity in plane from 4 to 21 W/m.K (in compliance with ASTM E1461); glow wire resistance of 850°C/0.8mm (IEC 606095-2-12); and enough dimensional stability to allow it to be overmolded directly on LED components.
They just needed to find the right material.
The Solution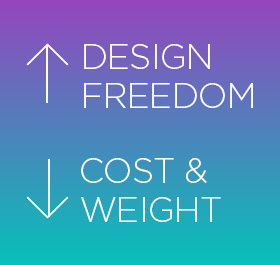 The search led Kruunutekniikka's design engineering team to Avient. A collaborative team from the two companies looked at potential options before developing a material that combined two grades of Avient's Therma-Tech™ thermal management formulations. 
Avient engineered materials that combined the heat transfer and cooling capabilities of metals with the design freedom, weight reduction and cost advantages of conventional thermoplastics.
The team tested the formulation and phased it into production, and Kruunutekniikka's Coolics™ brand quickly adopted the material throughout its line of customized LED cooling systems. The material added immediate benefits including: complex designs at lower costs than metal; lighter weight; inherent corrosion resistance; adaptability for ingress protection up to IP67; high heat resistance; compliance with UL94 V-0 flammability standards; and options for either electrically conductive or insulating properties.
The Impact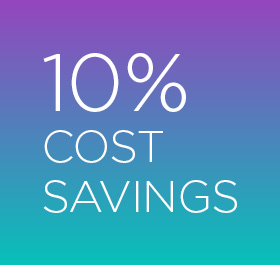 As a result of the collaboration, Kruunutekniikka realized a cost savings of more than 10% through a variety of means:
Reduced material usage: The Therma-Tech formulation required 37 percent less material due to its lower density compared with aluminum. 
Improved manufacturing: The company realized substantial savings during high-volume production thanks to a switch from die casting to injection molding. In addition, the change in material eliminated secondary steps needed to achieve net shape with die casting. Startup times also were reduced.
Achieved new sustainability goals: Production scrap from the injection molding process can be fully recycled as part of an in-line process, which helped the company meet its sustainability goals.
By replacing metal with engineered thermal composites, Kruunutekniikka has been able to drive growth in the emerging solid-state LED lighting market with a solution that is innovative, sought after, cost effective and consistent with the company's ongoing effort to facilitate sustainable practices.
To learn more about the benefits of custom engineered thermoplastics, contact an expert at Avient today!