OnCap™ UV Stabilizer Additives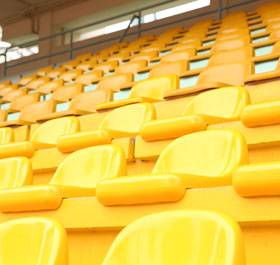 Plastics and UV light don't always mix.  If unprotected, white plastic can yellow and colored plastic can fade, leading your products to look less than attractive over time.  OnCap™ UV Stabilizer Additives improve product appearance and performance in long-term use by protecting plastics from ultraviolet (UV) radiation damage caused by the sun and even fluorescent lighting. UV light not only accelerates yellowing or color fading; it can also degrade physical properties and cause brittleness. UV stabilizer additives help prevent this deterioration, and keep your products looking good longer.
Highlights
OnCap UV additives are available globally for use in a wide variety of thermoplastics. Available in concentrated pellet, bead or liquid form, they can be combined with colorants into a single Smartbatch™ concentrate providing added flexibility and efficiency.
These unique additives have been shown to have excellent results in a number of processes, including for extrusion of capstock layers on multi-layer sheet. In these applications, sheet containing OnCap UV solutions maintained color and appearance, resisted surface crack formation, and retained impact properties better than a competitive UV additive after extensive weathering tests. In addition, the low volatility of our UV additive results in lower die build-up – which creates less downtime, fewer die cleanings, and greater production efficiency. This additive's low volatility and good heat stability can also help you maintain a stable and consistent thickness in the capstock layer of coextruded sheet.