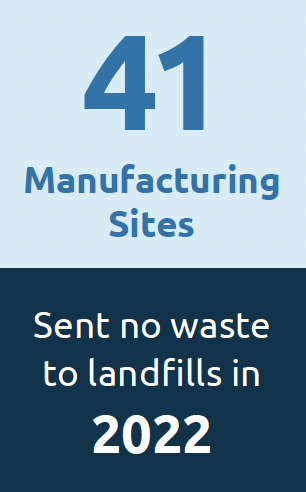 Waste: Preventing, Minimizing, Eliminating
Avient is committed to eliminating or reducing waste generated by our operations and enabling our customers to meet their waste minimization goals.
Our efforts are aimed at reducing the quantity of hazardous and non-hazardous waste generated. Our waste management approach adds value by reducing the risk of environmental harm, as well as costs associated with waste management. These efforts are in line with our commitment to sustainability and strengthen the health of our communities and operations around the world.
The majority of our waste is non-hazardous process scrap and purge materials. Other wastes may be generated from sources such as periodic construction and demolition projects, packaging from raw materials and products, laboratory waste from quality assurance activities, and routine office-based activities.
Expectations for the management of hazardous and non-hazardous waste are governed by Avient's internal waste management standards which are applicable to all facilities. These waste standards have established a hierarchy of waste management with the elimination of waste as the highest priority, followed by reuse or recycling, and disposal without any beneficial reuse as the lowest priority. We implement programs to identify reuse opportunities for off-quality products and other waste streams and improve facility resource efficiency to reduce waste generation. Compliance with these expectations is regularly evaluated through our comprehensive EH&S audit program.
Our 2030 goal of reducing waste to landfill intensity by 3% on an annual basis, as well as annual incentives, are designed to encourage facilities to eliminate waste generation and identify beneficial uses for their remaining waste streams. To monitor progress against these goals, we track waste data from each site on a monthly basis. Beyond quantities of waste generated, this monthly data includes information on positive and negative influences that impact performance.
It is this granular information that Avient utilizes to drive improvement projects. In 2022, we were able to further optimize operations through executing over 100 waste minimization projects around the world. Additionally, 41 of our manufacturing sites globally sent no waste to landfills in 2022. For detailed information on these projects, and GHG avoidance resulting from them, we invite you to read our most recent Climate Change Report submitted to CDP.
While our goal focuses on waste impacts from our direct operations, we also seek opportunities along our value chain to work with suppliers to reduce waste associated with shipping materials and with customers by offering products that incorporate recycled content or extend the useful life of a product.
We regularly conduct risk based audits to inspect external waste disposal and recycling companies to ensure the proper disposal of waste. In this way, we also keep today's waste from becoming tomorrow's contamination.