A Great Place to Work
When we created Avient on July 1, 2020 we did so by bringing two great businesses together to form a truly outstanding one. A key factor in the decision to join together was the cultural fit. Each company brought unique strengths, people and ideas. These aspects, combined with our shared passions and values, are what truly make us better together.
Over 7,500 Avient associates participated in our 2021 survey, representing over 40 countries. Our results tell us that 75% of employees say it is a great place to work compared to 57% of employees at a typical U.S.-based company. We were honored that our scores once again earned us the distinction as a Great Place to Work® by the Great Place to Work Institute.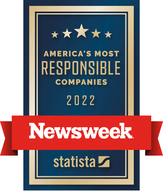 America's Most Responsible Companies
We were honored to be named one of America's Most Responsible Companies in 2022 by Newsweek and Statista. Our company rose more than 140 positions from the 2021 list to land the 25th spot this year as Avient. This leap recognizes our accelerated progress in environmental, social and corporate governance, as we advance toward our vision of creating a world-class sustainable organization.
Newsweek's corporate ranking assesses the 2,000 largest public companies by revenue in the U.S., evaluating aspects of corporate governance and economic performance, as well as environmental and social indicators. Avient earned its highest marks in the environmental category, thanks to our initiatives around waste recycling, emission reduction, and use of renewable energy. Our ascent was also driven by our improvements in leadership diversity, employee safety and community engagement, in addition to our strong financial results.