Avient Launches New Bio-Filled Polymer Grades at Fakuma 2021
October 11, 2021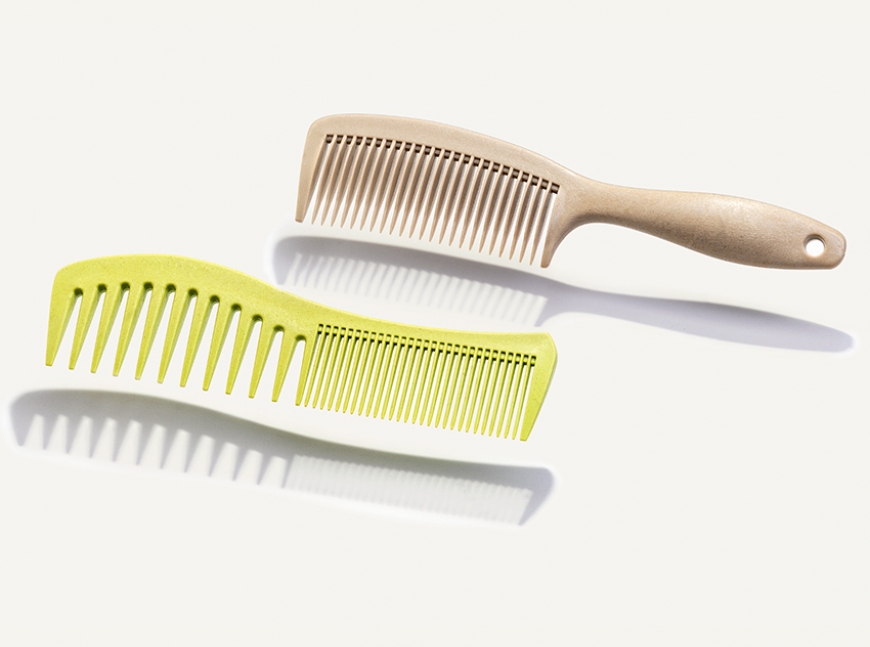 Caption: Toothbrush handles and combs made using reSound™ NF bio-filled polymers
[To download a high-resolution image, please click here: FOR MEDIA USE ONLY]
LUXEMBOURG – October 11, 2021 – Avient today announced the launch of new bio-filled polymer grades at Fakuma 2021, the international trade show for plastics processing. This new offering strengthens its sustainable solutions portfolio and responds to customer needs.
The new reSound™ NF bio-filled grades are based on polymers such as polypropylene (PP) with 15 to 20 percent bio-based filler. The filler is sourced from plant waste that would otherwise be landfilled, which in turn would create methane, a greenhouse gas more potent than carbon dioxide.
The new materials have a pleasing aesthetic compared to alternative natural fiber-filled polymer grades, are fully colorable, and can be formulated to meet various regulatory compliance standards, making them suitable for consumer applications such as household items and personal care products.
One early adopter of the new materials is Turkish toothbrush brand, Difaş. Looking to differentiate in the market and meet the desires of consumers, Difaş worked with Avient to develop a solution for toothbrush handles, combs, and hairbrush handles that utilizes natural filler while also offering high-end colorability and durability.
"The new bio-filled polymer from Avient has enabled us to reduce the carbon footprint of a range of our products by reducing the consumption of petroleum-based polymers. This has enabled us to work toward our sustainability goals, while bringing new competitive solutions to the market," said Cevdet Yüceler Owner and Chairman of the Board at Difaş.
"Demand is rising for consumer products that utilize more recycled and renewable materials. Avient material science experts are continuously developing innovative solutions that enable our customers to achieve their sustainability goals and reduce overall impact on the world's resources," said Matt Mitchell, director, global marketing at Avient.
For more information on the reSound NF bio-filled polymers visit avient.com
Learn more about Difaş at difas.com.tr/en
About Avient
Avient Corporation (NYSE: AVNT), with expected 2021 revenues of $4.6 to $4.7 billion, provides specialized and sustainable material solutions that transform customer challenges into opportunities, bringing new products to life for a better world. Examples include:
Unique technologies that improve the recyclability of products and enable recycled content to be incorporated, thus advancing a more circular economy
Light-weighting solutions that replace heavier traditional materials like metal, glass and wood, which can improve fuel efficiency in all modes of transportation and reduce carbon footprint
Sustainable infrastructure solutions that increase energy efficiency, renewable energy, natural resource conservation and fiber optic / 5G network accessibility
Avient employs approximately 8,400 associates and is certified ACC Responsible Care®, a founding member of the Alliance to End Plastic Waste and certified Great Place to Work®. For more information, visit www.avient.com.

To access Avient's news library online, please visit www.avient.com/news.
# # #
Media contact
Michelle Maniscalco
Senior Manager, Marketing Communications
Avient Corporation
michelle.maniscalco@avient.com